Read today's dose of chic intel right here…
Did Taylor Swift Rip Off Kenzo? 
Accusations of creative plagiarism have flooded the Twittersphere yesterday after Taylor Swift released the music video for her latest single "Delicate," with many users pointing out remarkable similarities to a 2016 Kenzo perfume ad starring Margaret Qualley. The ad was directed by Spike Jonze and features one the distinctive dance sequences favored by the director (see the Jonze-lensed Fatboy Slim's "Weapon of Choice" video). Both women are also wearing fluttery, primary-colored gowns for the choreographed number and have their hair in bun updos.
taylor swift's "delicate" video is a poor man's version of spike jonze's ad for Kenzo, this bop deserved more pic.twitter.com/39Ub99bKqc

— christina.jpg (@wtfcylon) March 12, 2018
Anybody else notice that the @taylorswift13 "Delicate" music video ripped off Spike Jonze's Kenzo video? It's almost beat-for-beat, just with worse dancing. pic.twitter.com/0hGKxBTn22

— Clayton Spinney (@ClaytonSpinney) March 12, 2018
What came first, the Kenzo ad or Taylor Swift's Delicate music video?ANSWER: the Kenzo ad. ARE THERE NO ORIGINAL IDEAS ANYMORE? lmk.

— molly crabtree (@MollyCrabtreee) March 12, 2018
Watch the videos yourself and you can be the judge:
Workers at Luxury Handbag Factory in China Go on Strike Alleging Abuse (WWD)
Workers at Hong Kong factory Guangzhou Panyu Shimen Handbag Ltd. Co have gone on strike, protesting alleged sub-standard and illegal working conditions. The factory is a large supplier for Michael Kors, Coach, Kate Spade, Marc Jacobs and DKNY.  Factory workers allege that the factory owners have failed to pay workers salaries in line with local laws and are demanding a monthly base salary of 3,500 renminbi ($553 at current exchange).
On top of the pay issue, workers also claim the factory owners have withheld pensions, housing funds, hazard pay for workers in high-temperature environments, sick pay, or compensated paternity leave. They also charge that the company has not abided by state-mandated occupational health exams.
Kylie Jenner's Handbag Closet Is Just As Spectacular As You'd Imagine
Kylie Jenner had her fans drooling Monday after posting a selfie inside her Birkin-stuffed handbag closet.  In the shot, Jenner poses in a silk robe and heels (of course) amongst her enviable collection of totes. The 20-year-old captioned the post simply with "options". Sigh.
Alexander Wang Solicits His Followers For New Hire
Alexander Wang fanboys and fangirls flooded his inbox Monday night after the designer posted an Instagram story canvasing the social medium platform for — what else — social media concept pitches. "Sick of seeing boring content?" the designer asked. (We are.)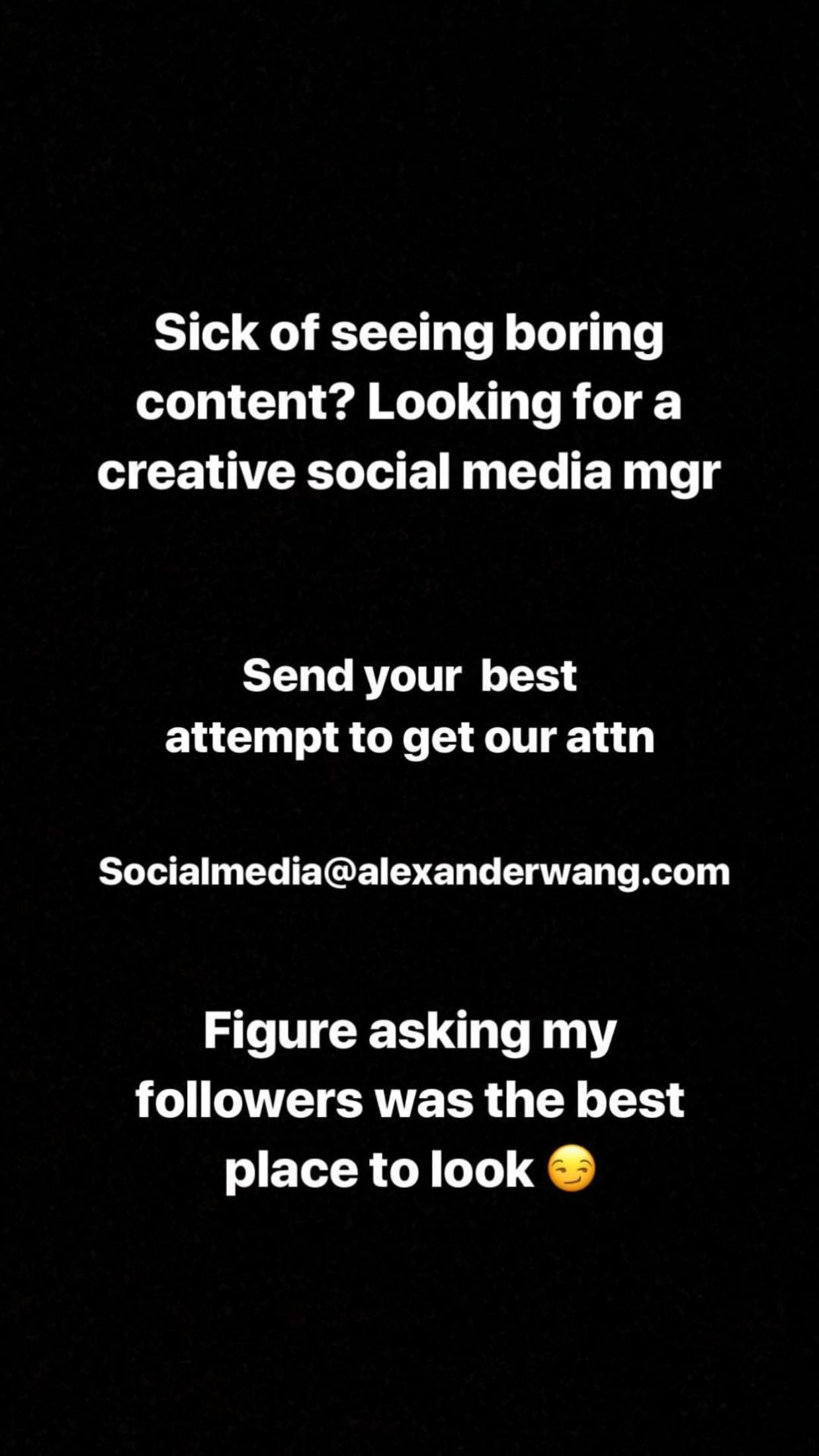 Subscribe to our newsletter and follow us on Facebook to stay up to date on all the latest fashion news and juicy industry gossip.