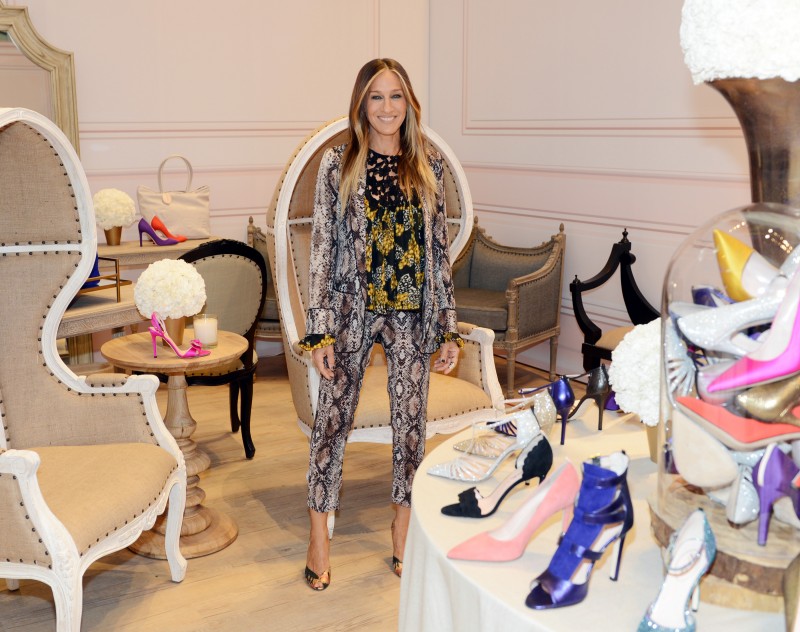 Wherever Sarah Jessica Parker goes, a pack of devoted shoe lovers (and/or Sex and the City fanatics) follow. Case in point? This week she's in Las Vegas, debuting The Strip Collection, a shimmering, glittering capsule collection of kicks for her shoe line, SJP Collection. Your Daily tagged along as the actress-turned-designer unveiled the line of shoes at a chic little pop-up at The Shops At Crystals, Sin City's most luxurious shopping center. Not in Vegas to shop the collection? They can be perused online at Zappos Couture. Over pink cosmos, SJP told us more about the line…
What's the story behind The Strip Collection?
When we had our last sales meeting, which I conduct, it occurred to me that this would be the perfect opportunity to create what I call The Strip Collection. It's my portrait of Las Vegas; the light, glow, decadence, indulgence, and bounce that comes off The Strip. It's  a way for us to do the things we've wanted to do most, like take that single sole and our essentials, and embellish them. We dialed it up! It's been a thrill to do that.
How does the Strip show up in the collection?
I've been collecting vintage for a lot of years, and it inspired that pyramid motif on the shoes. Of course, that idea is so obvious to the skyline here.
Which style that you're wearing?
I love these. They're fabric from the Tome collection; I did these for their [Fall 2015] fashion show. We're actually trying to source this material to make more shoes!
Do you have a lucky pair of shoes?
I don't, really. I guess I have a lucky pair of feet.
How about a lucky charm?
I have something I bring with me that's really important to me, I love it, and it's very meaningful to me, but that's all I'll say!
If you see someone wearing your shoes, will you approach them?
No, but I'm just secretly thrilled to see someone wearing my designs.
Have you traveled recently on a shoe inspiration quest?
New York is obviously enormously inspiring to me; I'm always looking down, whether I'm on a bus, a subway, hailing a cab, or walking from place to place. But I recently did some traveling; I was in the Middle East and I went to the old part of Dubai, where I saw amazing things and amazing colors. I've been inspired in thrift stores in Saint Louis. And obviously in Italy, which has a history of shoemaking, I will literally go climbing through piles of shoes. I've found stuff everywhere!
What kind of shoes will we find you wearing in the summer?
Barefoot, or flip flops…I think practicality or an event dictates footwear. It also depends on whether I'm near the water or on a sandy beach. I wear lots of things!
Any dream silhouette you'd like to add to your collection?
Not thus far. I'm kind of doing it all already!