At 27, designer Sarah Flint has launched her own brand (in fall 2013, to be exact), landed on Forbes' 30 Under 30 list, and become a favorite of celebrities like Kate Hudson, Heidi Klum, Blake Lively, and Alexa Chung. Now, the Massachusetts native is launching her first spread of resort shoes and small accessories that will be parfait for your upcoming sweet (and hopefully warm) escapes.
So! What made you think the world needed Sarah Flint Collection?
I felt a void in my own closet for shoes that were sexy and wearable at the same time. I am such a believer in mid-heels, kitten heels, and flats and I want my brand to fill this category with chic and beautiful shoes that women love to wear.
Have you always been a shoe fanatic?
Always. I had a pair of tap shoes as a child that never left my feet. They were a beautiful patent leather, and they were not my mother's favorite.
How many pairs of shoes do you own?
Too many to count!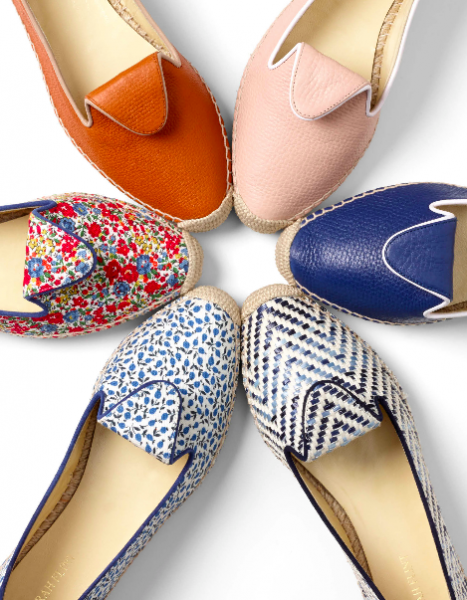 What were you doing before launching your brand?
I went to Parsons and FIT to study design, then studied at Ars Sutoria School in Italy to learn pattern-making and production. When I came back to New York, I was a nanny during the day and took business classes at NYU at night. I wanted to learn as many sides of running a design business as I could.
Tell us about your Resort '16 collection!
This is my first Resort collection, so it's a big moment. I also introduced espadrilles and Liberty prints this season, which I'm so excited about. The collection is full of crisp white, navy, and creams and was inspired by New England. I grew up in Massachusetts, so the collection really reminds me of summers at home.
What do you think sets your shoes apart from other brands'?
I focus on offering women a luxury shoe collection where creating a shoe that's comfortable and well-crafted is equally as important as designing one that's beautiful and sexy. As a female designer, I'm extremely focused on what women really want and need in their everyday lives—whether that need is something extravagant and precious for a special occasion like the Luisa or that perfect flat that can be dressed up or down like our Andrea.
At 27, is there anything challenging about being a young designer in the fashion biz?
It is definitely a challenge to be a young brand in the market, but I've learned to stick with what feels right. We've found that women like our point of view and it's so inspiring to see them fall in love with the brand.
Key to your success?
I'd say equal parts determination and surrounding myself with people that I learn from.
Most exciting moment in your career so far?
Walking into Barneys and seeing my shoes on display with my name next to them. It was, and still is, such an amazing dream come true!
What's up next?
I am extremely excited to be launching my first international accounts with some amazing retailers, like Barneys Japan, The September in Canada, and SAAF in Saudi Arabia!