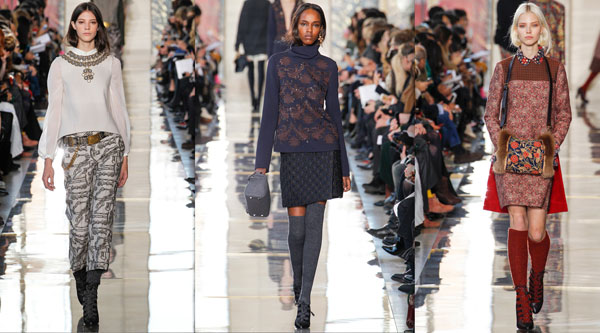 NYFW Fall 2014: Tory Burch, Timo Weiland, Rodarte, Jenny Packham
|
(NEW YORK) Tory Burch
This season, Tory Burch's girl is as cool as steel, literally. The designer kept things feminine, but decided to turn towards her parent's collection of armor for a dose of inspiration. While there were no stiff suits, overt use of metal or that dull grey that comes courtesy of shields, round grommets, geometric patchwork, and chains alluded to the idea. One of the strongest looks was a simple navy tank dress, with a neckline cut down to the waist and a smattering of burgundy sequins adorning the bodice. However, most of the necklines were cut high (including turtlenecks, shirt collars, and mock necks) into which messy locks were tucked into. There was much to take in, like chic pleats, metallic brocades, graphic knit sweaters, and dark winter florals. Absent was Burch's obvious logo, which usually adorns purses and shoes, but in its place were woven leathers and sumptuous shearlings. Cozy knee-high socks were tucked into lace up ghillie sandals. A total departure from the kitschier collections in Burch's past, this was certainly one for the ages.
Timo Weiland
The team behind Timo Weiland debuted a decidedly youthful collection this season, as in, they brought back the feeling of high school. The look started with the shoes, which were as flat as could be, in the form of lace up boots or sensible pointy flats. And it continued with girlie frocks; a chevron stripe with an empire waist, a black crepe babydoll dress with layers of ruffles, and a woolen jumper with a front zipper. Pining for more youthful throwbacks? Also on show were skater skirts paired with crop tops and metallic tees topping a uniform-worthy pleated skirt. So which stereotypical student fit the bill for this Fall collection? It had to be that quirky girl who's got a certain je ne sais pas of coolness. She wasn't in the popular clique, but would bounce between the brainiacs, the jocks, and everyone in between. After all, who else could pull off matching a buffalo print knit with a plaid pencil skirt?
Rodarte
With all of the flashy outerwear shown this season, Rodarte takes the cake for most outlandish. In the middle of their runway show, three glitter-covered coats in magenta, teal, and caramel made striking appearances, but those weren't the only sparkles in the collection. Lurex pieces fashioned into minidresses were layered over a simple turtleneck dress, while sheaths of tulle were ruched and topped off with tiny crystals. Even sheer socks and satin sandal were adorned with shimmers. But one can't simply get stuck on the shiny parts of this collection, as there was much more to take in. Like the nerdy-chic librarian get-ups, which featured granny glasses, berets, sheer pants, a layered top and dress combo, all finished off with a shawl. Not enough for you? The final looks should be, as they came complete with images from Star Wars. Yes, Luke Skywalker, C-3PO, and Yoda made fash week appearances, although Jabba the Hut was noticeably absent. All in all? A cadre of totally new concepts on the runway, signaling something fresh for Fall.
Jenny Packham
Jenny Packham's designs are regulars on the red carpet, which can make her runway show seem like a glittering best-dressed list. She even reminded the audience of this with a photographic list of her recent Hollywood hits included in her show notes. But this time around, Hollywood wasn't her inspiration; it was the glamour of Bianca Jagger in the '70s. What does that mean? Sparkles, tulle, feathers, draping, and of course, sex appeal. This time around, Packham decided to venture further into the realm of separates, like knit sweaters, chiffon skirts, perfectly tailored blazers, and silk pants. Particularly strong were heavily sequined sweatshirts paired with tulle skirts and a classic sweater shirt paired with a brilliantly feathered skirt in a sweet periwinkle. So, which pieces should we expect to see on some upcoming carpets? A navy column gown with cutouts at the ribcage and a luxe gold border, a sheer t-shirt gown with a constellation of red sequins, and a yellow long-sleeved frock with a flapper-esque detail. Any takers?