When Toni Garrn was tapped to be the face of Kérastase Aura Botanica, a new natural line from the luxury haircare brand, we took the opportunity to catch up with the natural beaut. At the campaign launch at Lowline Studios, she discusses her beauty deal, go-to beauty tricks, walking for Calvin, and why she'll never ever (ever) dye her hair.
Toni, why'd you say yes to Kérastase for this launch?
I think it's important to watch which products you support. It feels good to support a brand that so authentically fits. In my free time I try to support women's education, women's health, women's business, women's projects in developing in countries. For [Kérastase] to support exactly makes this an ideal product. I just found that they went to Africa and supported the girls there. It looks like a trip I was on! Except we make little scarves or little toys, and it never goes further than that village. To know that they support these girls is beyond.
The campaign video looks divine—where were you and what was shoot day like?
It was amazing! We shot in Majorca. We woke up at 3 a.m. because we wanted a sunrise picture. We got natural shots of me running around the cliffs—we tried tons of locations near the water.
What's your tried and true haircare tip?
Honestly, less is more. I really don't do much to it. When I'm in Africa, I don't wash my hair more than once a week because I simply can't, logistically. And I don't try to sweat like crazy for my workouts. My hair is way more dry, so it doesn't get oily looking. When I do wash it, I always try to use an oil in a conditioner. I do Aura Botanica Concentré Essentiel on the ends. And no highlights. I've never gone to a hairdresser! It's always at work. When I do jobs with beauty brands and they ask, Would you do this? I'm too scared it'll break because my hair is so blonde and so light and so sensitive. So I've always said no.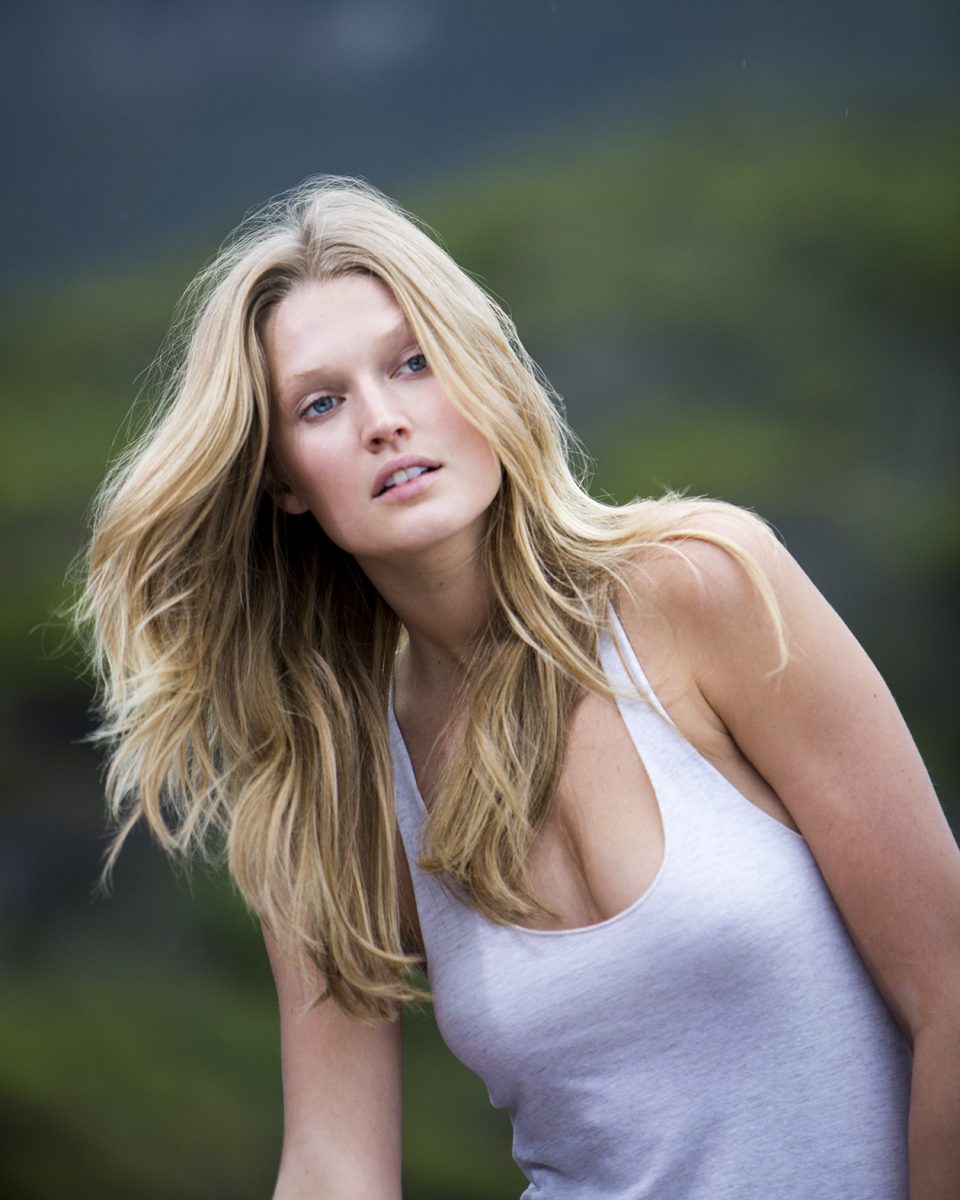 What's the worst hair day you've ever had?
Definitely in Africa—It gets really nasty looking. [Laughs] I wrap my hair in a turban. I don't even have a mirror to see myself, thank god!
Do you have a hairstylist?
I don't really, but my friend Braden Nelson did my hair for the launch event. Because I travel so much, I have a few favorites in different cities.
What's your relationship with hairstylists?
There are a lot of great hairstylists out there on shoots who make it look good, but they're really rough. If I can choose, I go by who do I almost not feel. It's like my one hour to catch up with stuff, to go through emails. Braden is so sensitive. Because it's gentle, you know it's healthy. There's no way hair is going to be healthly if you backcomb it 10 times. And there are hairstylists that do that! So I kind of go by that.
How do you power through NYFW?
I try to stay healthy and to sleep! But I'm very social, and I go out too much. I really try to catch up with good key contacts who are in town just for the week.
Do you remember your first Fashion Week experience?
1,000 percent. I was 15 years old and I was opening Calvin Klein. I was so nervous and I had never heard of runway shows, watched runway shows—I had no idea what I was doing. But I was opening and closing. I practiced my walk like a month before, in-agency. Because I was exclusive, I knew I was doing it. I'm never going to forget that. I remember the song, I remember the outfit, I remember everything.
How will you relax after fashion month?
I'm a big massage person. I'm not a big relax and do nothing and swim person as much as the physical massage and releasing tension. I try to drink water. I have to drink more water. I'm more a tea and coffee person. But I don't really relax. For me, it always keeps going!