Celebrity stylist Maeve Reilly has been living and breathing fashion all her life. After graduating from the Fashion Institute of Technology in New York, she moved west to LA to begin her styling career and soon became known for her ability to instill major red-carpet confidence in her clients, which have included everyone from Hailey Baldwin and Halsey to Janelle Monae. We caught up with her over email to find out a little more about her process, her life, and where she sees it all going.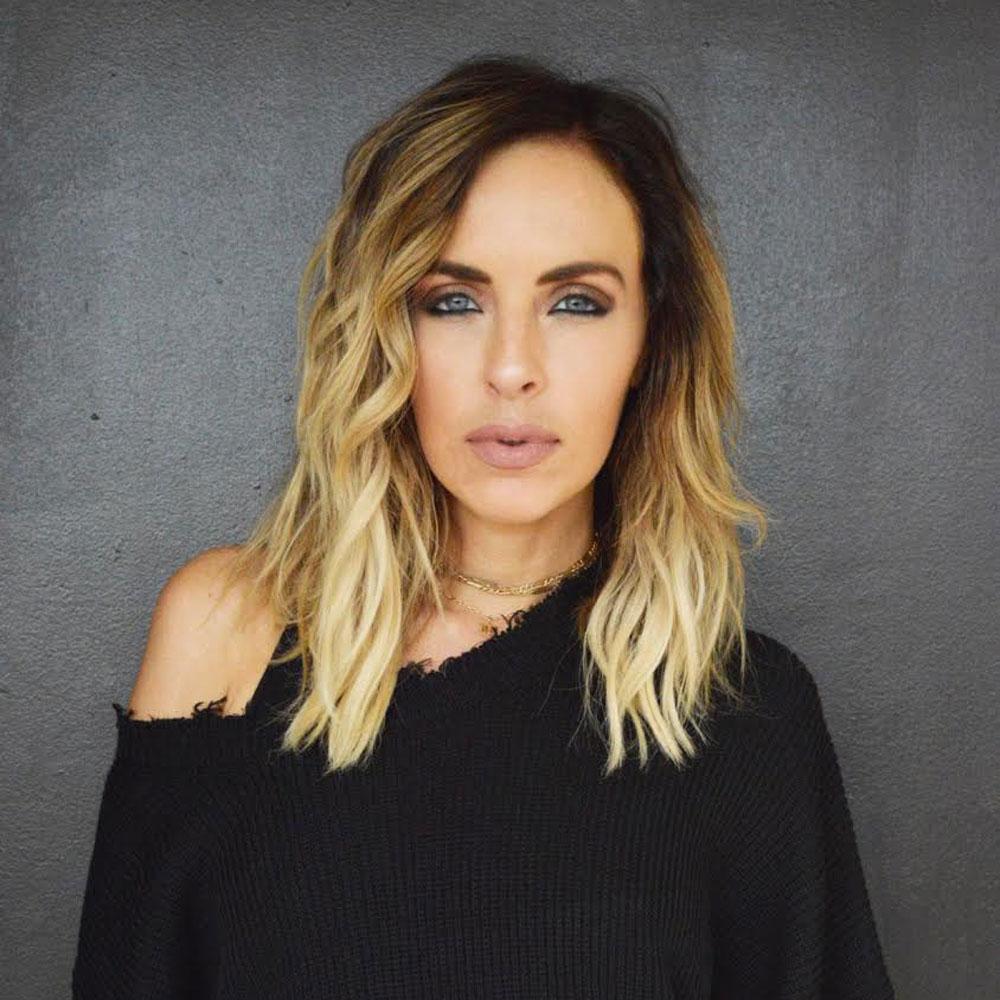 You're a stylist and costume designer, but as a kid, what did you want to be when you grew up?
A fashion designer. I am from New York and I have always loved fashion.
What is the wildest thing you've ever done to secure a look for a client?
I had to confirm an Oscar dress for one of my clients four months ahead of time because a friend of Mr. Saab's was requesting to wear it and I had to either confirm it or let this other actress try it on. I felt sure in my heart and soul that was the dress, so I put my relationship on the line knowing that, of course, my client could change hers in the course of those four months. But I just felt so strongly that was the dress, so I confirmed it and thank god it was what she wore.
What is the biggest sacrifice you have made in the name of your career?
I think that my personal relationships have definitely suffered. I am lucky to have a boyfriend that is very understanding of what I do for a living, but I have had to miss a lot of important events for my friends, like birthday parties, baptisms, etc.
Was there ever a time when you really fucked up work? What you did to fix it / move on?
Of course clients change their mind, and I've had to adjust with the moment and the creative might've changed, but I personally have never fucked anything up.
Where do you see yourself in 10 years?
Still styling, but with a couple of kids in the back seat and designing my own line. But never not styling.
What has been the most glamorous moment of your life/career so far?
I think the post-Oscar parties are usually pretty insane. The first time I went to Guy Oseary's party after the Oscars, I had definitely never seen that many famous people in one room before.
What is something everyone gets wrong about your job?
That it is glamorous.
What was the moment when you first felt like you had really "made it?"
Janelle Monae at the MET Gala 2014.
What advice would you give someone who wants to do what you do?
I would figure out who you look up to the most. Pre-instagram, I wanted to work for whoever dressed Rihanna and I searched and searched and searched until I found Mariel [Haenn]. I just banged down her door until she agreed to meet with me and she did and she hired me kinda on the spot. Also, because we had a mutual friend that vouched for me, they were more interested in meeting with me. I think that the mistake that a lot of younger people make is sending DMs and thinking that is professional. I wouldn't respond to a DM if someone asked if they can work for me and I won't hire them because they are that lazy.
What stylists do you admire and why?
Law Roach. He is epic. Everything he does is perfect.
Who are you obsessed with on Instagram?
Hailey Baldwin.
What are some of your favorite looks you've styled on Hailey Baldwin?
Elie Saab at the 2017 Cannes amfAR gala, Zuhair Murad Couture at the 2018 iHeartRadio Music Awards, and Atelier Versace at the 2018 Vanity Fair Oscar Party.
What is something only you know about Hailey Baldwin? 
Actually, HB likes to be home in NYC more than anywhere in the whole world. She has left some of the most "glamorous" places just so she can go home and chill.
When was the last time you were truly starstruck?
When I got to meet the Shibutanis at the last Oscar after party. They let me wear their medal!
If you could dress Donald Trump in any outfit, what would you choose?
An invisibility cloak to make him go away.
What is the best gift you've ever received from one of your celebrity clients?
Halsey gave me two Gucci bags for Christmas this year that I love equally and wear all the time.
Stylists tend to get good discounts, but what was the last fashion item you paid retail for?
I just bought two pairs of Alexander Wang shoes in New York. They're Fishnet booties, and see-through beige sling backs.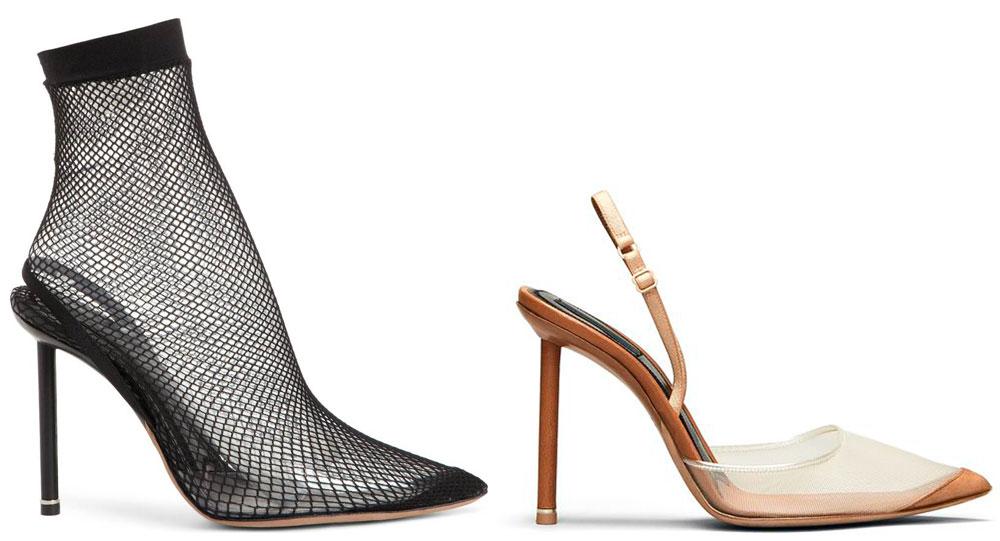 Black Fishnet Booties, ALEXANDER WANG (Available at Nordstrom), $995; Nude Sling Backs, ALEXANDER WANG, $595
If you could only wear one designer for the rest of your life, who would you choose?
Probably Alexander Wang.
What fashion trend just needs to die already?
I hate the Balenciaga big, thick, chunky sneakers.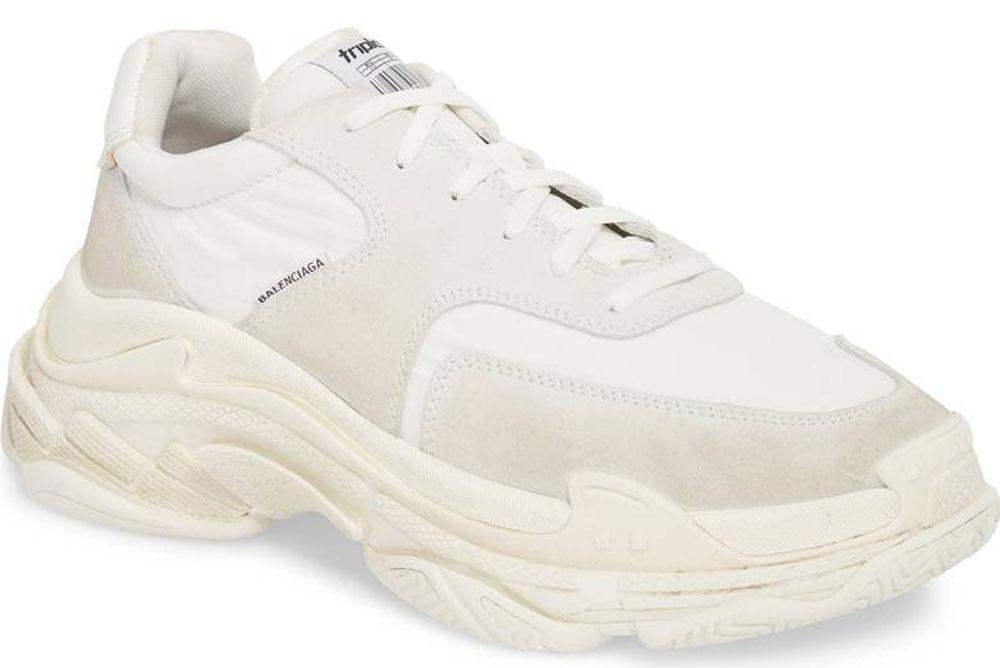 White Triple S Retro Sneakers, BALENCIAGA (Available at Nordstrom), $850
Who is your favorite old school supermodel?
Linda Evangelista.
What trend were you obsessed with when you were younger that you wouldn't be caught dead in now?
Bell-bottoms and black chunky shoes.
What up-and-coming designer(s) are you obsessed with right now and why?
Alessandra Rich. I think that she just makes beautiful, easy to wear clothes that literally every girl wants.
Subscribe to our newsletter and follow us on Facebook to stay up to date on all the latest fashion news and juicy industry gossip.