Rob Scheppy is full of good stories, like that time he got punked by Madonna or that other time when he woke up on a boat in the middle of the ocean with Kim Kardashian (more on both of those later). He's also a seriously talented makeup artist and a total sweetie, as will surely become evident when you read the interview below.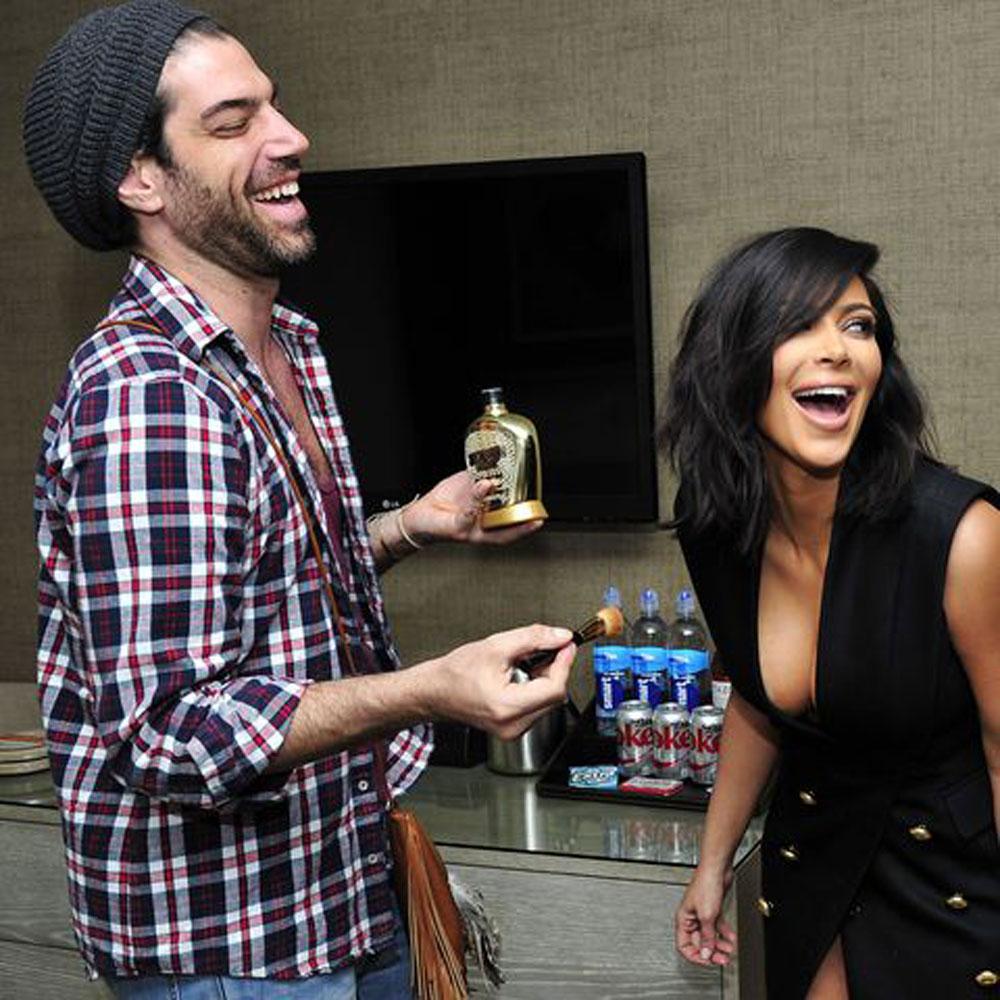 When you were a kid, what did you want to be when you grew up?
I wanted to be a writer. I read a lot of books. I knew that I had to experience life to write about it. I have really really tried to live my best life. Let's just say that I have many great stories to tell.
Was there ever a time when you really fucked up work? What you did to fix it / move on?
Oh I have had a few!!! I hate being late or worse not showing up. It gives me the worst anxiety and I feel extremely guilty. I have two stories and they both involve Kim and a boat. A few years ago I was in NYC with Kim and my room was on her friends yacht but she stayed at the apt on land. My room was in the very bottom of the ship. I woke up to security banging on my door. I was so late and Kim had to do her own glam! Being underwater blocked my phone service and no one could reach me. The hours of gentle rocking of the boat put me in a coma and I didn't hear my alarm. The second time I was staying on a docked boat in Cannes with Kim. My agent had me doing Kim's makeup and one other person the next day. I woke up the morning at sea and missed doing my other client for the film festival. Can you imagine that call? Sorry can't make it to you because I'm stuck on a yacht in the middle of the Mediterranean. Better than my dog ate my homework, I guess. To remedy the situation I sent lots of flowers and offered my services at no charge. Now I don't get on boats without a solid exit plan and two dozen roses!
What was the moment when you first felt like you had really "made it?"
My work with the Kardashians made me feel like I was part of something special because I got to do what I love every day and be around amazing people and get paid for it. It gave me a lot of visibility and I got to meet and work with a lot of people I admired. I remember introducing myself to Madonna and she told me she knew who I was. I must have looked like I was going to pass out. She winked at me like she was in on some prank. She reached out her hand for me to kiss. So I did and she pretended to pass out and abruptly fell over. Everyone thought that I tripped her and my heart sank into my stomach. She started hysterically laughing. Oh she's ok! This is the strangest and best moment of life! I love her sense of humor. It felt like it must have felt for William during that moment in Almost Famous after living the night of his dreams with the boys from Stillwater and Penny asks him to go to Morocco for a year, and he says "ask me again."
What advice would you give someone who wants to do what you do?
Learn as much as you can. Practice and challenge yourself. Trust your instincts. Be kind.
What is something everyone gets wrong about your job?
That it is superficial or easy. My work requires thought and preparation and effort. Makeup and hair is very presentational and it takes time and knowledge to make something look good. It has the power to transform people. It's a very intimate experience for me. I love building a relationship with the people I work with and empowering them by making them look and feel great.
How many skincare products do you use personally? Really. Give us the full rundown.
I live in the desert sun… I use MDNA rose mist to hydrate, Chanel hydra beauty micro serum, and Creme de la Mer everyday. I have lavender, cedar, sage, jasmine, and gardenia oil based perfume elixirs that are infused with crystal energy and blessed by an energy healer that I use on my body everyday.
The Rose Mist, MDNA SKIN (Available at Barneys), $120; Hydra Beauty Micro Serum, CHANEL (Available at Nordstrom), $110; Crème de la Mer Moisturizing Cream, LA MER (Available at Nordstrom), $85
Who are you obsessed with on Instagram?
I love Aquaria (@ageofaquaria), Peter Philips (@peterphilipsmakeup), Francesca Tolot (@francescatolot), Ryan Burke (@ryburke), and Hungry (@isshehungry).
What makeup artists do you most admire and why?
I love and adore Kabuki (@kabukinyc), he just has a genius way a seeing everything and he's a really sweet guy. I was lucky enough to work with him on several of his projects and the way he approached his work and came up with ideas is truly inspiring. It's not something you can learn or teach. He is plugged into pure creative energy. I admire that quality in all artists.
What is the biggest issue facing the beauty industry right now?
I enjoy being creative with different looks on myself and my clients and that means we will buy a lot of products to achieve that but it's important we need see our physical beauty without makeup, filters, fixers, and disguises.
What beauty advice did you get from your mother (or another woman in your family) that you've really taken to heart?
No one in my family ever gave me beauty advice, but beauty was all around me and I paid attention. My mom taught me to see the world through my heart. She always made sure I was happy and enjoying life. I really looked up to my grandmother. She could literally do anything and she taught me how to sew, garden, bake, and roller-set hair for a perm. I think hair was more important to the women in my family. I think my grandmother only owned like two or three makeup products. I saw her use her lipstick as blush and she would use her mascara to cover gray hairs on her head! I remember everyone in my family got perms when I was a kid. I spent a lot of time around girls getting their hair done. Oh wait! My grandfather was the first to teach me Photoshop. He had all these black and white photos he would take of our family. I watched him draw my grandmother back to life with colored pencils. I remember asking why he made her hair red and he said that's her real hair color. Back then they only sold brown hair dye at their local pharmacy so my grandmother rocked a brunette moment.
Do you have any particular superstitions or rituals around your work?
My ritual before work is usually that I say a prayer and light a candle and set my intention, sometimes I play music if it fits the mood.
What is the last thing you binge-watched?
Lost in Space, The Handmaid's Tale, and Gossip Girl. It can get pretty crazy. Once I watched every episode of every season of Gossip Girl in one week. I did not sleep. I never knew about it when it was on tv. I was not a tv watcher as a kid or ever. All my friends work in tv and film and kind of forced me to watch everything they worked on. I always loved Blake Lively, but that show made me obsessed with her. And Leighton Meester. She is divine. I want more!
Do you follow any unusual health or wellness trends?
I am very open to all forms of self-care. I give energy for things that bring my joy and greater cognizance. I like feeling connected to everything. Sometimes it's going to yoga class, or practicing meditation, or charging my crystals during the new moon, or consciously eating plant-based foods. I like to try new things, but I'm still down for a late night ice cream, or a morning hike in Runyon Canyon, or singing and dancing along to my favorite music… and sometimes I do nothing at all and love it!
When was the last time you were truly starstruck?
A few years ago my friend Mariano asked me to do men's grooming on a project he was working on. I would do anything he asked of me. He is the kindest person and such an amazing photographer. I secretly collect all his books. He gave me my first two editorial spreads in Vogue Hommes and Numero magazines way, way back. When I arrived at work the shoot was for Harper's Bazaar and Rihanna was the cover girl and I was grooming all the male models. Did he know how much I love her? I'm not sure. It was freezing that day and there was only one space heater. It was probably 50 or 60 degrees but I am a tropical boy so naturally wherever that heater was I was on top of it. At some point during the shoot Rihanna came over and asked if she could use the heat with me. We both had our hands over the flame. She looked me dead in the eyes and said she liked my hand tattoos. I mean I think I died right there. I think I mumbled that I liked her hand tattoos too. Who knows, I might have asked her to marry me. That creature is stunningly gorgeous.
What luxury beauty product is totally worth the price?
I have always loved anything Chanel. Give me Coco! Lipsticks, glosses, blushes, brushes, skincare… and bags! Yes, I have a few. Gimme, gimmie more!
Rouge Coco Ultra Hydrating Lip Colour, CHANEL (Available at Nordstrom), $37
Are there any super-cheap beauty products you swear by?
I usually look for anything with the least amount of ingredients on the label. My go-to products are always L'Oreal voluminous mascara, Cetaphil skin wash, and lavender hand sanitizer, usually from Whole Foods.
Voluminous Mascara, L'ORÉAL PARIS (Available at Amazon), $6; Daily Facial Cleanser, CETAPHIL (Available at Amazon), $9; Lavender Organic Hand Sanitizer, DR BRONNER'S (Available at Whole Foods), $5
Who is your favorite old-school supermodel?
Naomi Campbell, she's just the supreme!
Do you have any special beauty tricks you'd care to share?
Yes, but beware they are pure torture!!! Ice cubes in the am for puffy eyes. Oscillate between hot and cold water in the shower to get the blood circulating and bring your skin and hair back to life. Don't forget about your teeth! I do an all-natural coconut oil pull to clean and whiten my teeth but it takes 20 mins and it feels gross.
Coconut Oil for Pulling, KOPARI (Available at Nordstrom), $28
What indie/up-and-coming beauty brands are you obsessed with right now and why?
Lemonhead, because it's pure magic! Just go to their website and see for yourself.
Jailbait Spacepaste, LEMONHEAD, $22
Subscribe to our newsletter and follow us on Facebook to stay up to date on all the latest fashion news and juicy industry gossip.