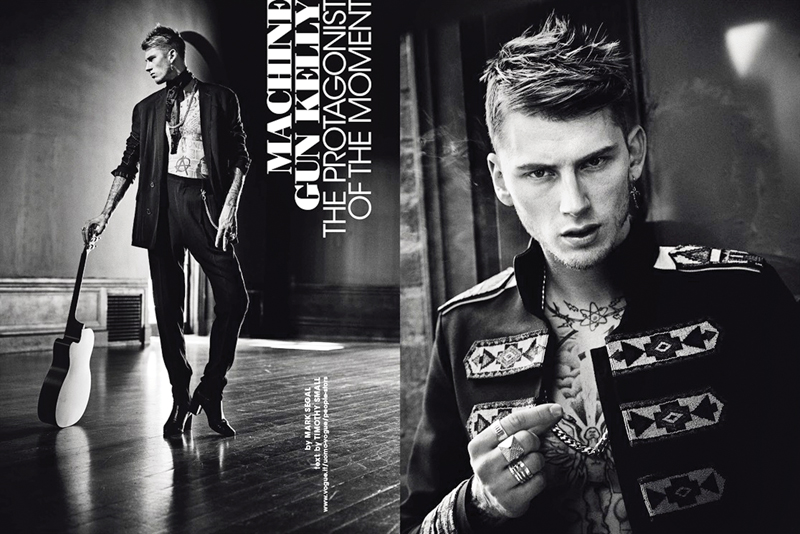 We first encountered Colson Baker, aka Machine Gun Kelly, in the Hamptons, of all places—he was a guest at a dinner we hosted with Philipp Plein. The massively successful rapper and star of Showtime's Roadies turned out to be the star of the night. He made time for a phone call during a recent European tour to indulge our request to learn more.
Do you remember me? We met this summer in East Hampton.
This is my dude that I was kicking with at the Philipp Plein party? My dude!
It's me! Where are you right now?
I'm in Amsterdam, man.
How's that?
Trippy. Have you ever tried magic truffles before? They have some magic truffles here!
I haven't! Is it your first time there?
I've been many times, but every visit opens up a new door of weirdness.
Where have you been on tour this summer?
From one end of Europe to another. I'm playing the Leeds and Reading festivals. Ever since the 1992 Nirvana concert, which is so legendary, it's always been on my bucket list to perform there. I'm ending my tour here with my dream festival performance.
Do you miss home?
I'm a gypsy. The road is my home.
You had an accident this summer! What happened?
I was drinking a lot in Denmark one night, and we were walking back to the bus from the bars, and I decided to hop on top of a car and fell. I didn't realize it had rained—the cars were all wet. I fell straight to the concrete on my face and broke my elbow, cracked a tooth, and got stitches in my mouth.
What was the emergency room experience like?
There was no sympathy. Very cold.
Yet you went straight back to performing the next day.
Twelve hours later! We left the emergency room at 5 a.m., and I was at the festival for a show at 5 p.m.
Why did you go back so quickly?
I've never canceled a show, and my image is that of a fighter, so it would go against everything I stand for to quit because of an obstacle like that.
You're now signed with Wilhelmina Models. How did that happen?
We had been speaking for over a year. I was at an agency that didn't want to travel the long path with me, which is the path I always choose. I don't want to conform to anything. I want to be a new wave. It takes a lot of balls to back that. We were looking for the right place to take risks because in general, I'm a risk. So we went with the biggest risk taker.
What do you mean by "a risk"?
I'm real in a time of being PC.
Are you a follower of fashion?
Definitely. It goes back to the rock stars that I idolized in the '70s, '80s, and '90s. Fashion was a huge part of why I idolized them so much. At my show tonight, I'm rocking a purple John Varvatos suit. I realized when Bowie and Prince died that as entertainers, we owe the fans that superstar look. You should walk in a room and people should be like, Who the f**k is that?
Safe to say that you're a fan of Bowie and Prince?
Definitely. In my opinion, Prince is the best guitar player of all time. The first time I ever posed for L'Uomo Vogue was for an eight-page spread inspired by Bowie that we did months before he died. The morning he died was the same day that the issue was released in America, which was so crazy. It was f**king insane.
What was shooting that story like?
[Photographer] Mark Segal had the clearest vision. He brought this feminine vulnerability to the camera, which was huge with Bowie and Mick Jagger. He brought that out in me. It was my first time wearing Gucci button-ups. There were a lot of firsts in that shoot for me.
Do you work with a stylist?
I do—Morgan Pinney, but he was a friend first. The guy who does my security was my friend first. It happens like that. My interest in fashion has grown a lot more in the past two years. I only do things that I feel can express emotion. I didn't realize how much fashion expresses the deepest emotions you have until I walked my first runway show and started putting on nice clothes and felt a certain way. Those were things that weren't available to a hungry kid from the Midwest who was trying to just buy a f**king cheeseburger.
What was your first runway show?
I walked in Joshua Kane's show in London in January. He's true-to-the-bone old-school. I felt something when I put on the suit that I never felt before. It was like the time I sang my words in a concert and people sang them back for the first time.
Were you nervous?
I wasn't. That was what was so inspiring about putting on a piece of clothing. It was like I threw on a confidence cloak.
What do you wear when you're not onstage?
For lack of better words, I don't want to say "stay in character," like the person onstage is a different person than who I am as regular man, but I'm pretty much fully dressed until I go to bed. I've been rocking a lot of Aston Martin, Greg Lauren, I love Armani suits, I'm a huge Rick Owens fan, Moschino, and Philipp Plein.
What campaigns would you like to be a part of?
Is it weird to answer that? I don't know about fashion etiquette.
It's cool!
Diesel or Saint Laurent. I'm a huge cologne guy. That's my one vice, and I buy it constantly. I'd love to be the face of one of my favorite colognes. I'm wearing Tom Ford on tour right now.
Do most people call you Machine Gun or Colson? What's the difference?
Filming Roadies was the first time that I've been called Colson since high school. I've been Machine Gun Kelly since I was 15 years old, and everybody who knows me calls me Cols. The Colson thing recently started again. The last person who called me Colson was my father. I'm embracing it now, because I'm at a different point in my life. Before, Colson was pretty lame. I wasn't popular and didn't have anything going on. Machine Gun Kelly was ashamed of the person Colson was.
Are you in a good place now?
I've been working on it, yeah.
What kind of response has Roadies generated?
It was very good for my fans to see, because I'm reserved and consistently searching for happiness. The character that I play on the show is so pure and so vulnerable, which is the exact opposite of who I am. Maybe that's who I really am underneath all of this. People seeing that gives new life to not just me but to the artist my fans have known for years.
Did you get into the character offscreen and become more vulnerable?
I totally was. One hundred percent. When we were filming our last episode, I looked Cameron Crowe in the face and said, "Dude! You're sending me back into the cold world! Don't let me go."
Do you know if season two is happening?
They don't know, man. I really want to go back to that happy place. [Showtime canceled Roadies earlier this month.]
You're heading to New York for a show at Irving Plaza in November.
When you go to certain cities, you know you're going to see certain faces, but in New York you never know who is going to be in the crowd.
We're coming!
Dude! You have to! We have to relive that night.