Sophie Delafontaine, artistic director at Longchamp, has channeled the joys and realities of travel—whether across town or multiple time zones—for the family-run French accessories house's chic new collection, La Voyageuse.  All aboard!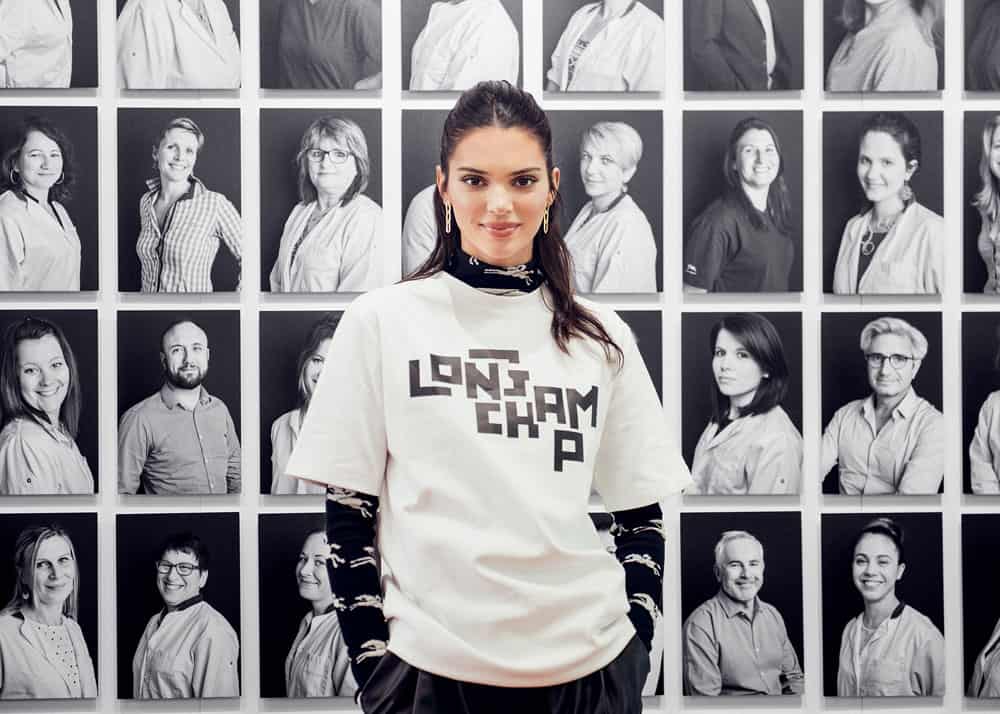 How did you come up with the concept and aesthetic for La Voyageuse, which translates to "The Traveler"?  
I was thinking of how we're living today, and it's really that woman who's always on the road. A very active woman, who has several days in the same day, is always in my mind because it's the woman I want to speak to. The inspiration for La Voyageuse was the style and attitude of a woman who is traveling. I like the idea of a journey. That can mean flying to New York [from Paris], but it can also mean going to work, when you have several things to do during the same day. I was inspired by older women in the '70s, where traveling was less arduous than now, and women were traveling with style and attitude, more than [dressing] just to be comfortable and easy today. I was thinking of when you're traveling and you arrive in a hotel with your luggage, and the attitude. I like the idea of having pieces that can be tweaked for many different occasions. The look of the bag is nearly like a vanity case, which I think is super cool. The small one can go from vanity case to day bag; the medium size can be the carry-on you keep on the plane, but it can also be  your computer bag when you arrive in the city and you have a business appointment. I have really worked on the proportions.
How long has La Voyageuse been in the works?
Usually for a new collection, it's nearly one year working on it, because everything is new. I worked on the materials first, figuring out what kind of leather I wanted to use, which was important for me. And I worked a lot on the way to balance the proportions—the scale of the print and the leather. It's always a lot of details you have to adjust. Even though I'm not a model, I like to try things on myself, because I understand better the product—the proportions, to see if it's useful or not, to see how it looks when it's put on a table. It's important to give life to the product, not just to look at it on a shelf.
How do you know when you're finished designing a new bag, that it's time to step away and stop tinkering with it?  It's a long process. Sometimes it can be short, but sometimes it can be longer; sometimes, we need several prototypes before the right one, and other times, we know after two or three prototypes. And I'm not alone; I work with a team, and I like to exchange a lot. We are a family business, so I like to exchange also with my brother, Jean [Cassegrain], our CEO. He has a totally different point of view; a much more masculine point of view, a much more business-focused point of view. It's cool to see his reactions.
Tell us about your latest campaign.
The concept was to give this Mad Men effect. I wanted to keep the idea of this active, energetic woman who is on the go. Also, it's a [subtle] detail, but we used the pattern of the carpet that was in the Concorde plane, designed by [Andrée Putman, French interior and product designer]. It's very graphic and dynamic.
How do you juggle your many responsibilities overseeing a global brand's creative direction?
I do my job with a lot of spontaneity. I think it's true that every day is different—working on a bag, going to the tanneries to develop a new leather, or going to the workshop to take care of the development of a new bag, working on the proportion, detail, and color, or doing a campaign shoot with Kendall [Jenner, Longchamp brand ambassador], for example. It's totally different all the time. But it's all about my product, and it's all about creativity. It's like I'm starting a story, and I go to the end of the story because when I'm thinking of the bag, I'm already thinking of the story [that will shape] the ad campaign, the window display. It's really writing the whole story around the product.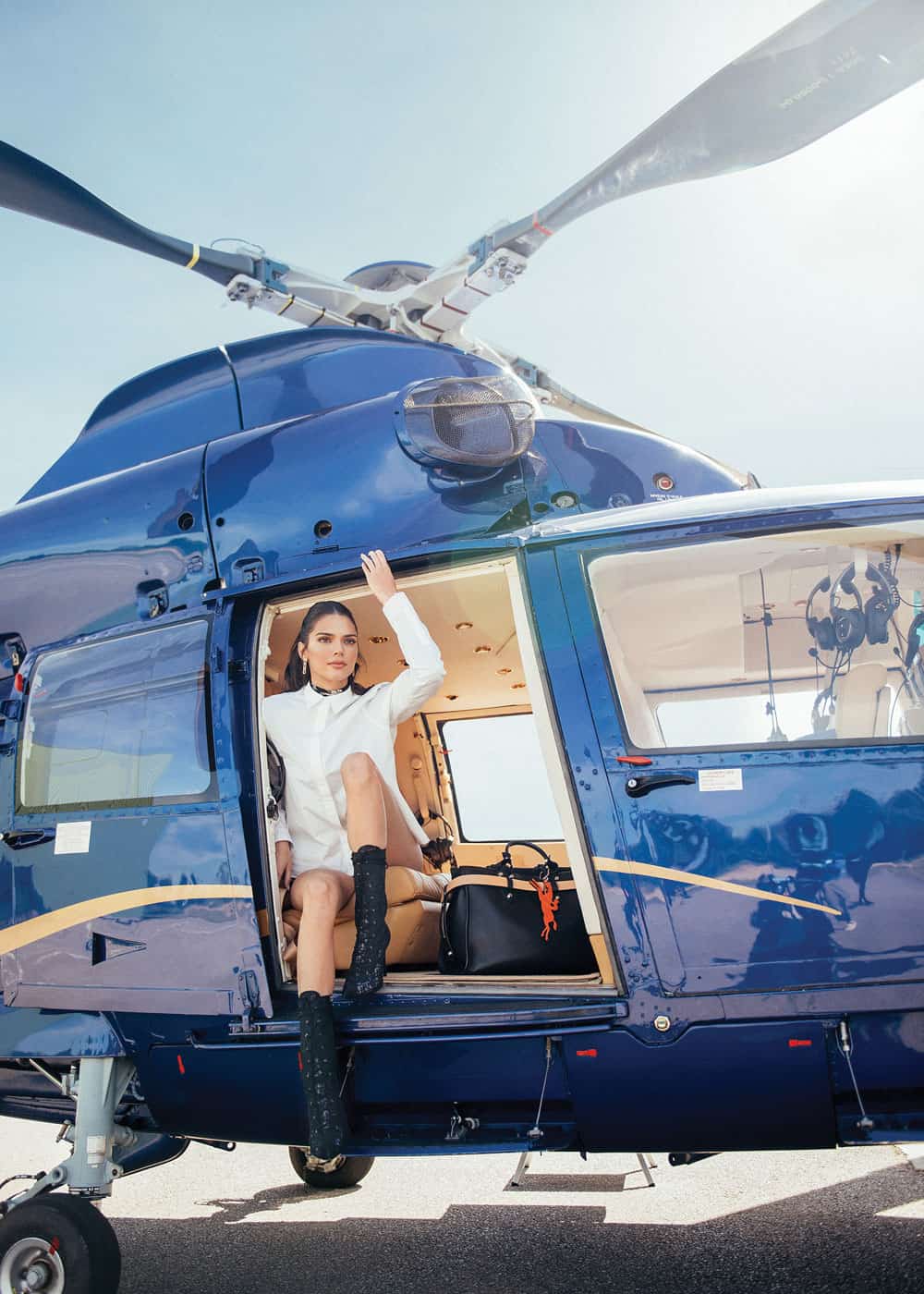 How and why has Longchamp ramped up business in NYC in recent seasons?
We've been present in New York for a long time, because my father [Philippe Cassegrain] opened our first store on Madison Avenue more than 20 years ago. It's true that we are strong in Europe, but the U.S. market is a pillar, a large part of our business. In Paris, we really understood the impact that a strong flagship on a huge avenue like Champs-Élysées can have; we were present for a long time on Rue Saint-Honoré, and when we opened the Champs-Élysées location, which is very different, it highlights the brand in a strong way. I think in New York it's nearly the same. Madison is nearly like Saint-Honoré, and Fifth Avenue is more like Champs-Élysées. Madison is a nice avenue, but Fifth Avenue—it's Fifth Avenue. It's really a window to the world, a way also to show and to say very strongly who Longchamp is today, to show the whole collection, to give more space to ready-to wear, shoes, and men's, which are all categories we have developed more recently. It's exactly what we wanted to express in our flagship in New York. It was also interesting for me to show during New York Fashion Week. We're a very Parisian brand, of course. We're a French company, a French family, so it's clear that we're coming from France. But showing in New York also let us show the brand's more international experience.
Travel is clearly a major inspiration for your work. How does jet-setting factor into your personal life?
I really love to travel; it's something my parents were always pushing me to do, so I started very early, even on my own, when I was quite young. It's a way to meet new people and to discover new things. My father is very open-minded and curious, and he taught me to always have large, open eyes—to see, discover, learn, and mix.
What's the most memorable trip you've taken?
My first trip to Japan, 25 years ago; it's a wonderful country with great culture, and a totally different spirit. As a young French girl arriving 25 years ago in Japan and discovering this culture, it was a great experience. Each time I go to Japan, I discover something new.
What will we never catch you wearing on a plane?
Sweatpants. I'm fighting with my kids, because I don't want them to wear them, either. [Laughs]
Best of luck winning that battle. What are your indispensable travel essentials and habits?
I think when you're traveling you're a little bit in an insecure mood; you don't really know where you go or what's going to happen with your flight. It's a very specific mood. So I think you need to have a few things that make you feel confident and comfortable. I always fly with a cashmere sweater that I love; it's warm, nice, and sweet. I also always wear a sort of scarf because I'm afraid of the air-conditioning on the plane. And I try to always to have a window seat, because I don't want to have someone passing across me; I love to feel like I have my own little area. And I like to see the landscape. I always travel with a Le Pliage bag in my suitcase, because I know when I come back home, I'll have some more stuff…always
Read the complete new issue of The Daily Front Row below!
Subscribe to our newsletter and follow us on Facebook  and Instagram to stay up to date on all the latest fashion news and juicy industry gossip.