Read today's dose of chic intel right here…
Kim Kardashian West Disproves Photoshop Haters (Harper's Bazaar)
Kim Kardashian West is in correction mode — the reality mogul took to her Instagram Stories on Monday night to defend herself after accusations of Photoshopping a paparazzi shot to appear slimmer swirled on the blogs earlier in the day.  The photo in question was posted by West over the weekend and with its bent curb and Rorschach-ed SUV, many thought she'd done a Photoshop hack job, manipulating the photo to nip in her waist. West disabled the comments feature on the Instagram post, blotting out any fan criticism or accusations.
But last night she devoted an entire Insta-Story and blog post to the hoopla.
"I'm seeing online and on news media outlets that I suffered a 'Photoshop fail,'" she wrote. "So ridiculous! I reposted a picture on Instagram that a fan had already posted—I only added a filter to it… It looks like the fan mirrored the photo, which is the reason the car looks like that. So, this is actually really funny to me!" Kim said. "Who would even Photoshop a car to look like that?! LOL. She also posted the fan mirrored shot to further her vindication — drag them Kim!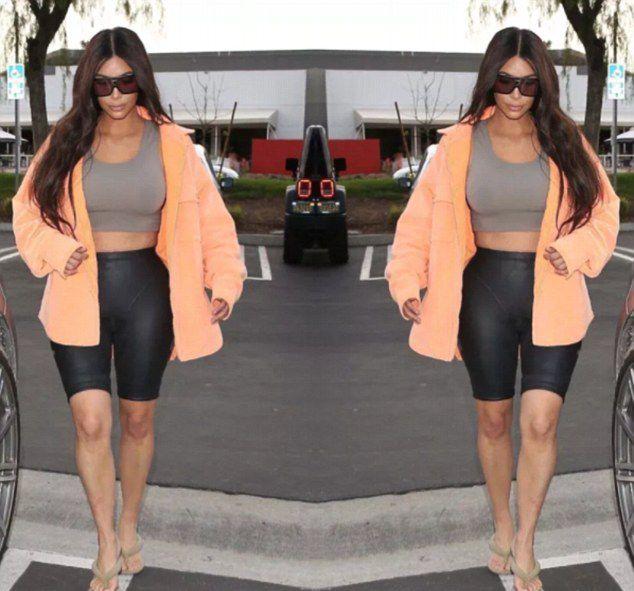 H&M Profits Drop To a 16-Year Low (Bloomberg)
H&M reported its lowest first-quarter profit in 16 years on Monday. The fast fashion giant attributed the dip to extreme weather patterns in Europe, which led to a buildup of unsold garments. An unseasonably warm January followed by an icy February whiplashed the company, forcing them to slash prices even more than normal to clear inventory. The strategy didn't work, though, as inventory actually rose seven percent even after the discounts. The pileup was a record high for the Swedish retailer, totally $4 billion in unsold garments.  The company plans to offer even more reduced markdowns in the next quarter — guess it's time to stock up on essentials!
Meghan Markle and Prince Harry Pick Their Honeymoon Locale (The Cut)
Bora Bora? Bali? Bangkok? Where will the world's most famous newlyweds escape to after their May 19 nuptials? According to multple British tabloids, Meghan Markle and Prince Harry will be spending their honeymoon in Namibia, Africa. Sources say the couple has booked stays at several luxury lodges, switching locations to keep their trip as private and under-the-radar as possible. One of the spots in Hoanib valley Camp of Camibia tickets in at $710 a night. The exotic, far-flung locale makes sense not only in terms of evading paparazzi but the pair have history in Africa. One of their first dates was a trip to Botswana, where they fell in love under stars, as they told the BBC in their first and only official post-engagement interview.
Charlotte Casiraghi Is Engaged (Vogue)
Another Royal wedding is on the horizon — Charlotte Casiraghi, the eldest daughter of Princess Caroline of Monaco and the granddaughter of Grace Kelly, is engaged. Casirgahi, who is eighth in line for Monaco's throne, will find marital bliss with her longtime boyfriend Dimitri Rassam. The couple got engaged over three weeks ago while on vacation is Austria but Casirgahi held off on wearing her diamond ring publicly until this Saturday's 64th annual Bal de la Rose in Monte Carlo. The pair will reportedly tie the knot in a small ceremony in Sicily this July.
Queer Eye Gets A Second Season (Page Six)
YAS! Netflix's Queer Eye reboot was renewed for a second season as reported by Variety on Monday. Speaking of all the streaming platform's fall lineup, Netflix vice president of content Bela Bejaria said: "These series are indicative of what we're trying to accomplish for Netflix Unscripted: working with world-class producers to create the best unscripted shows on television. These series elevate the genre with innovative takes on familiar formats. They deliver immersive and nuanced stories. They elicit so many emotions from viewers, from tears of laughter to tears of joy – and that's just 'Queer Eye.'" All members of the Fab Five will return for season 2 of the makeover show.
Bustle Acquires The Zoe Report 
It was annunced Monday that Bustle Digital Group acquired The Zoe Report, the fashion, beauty and lifestyle site founded in 2009 by Rachel Zoe. The Zoe Report joins a trio of titles owned by the media group including Bustle, Romper and Elite Daily, which reach 80 million unique visitors per month according to the company statement. "Bustle has established itself as a leader in content for women. We are thrilled The Zoe Report will accelerate its growth and mission of empowering women through living a life in style by leveraging Bustle's audience and expertise.  I am truly excited to partner with Bryan and his team for years to come," Rachel Zoe said of the acquisition. "Additionally, this will provide Rachel Zoe, Inc. the resources to further invest and focus on our global fashion and lifestyle businesses —Rachel Zoe Collection and Box of Style by Rachel Zoe." The deal goes into effect on April ,1 when The Zoe Report editorial team will begin reporting to Kate Ward, Bustle Digital Group's Editor-in-Chief. "Adding The Zoe Report to our portfolio is a natural next move as we continue to grow the fashion and beauty verticals for our audience," Ward said.
Subscribe to our newsletter and follow us on Facebook to stay up to date on all the latest fashion news and juicy industry gossip.