Kim Kardashian took to Twitter last night to let her 51.1M followers know that she's come down with the flu, and just in time for the 2017 Met Gala, which is just two weeks away. "The flu can be an amazing diet," she joked. "So happy it came in time for the Met lol #6lbsdown."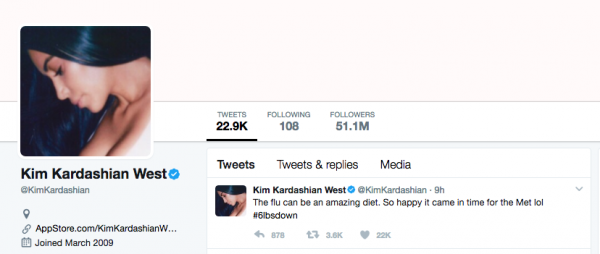 The message stirred up controversy in the social media world with Kim fans saying that the Tweet sends a bad message about body positivity. Many Twitter users made the connection to The Devil Wears Prada, when the character Emily famously said, "I'm just one stomach flu away from my goal weight," The Cut pointed out. Last summer, Kardashian talked to E! News about shedding the weight she gained during her pregnancy with her second child, Saint West. She revealed she previously lost 70 pounds by sticking to a strict Atkins diet and fitness routine. "I'm definitely to my goal weight. I'm down more than I expected," Kardashian told the network.
Kardashian has deleted the tweet without responding to the backlash. Twitter chatter aside, we're hoping she feels better soon.