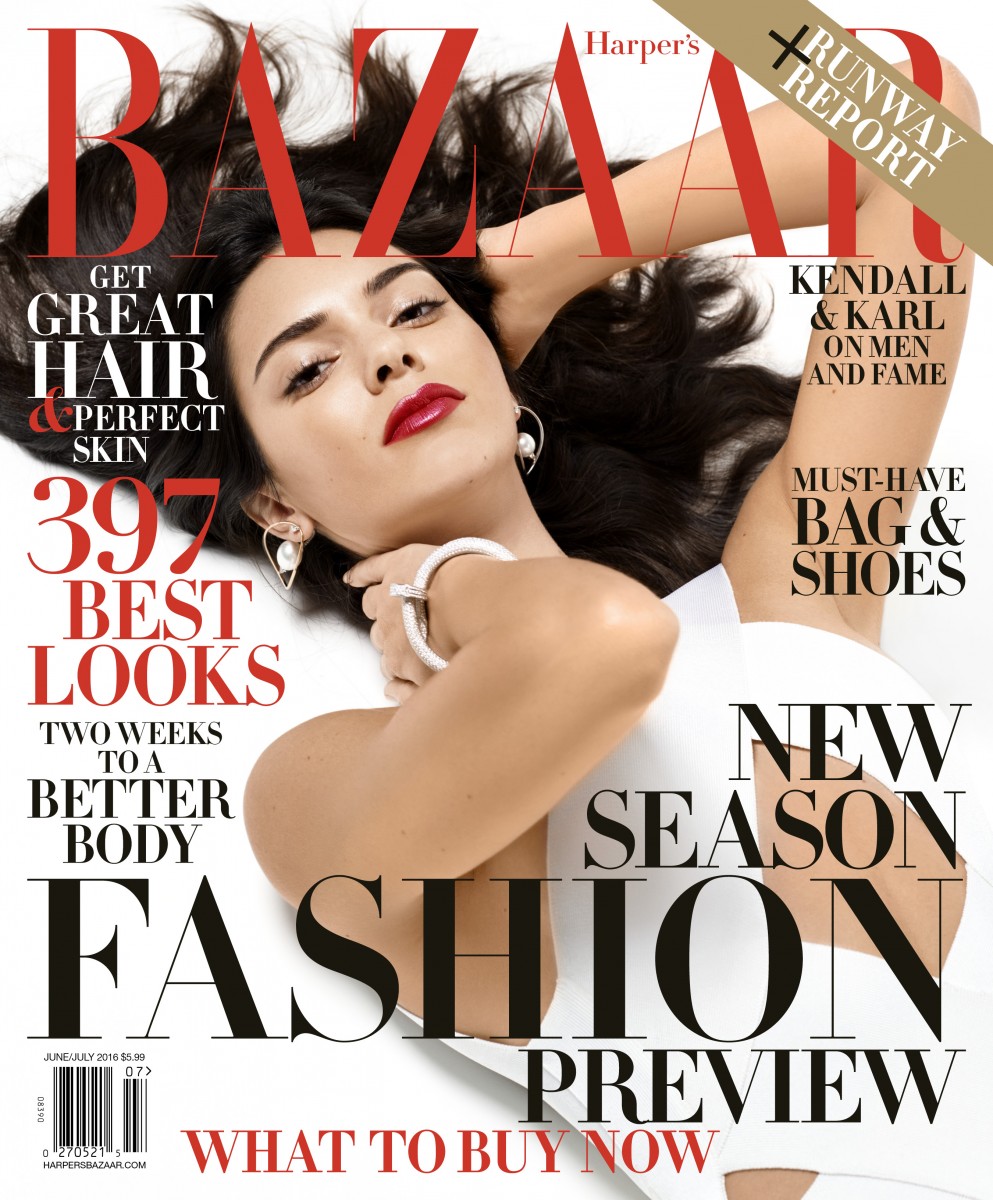 Karl Lagerfeld shot Kendall Jenner in a Balmain bodysuit for the cover of Harper's Bazaar's June/July issue, which hits stands on May 24. Inside she opens up about Karl, being closed off, being a Belieber, and more!
On being raised in the public eye…
"We were brought up in this abnormal world, if that's what you want to call it. I feel like a lot of people say that kids who grow up in that kind of world go crazy. But it has everything to do with how your parents raise you. I was raised so normally, or as normally as I could have been."
On her first encounter with Karl…
"I met him at my first fitting for Chanel two years ago. I was already nervous because it was my first season, my first Chanel show, and I didn't really know what I was doing. I'm also pretty shy when I first meet someone…I had heard a lot from Cara Delevingne about how funny he is, how he's normal and just a cool guy. Now, every time we get to work together the relationship gets better."
On meeting new people and being closed off…
"I'm not super open to new people. I have a small group of people I trust. I'm very intuitive, so I'm good at feeling out how people are, like if they have bad intentions. Sometimes I'm very closed off, which annoys me, but I think it's for the best."
On her Beliebf system…
"I went to Justin Bieber's concert the other night. Of course I have the fever! He's a really good friend of the family's, so we all went to support him. Kanye went two nights in a row. He's a huge fan – I was shocked. He was dancing around the whole night, having so much fun… I am 100% a huge fan of Beyoncé. If I see her, I will faint. I've met her before. I just get really nervous and quiet – I just shut up and bow down."
Plus! Karl Lagerfeld addresses those retirement rumors telling Laura Brown:  "Everyone wants to know and hopes I retire so they can get the jobs," the Kaiser say. "But my contracts with Fendi and Chanel are lifelong." There we have it.