Read today's dose of chic intel right here…
Kanye West's "Custom" Gosha Rubchinskiy Tattoo Design Is Just a Computer Font
On Tuesday, fashion watchdog handle @dietprada spotted a striking similarity between the allegedly Gosha Rubchinskiy-designed neck tattoo commissioned by Kanye West and a preexisting computer font, readily found on the Internet. When West returned to Twitter on Sunday after an almost year-long sabbatical, one of the first things he shared was a rending of a Rubchinskiy-designed neck tattoo that he'd commissioned, baring his son's name. Now, it appears by saying he'd "designed" the tattoo, Rubchinskiy meant he "Googled".
Victoria Beckham Celebrates Her Birthday With A Calorie-Free Cake
Victoria Beckham's aversion to calorically dense foods is no secret — she also told Vogue Netherlands last year that she goes for a three-mile run every morning then works out for an hour with a trainer. She then serves her children breakfast and does another hour with the trainer. It other words, she's no joke. So you'd think with all that cardio she could afford to eat a sliver of sugary actual, real-live cake on her birthday. Nope.
The designer celebrated her 44th birthday with her adorable litter of children — hopefully mum let them eat some real cake?
The Meghan Markle Bump Has A Massive Valuation (WWD)
It's no secret that the Meghan Markle bump is huge for brands but just how huge? According to data collected by WWD, the net value of all the brands Markel has endorsed to present is estimated to be 150 million pounds, or $212.1 million. The paper also reports that Markle's May 19 wedding to Prince Harry could generate 500 million pounds for the U.K. economy.
Karlie Kloss Has A Drag Alter Ego Named Karl Lee
To promote her coding summer bootcamp, Karlie Kloss created a infomercial-spoof in which she plays a series of characters, each giving testimonies as to how great their experience was at "Karl Lee"s coding camp. Just watch it — it's quite something…
Evan Rachel Wood Says She's "Just Now" Getting Paid Equally On "Westworld" (The Wrap)
Evan Rachel Woods says she was paid less than her male counterparts for the first two season of HBO's "Westworld" but for season three, she'll be making as much as male co-stars Ed Harris and Anthony Hopkins. "I think I'm just now to the point where I'm getting paid the same as my male co-stars," she told The Wrap. The actress goes on to say that she was grateful to be paid equally. "I was just told that, you know, 'Hey you're, you're getting equal pay.' And I was like," she said, pantomiming a gasp. "And I almost got emotional. I was like, 'I have never been paid the same as my male counterparts … Never, never.'" She adds that she was initially understanding of the inequity because of Harris and Hopkin's stature in Hollywood. "It's more about if you're getting paid fairly, or if you're getting paid less simply because you're a woman, that's not fair. I'm always fighting for that. And I have turned down projects — 'Westworld,' it's, like, I get it a little more," she said, with a laugh. "It's like, 'Well, you're Anthony Hopkins or Ed Harris.'"
Rihanna Wore A Flask Bracelet To Sneak Booze Into Coachella (The Cut)
Start the slow clap. Over the weekend at Coachella, Rihanna lived up to her BadGirl title, accessorizing her head-to-toe Gucci getup (knit balaclava included) with a plastic rose gold flask-bracelet to sneak booze into the festival.
The highly functional accessory holds 3.5 ounces of alcohol is costs $26.99 on Amazon. Alexander Wang also noticed the bangle and gave RihRih a shoutout on his IntaStories.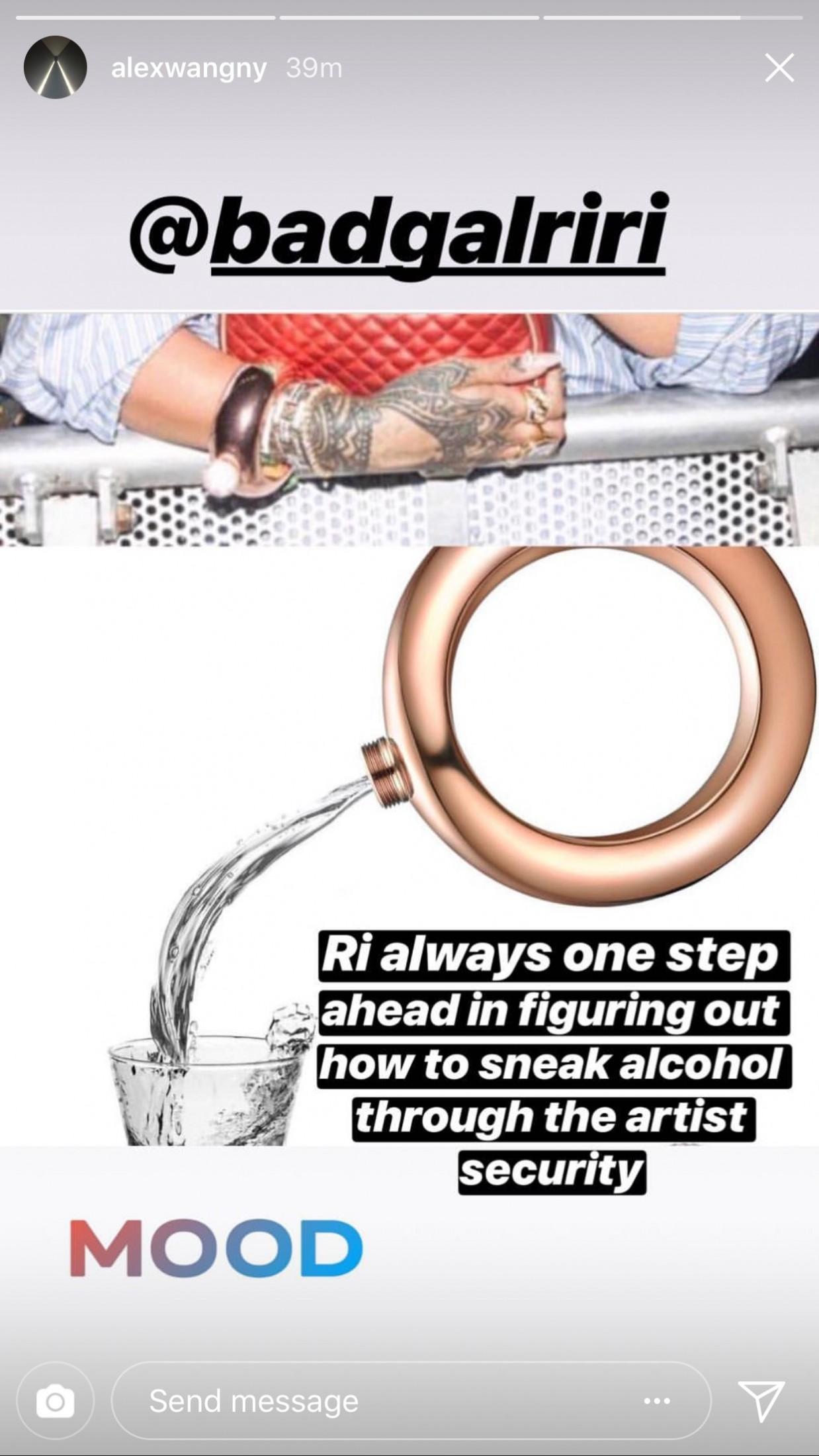 Subscribe to our newsletter and follow us on Facebook to stay up to date on all the latest fashion news and juicy industry gossip.