Victoria's Secret Angel Josephine Skriver, who officially earned her wings this year, has her eyes on a new project these days: a sunnies collaboration with Illesteva. The Danish mod reworked her favorite shape in the line—the Palm Beach—to raise money and awareness for Keep a Child Alive (KCA), a nonprofit founded by Alicia Keys that's dedicated to providing HIV care and treatment to children affected by the virus in Africa and India. While celebrating with Illesteva founders Daniel Silberman and Justin SalGuero at the brand's Upper East Side digs last eve, Skriver filled us in on the partnership and the Victoria's Secret Fashion Show's plans for Paris.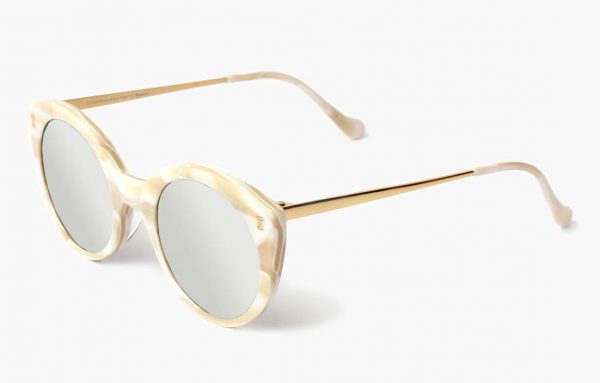 This is your first time tapping into design. How does it feel being on the other side?
I'm really excited about it! It's really cool to be able to my put my personal feel into something. I'm such an accessories person, and I'm very minimalistic, so sunglasses elevate any outfit for me. You'll hardly see me without a pair, whether I'm wearing them or they're in my bag. I love how these frames are kind of square but round, and they go with everything. I wear lots of neutrals and nudes, but for people who wear lots of color, they'll work too.
How did the partnership with KCA come about?
I was at the 9/11 Cantor Fitzgerald charity event when I met KCA for the first time, and I just connected. I was helping them collect money that day when I realized how big of a cause it is. Like many people, I think I was naive about the fact that AIDS is just as bad now as it was in the '80s. I wanted to be a voice to tell my generation that it's not over and we have to keep fighting to find a cure. We have really great medication now, but it's not enough, and not enough people get tested and look for help.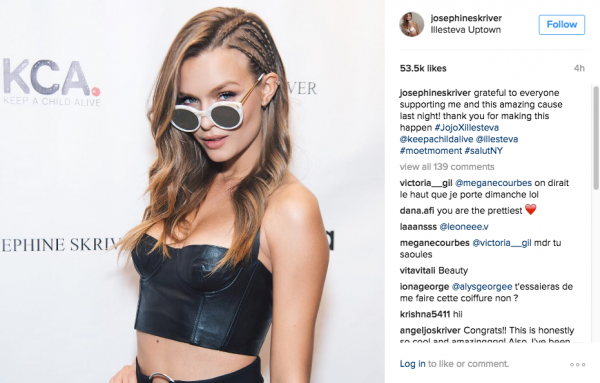 Illesteva has collaborated with fellow VS Angel Jourdan Dunn. 
I haven't talked to her personally about it, but she's a huge fashion inspiration for me. I think she has the coolest, most effortless style, so just knowing I'm following in her footsteps is such an honor.
Who else do you look up to in the fashion sphere?
Kate Moss. I don't think anyone has done cool, effortless, and chic the way she's nailed it from Day One. She's still the one I go back to when I'm lacking style inspiration.
How did you react to the news that the Victoria's Secret Fashion Show is heading to Paris this year?
I was so excited! I couldn't imagine a better match—it's made in heaven. And it's going to be shown in over 190 countries—I can't even believe how many people are going to see it. It's going to be the most enchanting night ever in the city of magic! I love walking around the city at night. It's such a unique place.
NEW YORK, NY – NOVEMBER 10: Model Josephine Skriver from Denmark walks the runway during the 2015 Victoria's Secret Fashion Show at Lexington Avenue Armory on November 10, 2015 in New York City. (Photo by Dimitrios Kambouris/Getty Images for Victoria's Secret)
LONDON, ENGLAND – DECEMBER 02: Model Josephine Skriver (R) walks the show finale of the 2014 Victoria's Secret Fashion Show at Earl's Court Exhibition Centre on December 2, 2014 in London, England. (Photo by Dimitrios Kambouris/Getty Images for Victoria's Secret)
Were there any clues that this was going to happen?
We had a slight idea when our holiday commercial was shot in Paris this August, so we were all like could this be true?! But they always keep it a secret from us. We were dying to know. There's something so magical about Paris. It's the capital of fashion…it's where it always starts!
Any Halloween plans?
I'm hosting a party this year with some of the girls. I think the whole weekend is about waking up scary and looking ugly the whole weekend.
Who are you being?
It's a secret!
Josephine Skriver x Illesteva is available here for $240. 100% of the proceeds will be donated to KCA. Moet Rose Nectar sponsored last night's event.