Lily Kwong is one of the fashion world's most eclectic multi-hyphenates. By the time she earned an urban planning degree from Columbia, she had a blossoming modeling career, dabbled in fashion, headed up a nonprofit tech company, and was brushing up on landscape design. But don't mistake the miscellany for lack of focus—five years later, she's worked on landscapes for LVMH in Miami's Design District, landed editorials in Glamour and Vogue, and most recently launched a capsule collection with eco-chic brand Maiyet.
Lily, you've got your hand in so many fields—urban design, fashion, modeling, and business. How do you strike a balance?
I don't see them as disconnected—I see them as informing one another and being a part of the same curiosity. We're living in an age of interdisciplinary cross-pollination, so it makes me stronger to have exposure to urban planning, landscape design, fashion, photography, and business. I used to be concerned about it, and think, OK, I really need to focus. But my interests bring a depth and a resonance to collaborations. For instance, I could have done a clothing collection with Maiyet because I know enough about fashion to develop something interesting, but to also create a living ecosystem in Soho—that's such a new, exciting, fresh component for both the brand and for myself.
How did the collaboration with Maiyet come about?
A year and half ago, I went to Thailand to meet some of their local artisans. They empower people who have real crafts, and they help protect traditions that have been passed down through generations. After that, we stayed in touch. As I've developed as a landscape designer, I started doing larger-scale work, like a 12,000-plant green wall at the Brooklyn Mirage. I sent them [pictures]—a lot of the patterns were like [the ones in this capsule]. They're kind of zig-zagged and parallel with the block printing technique Maiyet does in India, which is all about layering textures and colors. We saw a great moment to celebrate handmade things, and decided to do a capsule collection and a great interior landscape at the store.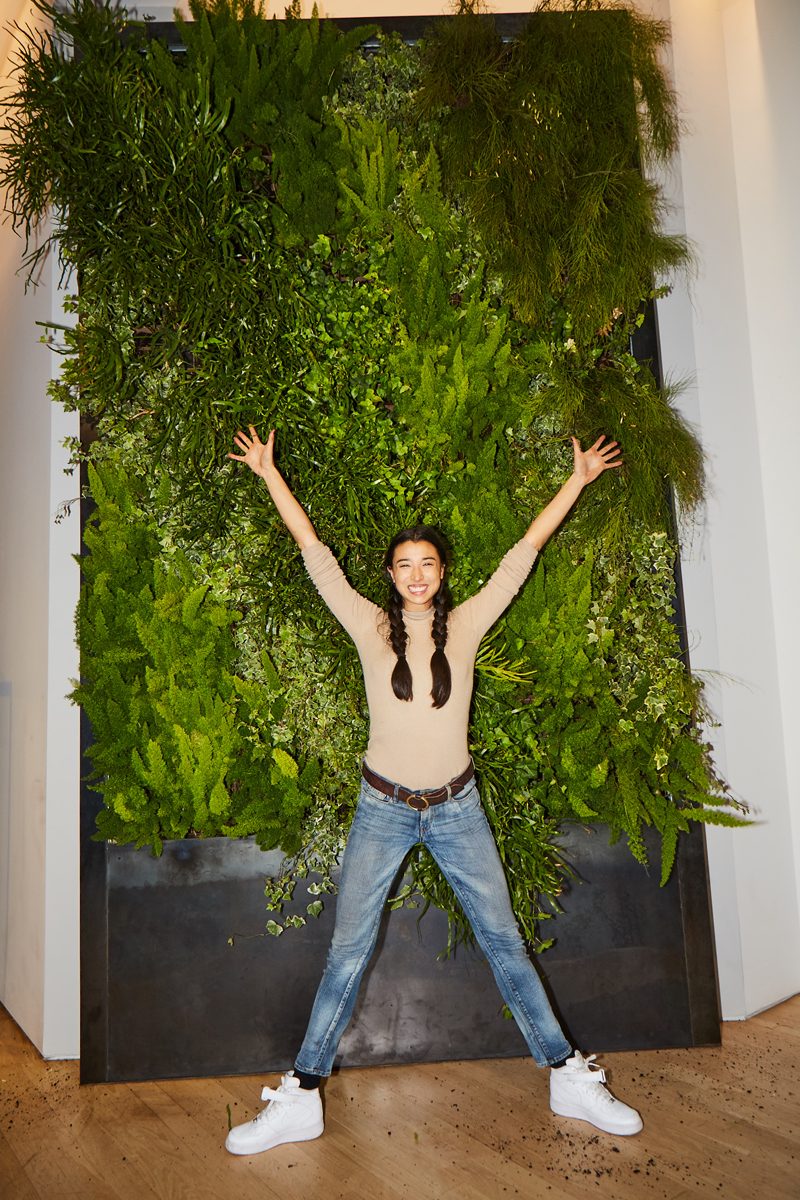 Where do fashion and urban design intersect for you?
I've worked in fashion in some capacity for the past 10 years, and started doing landscapes right after college. I apply so many lessons I've learned from fashion to my landscape work, like texture, color, and proportion. When we developed the print for the clothes, I selected species [of plants]. The prints are from some of my sketches of Sweet Pink, Monstera, and Bird of Paradise. They're plants you'd see growing together harmoniously in a garden.
So what was the design process like for the capsule?
An artisan in Jaipore, India, hand-carves the block-prints. It's a really intricate process. Each one of the plant species is carved onto a different block, and those blocks are layered on top of each other. I worked really closely with them to make sure we were developing shapes and a color scheme that wouldn't get muddy. It's definitely different from what I normally do, but I was asking myself a lot of the same questions: What's the feasibility, what shapes will this make, what forms am I interested in?
How did you create a "landscape" inside Maiyet's Crosby Street store?
The pots were sourced from Thailand, where this story started! A lot of the pieces came from the Brooklyn Mirage project, where we brought seven truckloads of over 12,000 plants from South Florida to Bushwick. Part of my scope was to help with an exit strategy for the plants, so many went to the Botanical Gardens, and a lot of them came here.
Any other projects you're working on?
I'm focusing more on planning and developing urban green spaces. This week, I'm giving a lecture for Cultured Magazine about landscape architecture and my experience working in Miami's Design District. As project manager, I was in charge of implementing the landscape master plan. It really exposed me to plants, and I just totally fell in love. The rest is history.
Will we see you at Art Basel Miami Beach this year?
Yes, and I really envision the collection there! It's soft, beachy, and full of winter whites, so it's perfect.