Read today's dose of chic intel right here…
Jennifer Lawrence To Front New Mystery Dior Fragrance (WWD)
Dior really J'adores J.Law. Jennifer Lawrence will be the face of Dior's next perfume due out later this year. In a statement to WWD, the house called the new scent "an unprecedented fragrance and a powerful universe which mark the beginning of a new era for fragrance at the house of Dior." Woah. The last time Dior launched a major fragrance pillar was in 1999 with J'Adore so this is pretty major. Though, tapping Lawrence isn't all that surprising — the actress has been a celebrity ambassador since 2012 and has appeared in numerous Dior campaigns. It appears to be a lucrative partnership on both ends. Ah, the sweet smell of victory!
J.Crew Hires a New Designer (WWD)
J.Crew is (still) hoping for a one-eighty. J.Crew Group has hired Johanna Uurasjarvi as it's chief designer officer, responsible for the overall design direction for J.Crew brand as well as Crewcuts and Mercantile. Uurasjarvi was formerly the creative director of West Elm, and before that, she was the creative director of Anthropologie for ten years. She was reportedly instrumental in bringing both brands to the revenue-booming status they boast today. Though the group is being buoyed by continued growth at Madewell, J.Crew the brand continues to underperform. Though, sources tell the paper that a J.Crew relaunch is in the works, set for this September. Strangely, that doesn't coincide with Uurasjarvi's tenure exactly — while she starts immediately, her designs for J. Crew won't be out until next year.
Scott Sternberg Taps Spike Jonze and Jason Schwartzman to Promote New Brand Entireworld (Vogue)
Scott Sternberg has called on buddies Spike Jonze, Jason Schwartzman, Katherine Waterston, and Amandla Stenberg to spread the word about his new brand Entireworld via an Instagram rollout, launching today. While at Band of Outsiders, Sternberg became known for his passel of hipster celebrity fans, a semi-random assortment that ranged from Jonze to Rashida Jones to Aziz Ansari. Apparently they haven't deserted him since the luxury label folded. His new enterprise is direct-to-consumer and purports a decidedly basic aesthetic — organic cotton underwear for $15, $32 scoopneck tees, etc. The Instagram videos are very on-brand — with a hipster, dated sheen to them. We can't wait to see what other Hollywood cool kids get invited into Sternberg's world.
Tiffany Haddish Recycles Her White Alexander McQueen Gown — Again (People)
Hashtag relatable. Tiffany Haddish has recycled her $4,000 white Alexander McQueen gown for the fourth time, donning it during her hosting duties at this weekend's MTV Movie Awards. The comedienne previously wore the dress for a promotional appearance for "Girls Trip" last July; then again for her SNL monologue in November; and finally to the Academy Awards this past March. Haddish poked fun at her sartorial repetition this weekend, saying to the crowd: "Welcome back to my Alexander McQueen dress." During her SNL monologue, Haddish called out the insanity of not "recycling" such a pricey garment. "I feel like I should be able to wear what I want, when I want, no matter how many times i want, as long as I Febreezed it," she said. "I spent a lot of money on this dress! This dress costs way more than my mortgage."
Alexander Wangs Teams Up With Trojan Condoms on Cheeky Capsule (Harper's Bazaar)
Alexander Wangs wants you to protect your wang. That's the tagline for his new collab with Trojan Condoms in honor of Pride Month. The limited-edition capsule, which benefits the LGBT Center of New York, includes a hat, a tee, a bandana, and a pair of socks — all emblazoned with an all-cap "Protect Your Wang" command.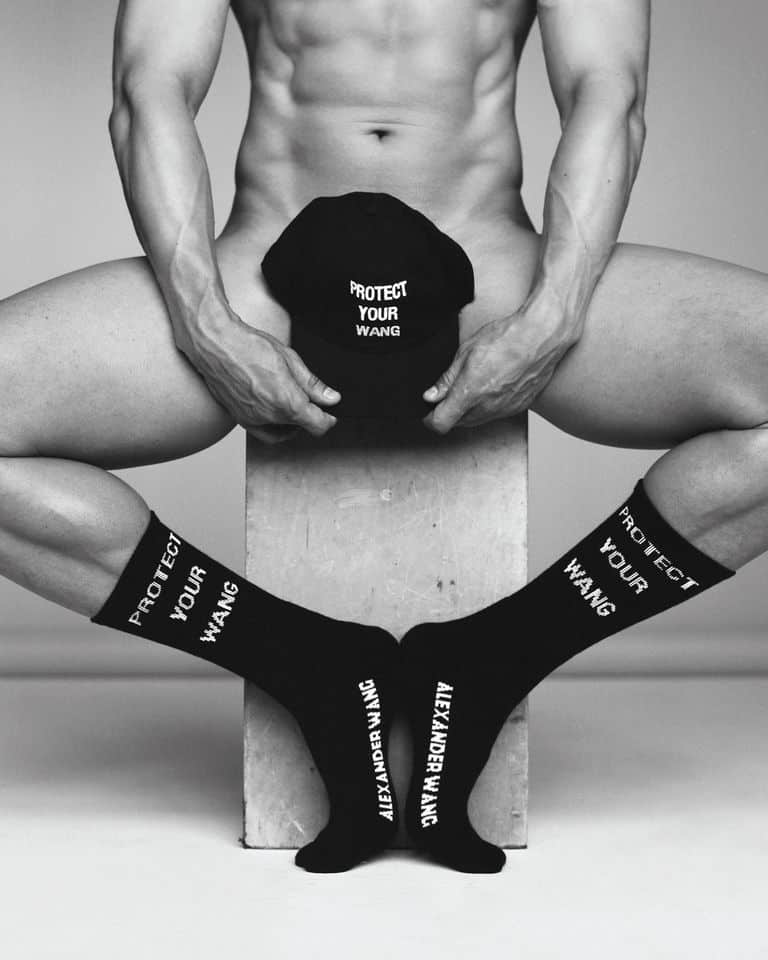 Obviously, the collaboration resulted in some non-ready-to-wear, of the latex kind — an Alexander Wang-branded condom. The condom will come free with purchase of any item from the collection. Wang and his #WangSquad will be making it rain condoms this Sunday at the New York City Pride March which starts at noon in the West Village at 16th street and Seventh avenue.
Subscribe to our newsletter and follow us on Facebook to stay up to date on all the latest fashion news and juicy industry gossip.