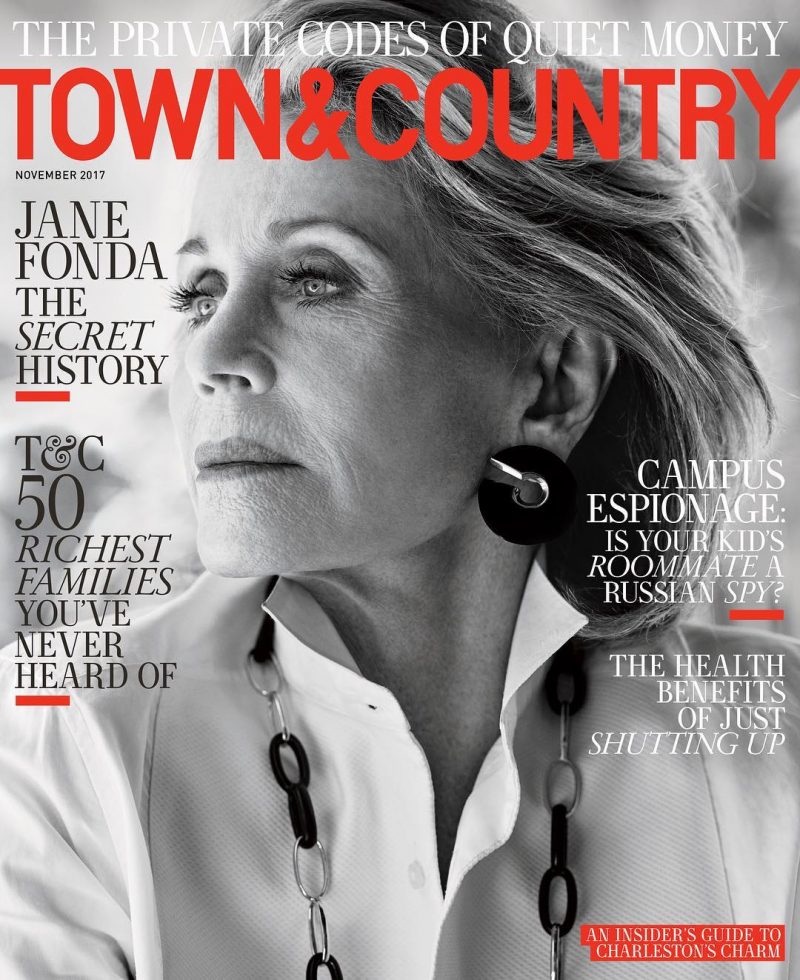 Jane Fonda was photographed by Max Vadkul and styled by Nicoletta Santoro for the November issue of Town & Country. The major beauty looks exquisite in a simple white button-down from Ralph Lauren and a Vhernier necklace. Inside the issue, the well-known liberal and women's rights activist, discusses surviving the Trump era. "I'm almost 80, and so to say that I've never experienced this kind of nightmare before in my life is saying something," Fonda told T&C. "I became an activist in 1970 and if I can give any advice it's this: We mustn't normalize this presidency." She also discusses missing her father, her outlook on the future, and why she's not concerned with chasing perfection (although we think she's come pretty close).
Jane Fonda has lived many lives: She was a sex symbol in the '60s, a political activist in the '70s, an aerobics and fitness icon in the '80s, a retired ranchwoman in the '90s, and a born-again Christian and women's rights activist in the '00s. Now, she's enjoying a career resurgence thanks to her hit Netflix series Grace & Frankie, in which she stars alongside icons like Lily Tomlin, Martin Sheen, and Sam Waterston and her new Netflix film Our Stars at Night where she plays the lead, alongside Robert Redford, as Addie Moore from Kent Haruf's novel of the same name. She will also star in Book Club next year alongside everyone from Alicia Silverstone, Diane Keaton, and Mary Steenburgen to Andy Garcia, Richard Dreyfuss, and Don Johnson. "Standing pat just isn't in my nature," Fonda told T&C.
The new issue will hit newsstands on October 17. In the meantime, a few highlights from Fonda are below. Read the full story here.
On not chasing perfection: "Perfect? It doesn't exist. What matters is that you're whole."
On her outlook on life and on the future: "I'm not afraid of death, but I'm afraid of getting to the end without becoming the best I can be as a person…There's a lot of time behind me and not much time ahead of me. And whatever time is left, I want to do it differently."
On her father, Henry Fonda: "I miss him so much. I think I'd be able to talk to him now, which was something I had a hard time doing when he was alive; I was too intimidated by him. There's so much I wasn't able to say."