It's been 10 years since Christopher Chong, creative director of fragrance house Amouage, brought his talents to the perfume world after moving stateside from Hong Kong. The creative takes us through his career as well as his history at Amouage and what we can expect from his latest scent. 
What were you doing before you joined the company?
I was studying for my Ph.D. in London with a focus on cultural studies—I wanted to be a professor of literature. Around this time I became acquainted with people who were studying opera, and fell in love with the world of music. I was hooked, and began studying opera. I left my Ph.D. program and studied operatic vocals and music composition for 10 years. Then, as fate would have it, I saw there was a perfume house looking for someone in the arts. I was intrigued by the world of scent and found myself comparing how music and perfume creation both share an artistic sensory process. Before I knew it I was in Paris, presenting my idea for celebrating Amouage's 25th-anniversary. I didn't yet know all the details involved in perfume ingredients so I used metaphors and images that embraced my training in literature and opera and was able to deliver a unique and successful vision.
How have things changed since?
As creative director, I am able to orchestrate every note of my creations: the mood, style, and story. I work with perfumers and other artists to turn my ideas into reality. In my 10 years, I've gained a wealth of knowledge encompassing the full scope of scent creation, not only as a creative director but as a craftsman. My first two fragrances – Jubilation and Lyric, were amazing successes. I love every step of the process, from visiting manufacturers to my intense and close working relationship with perfumers.
We read you launched a modeling agency at one point…discuss!
Wow, that feels like a lifetime ago!  I certainly did, it was called Diva, when I was living in New York City.  I was hanging out with a lot of modeling agents and even did some modeling myself. If you wanted to do something in New York at that time, you could, people were open to giving opportunities. I was helping out a friend at an agency, and one of the agents disappeared! Nobody could reach her and I ended up taking on her role, making phone calls, bookings, casting girls. A colleague suggested I open my own agency so I thought—why not!
Which perfumers did you learn from?
Daniel Maurel was really inspiring—he's retired now. He was never one of those celebrity perfumers. In addition to being an excellent teacher and master perfumer, he was the first person in the industry who believed in me, and we worked together for three years. I met Pierre Neglan five years ago, together we created Interlude, Amouage's bestseller. People still go crazy about it. Pierre was a true mentor—he once said, 'You do whatever you want and everybody will have to believe in your vision'. It was very good advice.
How challenging is it to predict what people are going to be looking for a year or two from now?
Every year or two, we see a prediction of what the Next Big Thing is, like in fashion—a mood, a color, a conversation.  Last year's prediction was a shade of green, so perfumers were all going towards a cucumber fresh scent. I like to be authentic and truthful and follow my own heart, not trends, so that challenge isn't something I even think about!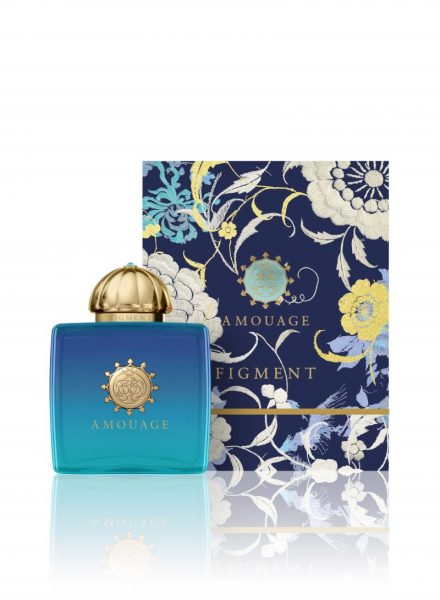 What's the most elaborate bottle you've created?
We have a very special limited-edition silver bottle that's handmade by silversmiths in London. It's coated with 24-carat gold plating made in Italy and Germany.
What's the latest product you've launched?
It's a eau de parfum called Figment—one for men and one for women. It's inspired by Bhutan, the land of happiness.
This is your 10-year anniversary. What do you see happening in the next decade? 
There are still so many scents I want to create. I'll keep pushing myself to the limit on my creative endeavors! Would love to open up a standalone Amouage store in New York, it's such a personal and exclusive experience a customer can get by coming into one of our boutiques.
Where can we find you in the U.S. right now?
Bergdorf Goodman, Bloomingdales, and Lucky Scent plus many of the more curated beauty stores such as Aedes and Osswalds.