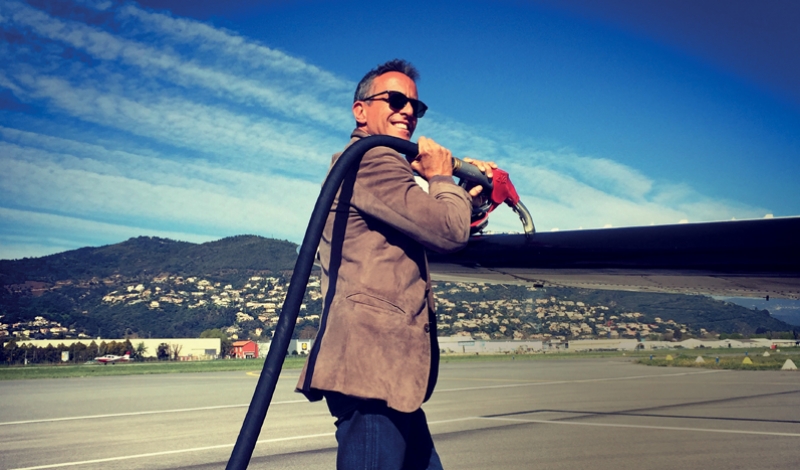 In Plane Sight With Roberto Cavalli's Andrea Tremolada
|
It's a bird! It's a plane! It's Andrea Tremolada, the communications director at Roberto Cavalli! When this dapper Italian isn't working behind the scenes for one of the world's biggest luxury brands, he's behind the controls of an airplane. Buckle up!
First things first: your career in fashion.
I started my career in the '90s with Gianni Versace. I took care of advertising, prepared shoots, and worked on campaigns. There were also PR offices around the world to oversee.
You moonlight as a pilot. What originally interested you in aviation?
When I was a child, I saw a Falco F8L with my father. The plane started flying in 1955, and even by today's standards, it's the fastest plane in its class. Its designer, Stelio Frati, was called the Christian Dior of airplanes, because his are considered the sexiest. The day I saw it for the first time, I told my father that I would have my own someday. I started saving my money, and began building one when I was 17. It took me another 17 years to finish it!
What took so long?
Sometimes I didn't have the money—there were four or five years that I didn't touch the plane at all. But in 1997, I said to myself, "Now or never." I finished it in my garage and dining room. Toward the end, you couldn't even move in my house!
What did friends think of your big project?
They couldn't believe it—a plane built out of wood! I also had a Doberman, who was very jealous, so any guy I dated had to pass his examination. There was the dog, the plane, the crazy fun—those were fantastic years full of dreams!
How did you finally get the plane out of the house?
I had to tear down a wall to get the wings out, and I ended up building the cockpit in the Versace office. Gianni was very supportive. When I first met him, we immediately clicked and said, "Okay! We have to work together." At the same time, he understood I had so many projects going on. He wanted me to stay with him for some time, and I explained that I was building a plane and that I would sometimes need to change my work schedule. He said, "No problem! Bring your computer and we'll work it out."
How many planes do you have these days?
Two. I built the small Falco from scratch, and the other is a 1974 Beechcraft Duke. I dismantled it a few years ago and rebuilt it to "like-new" standards. It has an incredible class and design.
You're very ambitious.
These are the planes that I dreamed about when I was a kid. In 1974, I went to an air show in Paris with my father. I would get catalogs—I wanted a piece of paper to dream about.
Where did you go on your first real flight?
Brazil, to keep a promise I made to my dad. On the tail, I wrote Two of Us in his memory.
Did you stop to refuel?
I modified the plane to hold auxiliary fuel tanks inside the cockpit, so I had an extra 150 gallons. There's no stopping across the Atlantic!
Do you have a co-pilot?
No! I fly alone. There's no space for a co-pilot on the Falco.
Let's say you've got to go to the bathroom…
You can't even move! The plane is very small. I sat there for 16 hours. It was the only way. I used a plastic bag and threw it out the window.
Do you ever get scared in the air?
Sometimes. It happens when you realize you've taken more risks than you should have. That happened more when I was younger. Now, I'm more mature, so I don't take as many risks. But nature is always stronger than us, and you have to respect it.
Besides Brazil, where else have you flown?
The United States, Iceland, all over Europe, Turkey…next, I'd like to fly to Australia.
Why do you love flying so much?
It's an escape, and it's pure freedom! My favorite color is the blue sky. Flying makes me appreciate things more. I see the world from a different perspective. When you fly commercial, you just board the plane, but when you fly a small plane, there's the preparation, the adventure, the meteorological conditions.… You put together a big picture, then you climb onboard and the flight becomes the easiest part of the story.
Any advice for someone who's scared of flying?
Ask a pilot to explain things to you! Flying is the least dangerous activity.
Where are you flying this summer?
I like the sea, so probably Greece, Turkey, and Spain. I might go to Iceland again, too. I was thinking of visiting the U.S. for an air show in July, but we have a new designer, so I need to work.
Peter Dundas, you mean?
Yes! I've worked with him for a month, and I love him. He knows what he wants, and he's exactly the person the company needed. I'm very excited. I like his approach, and he's a very nice person. He has such good energy!
Enjoy your travels.
If you come to Italy, let me know and we'll go flying. Ciao!