Top mod and Hamptons regular Hilary Rhoda headed to East Hampton for the Veronica Beard Fall  '16 campaign, which was shot by Claiborne Swanson Frank—sister of Veronica Swanson Beard, one half of "the Veronicas." The result: dreamy images with the ultimate East End vibe, from the beachy architecture to the moody landscape. We caught up with Rhoda to get the deetz of the shoot, her summer plans, and what else she has in store.
What was it like working with the Veronicas, Veronica Swanson Beard and Veronica Miele Beard, for the fall campaign?
They're so much fun! We had a great day. I loved the family aspect of it all, and it really set the mood for the whole day of our shoot. Very comfortable, relaxed…I felt like I was part of the family when we were done. It was shot at a really cool house in East Hampton overlooking Accabonac Harbor. I was only out there for the day, though, because I had to get back for another shoot in the city.
What's one of your favorite pieces you wore for the shoot?
I love the blazer with the mock-turtleneck dickey that you can zip in and out of the body and sleeves. It's such a cool look and I love that it's two pieces in one—and yay for no bulking!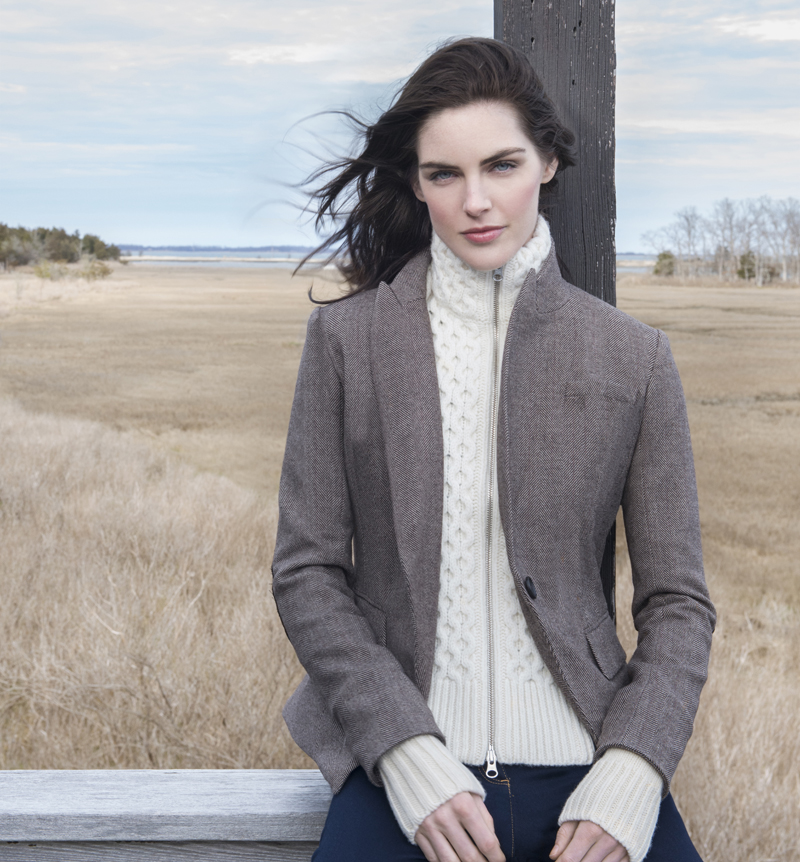 The day of the shoot was also your birthday—happy belated! What did you do to celebrate?
My thoughtful husband, Sean [Avery], drove me out East and back with our dogs, so that was nice. We left the city at 5 a.m. and didn't get back until 9 p.m., so we watched "Real Housewives" and ordered in…which, for the record, makes for a pretty perfect night, in my book!
Any summer plans coming up?
Besides going back and forth to the Hamptons, we are going to Muskoka in August, which is the most picturesque lake town about two hours north of Toronto. Nobody drives there—you get around by boat. It's the cutest place…even your newspaper gets dropped off on your dock in the morning. My first time there was for a friend's wedding three years ago, and I cannot wait to get back! We'll be there with Sean's parents and a couple of our friends.
What's your go-to workout during the summer season?
I am a Tracy Anderson devotee through and through. Tracy teaches tons of classes at her studio in the Hamptons all summer long, which is always really fun. But honestly, it's the best workout. It's so hard, but the results you see are insane. Love her.
Anything else you're working on?
I have pretty much been spending all of my time, when I'm not modeling, on acting classes and studying—over 150 hours. It's been so fun and I'm really excited for what's to come in the near future.