Read today's dose of chic intel right here…
Hermès Sales Rise Over 14% (WWD)
Sales at Hermès were up 14.7 percent in the second quarter of this year, with the house pulling in €1.67 billion ($1.86 billion) in that period. As one would expect, leather goods was the label's best-performing category, bringing in €844.2 million, but ready-to-wear did well too, earning €394.4 million in the quarter.
Ariana Grande Speaks Out on Predatory Photographer (Elle)
Yesterday, Diet Prada posted messages between photographer Marcus Hyde — who has worked with Ariana Grande and Kim Kardashian — and aspiring model, Sunnaya. In the exchange, Hyde, who claimed to be casting for photoshoots, requested nude photos from the model prior to shooting. When she declined, he said he would charge her $2000 to work with him (but he would shoot her for free if she sent the nudes). Following the post, several other people began submitting their own stories about their dealings with Hyde to Diet Prada.
View this post on Instagram
Grande has since taken to Instagram to share a statement which seemingly addresses the situation. "I have just read some shocking and really heartbreaking stories," she writes. "Please do not shoot with photographers who make you uncomfortable or make you feel like you need to take off our clothing off if you don't want to. If you want to, sick. But if you don't, please don't. If they tell you you have to pay more money if you're clothed that's fucked and I'm sorry that has happened to you. I promise there are so many respectful, nice, talented photographers out there."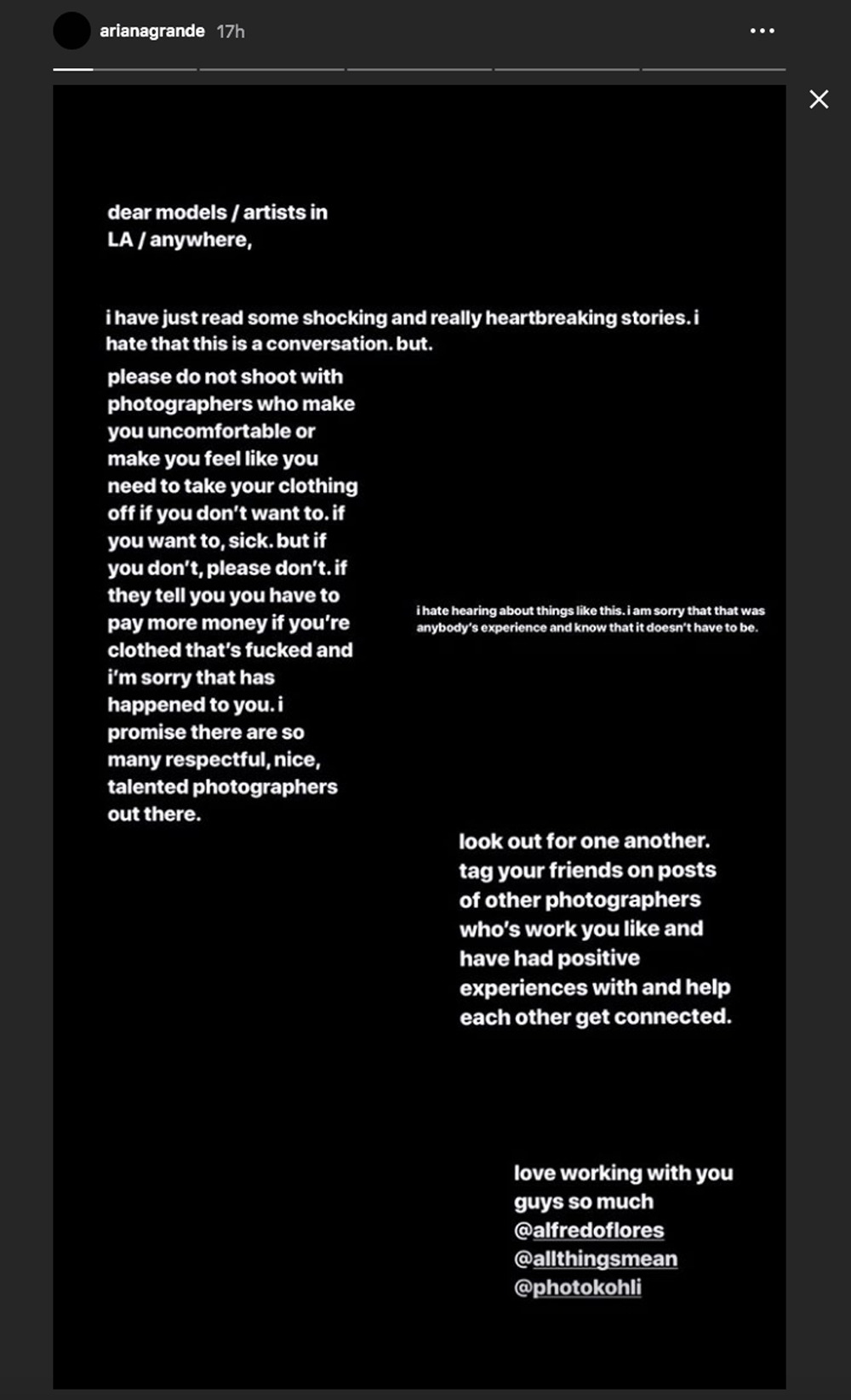 David Spade Opens Up About Losing Kate Spade (The New York Times)
In a new interview, David Spade opened up about the death of his sister-in-law, Kate Spade. "I feel like Katy wouldn't have done it, five minutes later," he said of her suicide in June of 2018. "But these things happen and there's no going back."
"Katy was so funny," he said. "I don't know if agoraphobic is the word, but she didn't like to mingle a lot; she'd have people at her house and she was always so funny."
The Costume Institute's Next Show to Feature Sandy Schreier's Fashion Collection (Vogue)
Sandy Schreier's personal fashion collection will go on display at the Metropolitan Museum of Art this November. Schreier, a fashion historian, is thought to have one of the world's largest private collections of couture. "I always saw myself as a fashion savior," she told Vogue. "My passion for fashion as an art form drove me to search for the most innovative, creative, and breathtaking objects by well-known and lesser-known talents. I am elated that these pieces will now live on as my legacy at The Met, where they can be conserved and shared with the public, designers, and scholars for eternity."
Schreier's collection has been promised to the museum after she passes. The show, titled In Pursuit of Fashion: The Sandy Schreier Collection, will feature 80 pieces spanning 96 years of fashion.
Josephine Skriver and Jasmine Tooks Host the SWEAT Fitness Festival
Over the weekend, Victoria's Secret Angels Josephine Skriver and Jasmine Tookes hosted the 5th annual Southampton Sweat Fitness and Music Festival at The Surf Lodge. "Fitness and music are two of my favorite things," says Tookes. "Bringing them together with an amazing group of people is so awesome!" This year the festival featured classes by 305 Fitness, The Class by Taryn Toomey, Tone House, DogPound, Sweat with Bec, Torch'd, New York Pilates, Brick New York, and Damn Good Yoga. Juice Press provided fresh juices, and guests were able to shop activewear from Bandier.
Subscribe to our newsletter and follow us on Facebook and Instagram to stay up to date on all the latest fashion news and juicy industry gossip.