Maria Grazia Chiuri presented her first couture collection for the house of Dior today. The scene? While her predecessor, Raf Simons, was known for creating elaborate floral displays as the backdrop for his shows, Grazia Chiuri transformed the runway into a mossy forest for her mystical nymphs. Front row guests like Diane Kruger and Kirsten Dunst sat perched on velvet green pillows while their heels rested on a grassy carpet that covered the room at the Musée Rodin in Paris.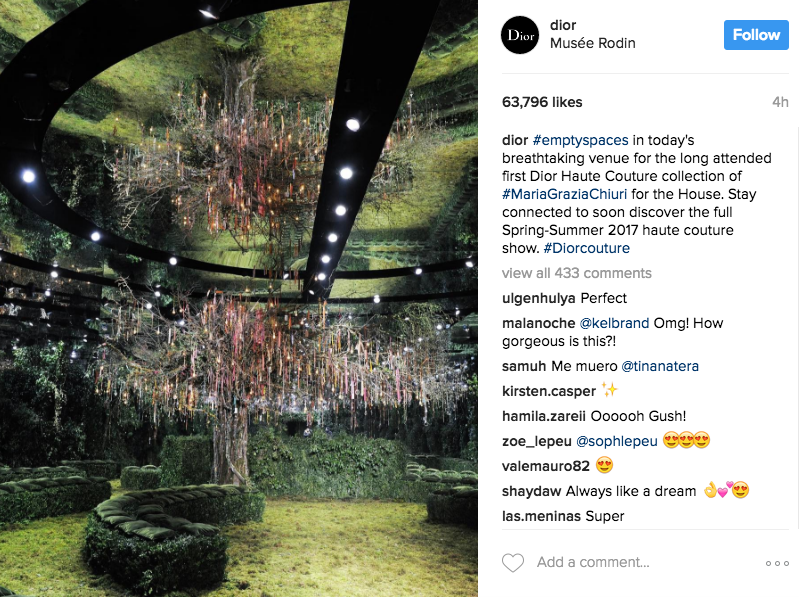 The venue decor set the tone for Grazia Chiuri's pixies, who floated down the runway in awe-inspiring ethereal gowns topped off with floral and feathered crowns by famed milliner Stephen Jones. Before the show's debut, Dior took fans behind-the-scenes of the atelier on Instagram to reveal Grazia Chiuri and the team's penchant for mysticism (designer Giuseppe showed off his protective amulets) and daily horoscope readings (Grazia Chiuri is Aquarius, but she has a team of Geminis, Pisces, and Scorpios!). It's no wonder that Grazia Chiuri's collection felt so other worldly.
So what is Grazia Chiuri's horoscope reading for January? "This year is remarkable in that your ruler, Uranus, will be in ideal angle to Saturn, a trend that first started December 24 last month and will continue throughout the New Year," says fashion's favorite astrologer, Susan Miller of Aquarius' horoscope this month. "You've not seen cosmic support like this in ages…This is special! Uranus is the planet of innovation and the future, and Saturn is the planet that stabilizes everything it touches. What wonderful news you have to begin your New Year!"
Below are some of our favorite looks from Grazia Chiuri's fairytale couture collection for Dior.