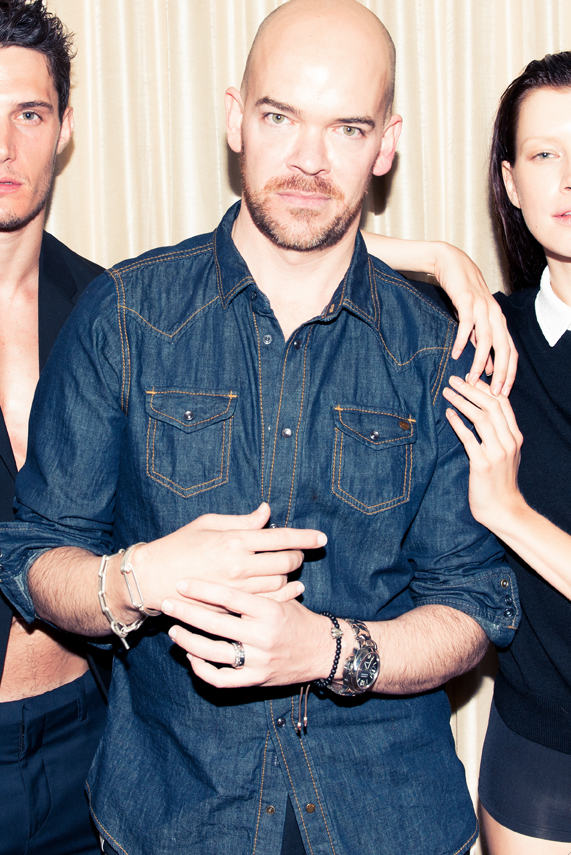 When tony public relations firm PR Consulting signed Grindr, everybody had an opinion. Landis Smithers, the networking app's recently appointed VP of marketing, explains the hookup.
How does one get a job at Grindr?
I'm a creative director and photographer—I was brought in in September. It wasn't something I'd necessarily expected to do, but the challenge was pretty amazing. Grindr pitched themselves as a successful tech company with a ton of active captive users on an incredibly high frequency, and we have the opportunity to give them more. Yes, we connect people on one level, but research shows that users also connect through friendships, and they use Grindr when traveling to find out what to do. We started going back and forth, and then when I joined, it was with the intent of, How do we form something different here? How do we use this access we have globally to all these men and provide them with things they wouldn't expect?
And fashion it is! How did you get into bed with PR Consulting?
One of the things we looked at first was a desire to work with people who are top of the class and have a lot of ideas and to challenge Grindr and what the brand means. [Founder] Pierre Rougier is definitely one of those men. I was eager to see if there was a click, and there was. They have a lot of connections, but they push us further.
Did you anticipate people would have an OMG!? reaction at a fashion PR firm signing Grindr?
We did. I'm not naive—it's the combination of the sexualized nature of this brand and the sometimes pearl-clutching nature of the fashion industry that caused the buzz. I'd rather people be interested and intrigued than horrified.
How can Grindr help designers?
It's no big secret that the gay community is extremely diverse, and there's a large section of that community that is interested in the arts and fashion. For some segment of the population, fashion is almost like a team sport—following who's going from one house to the next, name-checking shoes. Given that there is a higher level of interest, it's kind of obvious to share game-changing designers with our users. We provide access to probably more instantaneous eyeballs than almost any platform you can think of. I think of it as turning on the faucet for our users. We're doing it across fashion, and also looking into sports and other areas.
You did a livestream of the J.W. Anderson show in London. How did that conversation begin?
We didn't have a specific designer in mind—just a desire to do something during Men's Fashion Week. I was open to any city and any designer, but I did want someone who was a little bit unexpected. It would've been predictable for us to do an underwear show. PR Consulting said, "Can you do a livestream?" And we said, "Can you give us a few days?" Jonathan Anderson was interested in being a part of it. He was a dream collaborator. I liked that he didn't make a terribly big deal out of it—he treated this opportunity as, we're doing something fun and new, and that was it.
Was it successful?
Yes! Livestreams are tricky. Not a lot of people see them unless they are actually obsessed with the individual event, but we had really good numbers. We had 40,000 views during the actual show; then we posted it for a repeat, since we have a global audience of people who weren't even awake when it happened. By the end of the week, we hit about 150,000 views. Before, his shows got about 5,000 views on YouTube. That's a pretty exponential leap.
Are you open to doing livestreaming shows from the women's collections?
I never say no to opportunities, although I'm not sure if that's much of a sweet spot for our audience.
Diesel is advertising on Grindr.
We have quite a few mainstream advertisers—everyone from Airbnb to Uber to Live Nation to Madonna, who sold her concert tickets on the app. We have both predictable and unpredictable advertisers. I believe Diesel is the most recent fashion entry. [Artistic director] Nicola Formichetti is brilliant, and it's always exciting to see what he does.
How do people react when you talk about your job?
There's a generational split. When you get above a certain age range, whether it's Playboy, where I worked before, or Grindr, there's a curiosity factor. Nobody is shocked, but they might have visions in their head of an office full of go-go boys. It's not that at all. If I talk to the younger generation about my job, it's a little bit more matter of fact.
Do you have to be on Grindr to work there?
No! It's a really diverse work atmosphere. We've got straight, gay, male, female, and every ethnicity on the planet in the office. Everyone here does open an account so they can see how it works, and it's a really easy way to message one another when you're sitting across the room.
Is the fashion industry more heavily represented on Grindr than, say, accounting?
To be honest, every gay I've ever met in my life is on Grindr, so I'm not sure if it's specific to an industry. I live in L.A., so it's a little bit skewed, I suppose. But fashion is always a first adopter. Thanks to all my fashion people! I love having them on the app.
I should've started this interview by saying, "Sup?"
You should have. It's very appropriate. You also could've said, "Into?," but that would've been very inappropriate.
Into?
Nice try.