While the world's leading fashion designers showcase their collections at New York Fashion Week, Michael Evans and his team at USPA Nationwide Security will be working behind the scenes to make sure everyone is safe and the events run smoothly. Evans grew up on the east end of Long Island and launched his business as a one-man Hamptons-based security guard company twenty years ago. It has since evolved into one of the world's largest protection companies, serving billionaires, celebrities, and high-profile events. In addition to embracing the latest technology trends from advanced surveillance systems to artificial intelligence-powered threat detection, Evans has grown USPA Nationwide Security with an unwavering commitment to philanthropy, sustainability and environmental responsibility. We spoke with Evans, who has worked with Madonna, Yves Saint Laurent and Google as he and his team were preparing for New York Fashion Week.
Did you grow up in the Hamptons?
I grew up thirty minutes away from the Hamptons. My mother owned a beauty salon in Bridgehampton and would often take me to work as a child. It was there that I became aware of the wealth that exists in the world. There were often men in suits and earpieces accompanying celebrities as they went about their daily activities. As a child, I viewed those protectors as heroes and wished to emulate them.
How did you get started in protection?
I attended college in Southampton in the early nineties and worked as a bouncer at a number of popular nightclubs, including The Tavern, Jet East, Turtle Bay, Conscience Point, and Galaxy. I was later hired by New York Security Group (now called Wilson & Associates Security Consulting) as a security guard for private events, such as the Bridgehampton Polo. I protected celebrities like Jessica Alba, Natalie Portman, and Dennis Leary. Several years later, I ventured out on my own, protecting clients like Kid Rock, Queen Latifa, P-Diddy, and Victor Cruz. I remember Cruz was a bit annoyed that I didn't know who he was. It was my son, who was 7 at the time, who told me how he played in the Giants' Super Bowl victory in 2012.
How did you launch USPA Nationwide Security?
It was 3AM on Christmas Eve in 2004. I was all alone, working dispatch at a local police department on Long Island, thinking how much more I wanted from life. I realized that if I wanted to make my dreams come true, I had to resign from my civil service job and dedicate myself to my entrepreneurial journey. I quit and started USPA out of my New York apartment.
Your clientele has grown to include Yves Saint Laurent and Google.
The caliber of professionals we employ is something we take great pride in. Through the use of former Navy SEALs and Army Rangers, we are able to ensure that our clients receive the highest level of expertise and professionalism on the ground. For each specific security detail, we assume a variety of responsibilities. Over 75 security professionals were deployed for the Yves Saint Laurent exhibit at Art Basel in 2022. Under Brian Fitzgibbons, a former Marine and our Director of Security, and a team of our Titanium (highest-level) protection officers, measures were taken to monitor entry and exit points and to maintain a secure perimeter to protect the priceless artwork on display.
Madonna attended the Yves Saint Laurent exhibit.
I actually worked directly with Madonna and her in-house security team for her 'Sex' Book Reedition at Art Basel earlier last year. Her personal bodyguard is based in Europe, so he often works with US-based companies to ensure her safety while in the United States. At Art Basel, I served as team leader for Madonna's private party when she mingled among the invited guests which included Hailey Bieber, Zoe Kravitz, Laura Harrier, Alek Wek, Grace VanderWaal, and her family. To an outside observer, I appeared as another member of her entourage.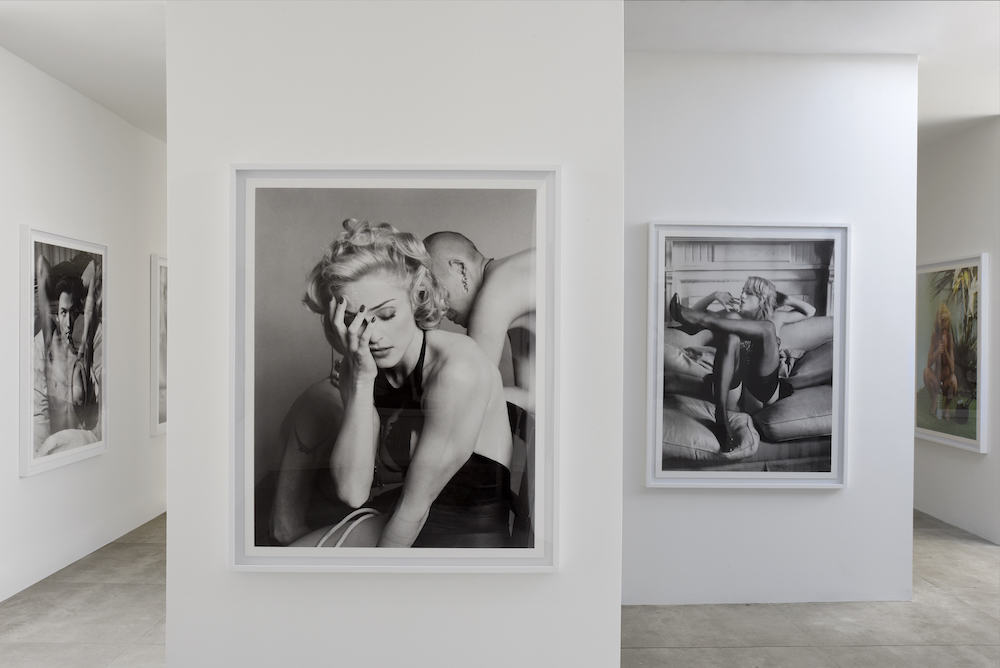 Were there any threats?
At one point, a stalker showed up on a bicycle with two nylon bags duct taped to his chest, crying and professing his love for Madonna. Our counter surveillance personnel confronted him about a quarter mile outside of the roped off area.
What are the biggest threats at large events like NYFW?
Biological weapons, active shooters and stalkers pose the greatest risks to large events such as NYFW.
How will USPA Nationwide Security work to ensure that everyone attending NYFW is safe?
My team and I will be guarding several high profile NYFW events in September that I can't disclose. We will employ a layered approach that includes technologically advanced, properly armed, and fully trained guards providing 360-degree protection. We will deploy drones to monitor the large crowds from a high vantage point and place strategically mounted acoustic sensors capable of accurately detecting and locating the source of gunfire in real-time. We also have a state-of-the-art system which can detect concealed weapons or suspicious items. This technology is combined with a protective team, led by an Army Ranger, a dedicated liaison with the New York Police Department by a former police officer, and threat analysis by a former Intelligence Agent, all managed and overseen by our CEO, Dan Manning, from our operations center.
Visit: www.uspasecurtity.com for more info!