Tired of wearing the same arm candy as every other girl on the Jitney? Meet Gretchen Maull, whose new line of handbags has the style set ditching their Mansurs. Designed in New York and made in Italy, GG Maull bags are a little bit rocker, and a little bit ladylike—not unlike the designer herself. Over breakfast in Bridgehampton, she talks shop!
What's your backstory?
I grew up in California. I wanted to be a designer my whole life. After my freshman year of college, I got into a summer program at Parsons in Paris, Milan, and Belgium. After that, I was like, I'm not coming home! I wanted to move to Europe to pursue fashion and accessory design full-time, but I had to prove to my parents that fashion could be a career. So I started off by interning for six months at Proenza Schouler, and then I transferred to the Istituto Marangoni in Milan.
What did you study?
I did an undergraduate degree in fashion design, and then I did a one-year master's program in shoes and handbags. I loved the Italian culture—it's so different. They really focus on the history of design, and they really value design and technique. Professionals from the industry would come in and teach us, and we were competing against other students for internships.
How's your Italian?
I'm still working on it! The people who work at my factory don't speak English, and neither do my contacts at the main tannery I use for sourcing leathers. I'm still taking lessons twice a month!
What was your biggest takeaway from your time in Italy?
That you have to salt your water before you make pasta or vegetables! [Laughs] I really learned how to relax and live in the moment. I feel like we're always fighting that impulse in fashion—now, I design when it makes me happy, and I don't worry too much about the calendar.
What coaxed you back to the States?
After I got my degrees, I moved back to New York to be an assistant designer at Oscar de la Renta. My first day at work was September 15, 2008—the day when Lehman Brothers crashed. I feel like the fashion industry still hasn't recovered! Everything was changing so quickly. It was a great experience; I got to do a lot of different things while assisting in accessory design.
And then?
I wanted to move on, and I was unsure of what I wanted to do. I went freelance, designing jewelry at Coach and handbags at Kate Spade. Then I got an offer to work at Calvin Klein launching its white label. That was really cool—we picked all the basic leathers, designed all the hardware…it was an opportunity to create all the brand's signatures, which are usually established. It was my first time learning about how to build a brand from the ground up. Than Juicy contacted me when they were trying to relaunch the brand, and they made me an offer I couldn't refuse. I worked my way up to a senior designer role.
What inspired the decision to launch your own line?
Juicy was sold, and I was kept on during the transition, showing corporate liquidators around. In our sample room, we had all sorts of leathers
and machines—the sorts of things I'd need to start my own line. The liquidators said, "Why don't you get rid of this or donate to someone?" It was almost like the universe was giving me the perfect opportunity. Also, at the same time, I experienced a personal tragedy: My sister was hit by a car while crossing 42nd Street. She's fine now, but she was in coma for two weeks. It just really quickly made me prioritize my life. There is
no time like the present!
What was your concept for GG Maull?
My brand essence is joy, and to spread joy through my handbags is my gift. Women are multidimensional—our design is all about rebellious sophistication. The shapes are really easy and multifunctional, allowing you to live life to the fullest. Carpe diem! But the sophisticated element is derived from the fact that our designs are made in Italy from luxurious materials—leather, python—and finished with Art Deco detailing. There's also a nod to the '80s—I love gold chains, power dressing, and female empowerment. It's always a reference for us.
What was your first big success with GG Maull?
It happened the first season, when Intermix picked up the line. It's still one of our biggest points of distribution, along with Curve. We're also carried in about 10 specialty stores around the country, and I'd like to get into a major [department store] next season. I'm also building up my online business, because I enjoy having a direct relationship with the consumer. I'd love to grow the line to include all accessories—shoes, belts, jewelry…and sunglasses!
All in good time! How long have you been going to the Hamptons?
A decade, at least. I was sneaking into Star Room back in the day. Now, I never leave the house! My husband, Bennat, and I started dating about eight years ago, and we go to his family's house here in Bridgehampton every single summer.
What are some of your pastimes?
The beach, of course, and I love how it's juxtaposed with farmland. I love all the horse farms, too—I ride every weekend. And I spend a lot of time at the design stores here—interior design is another passion of mine. I love mixing patterns and working with bright colors, natural stones—a luxe, urban boho vibe. Come over to my apartment in the city, and you'll get it!
Will do. Any other hobbies?
I love eating. [Laughs] We're big food people!
PLUS!!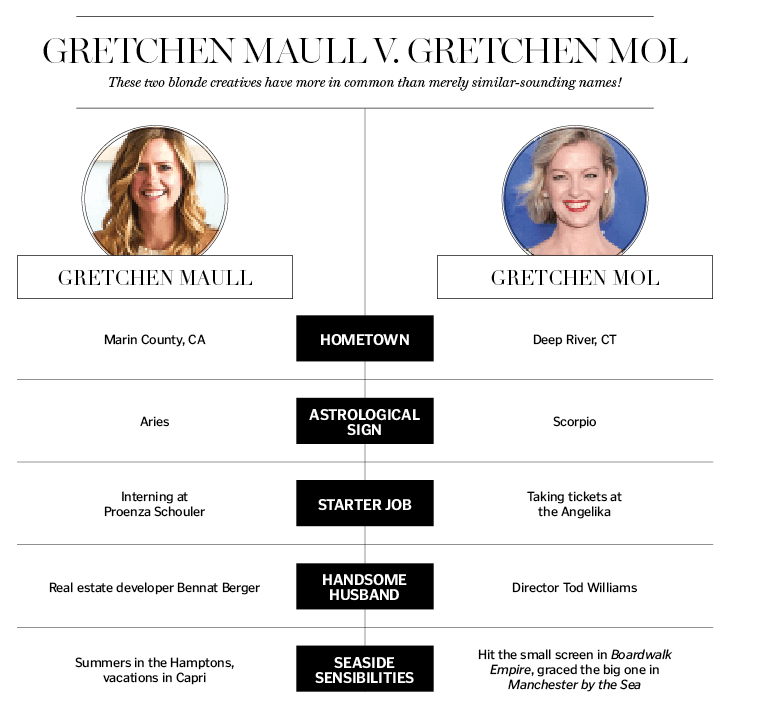 Read the issue HERE.