Another Angel just got her wings! Grace Elizabeth has joined the likes of Candice Swanepoel, Behati Prinsloo and fellow newbie Angels Alexina Graham and Barbara Palvin, in the highest echelon of Victoria's Secret's model pantheon.
"This almost feels unreal, I've been pinching myself all morning," she wrote on Instagram earlier today. "I can't even express how grateful I am to all of my family, friends, and fans for your constant support and belief in me. You guys have been the biggest force behind my journey. I'm so excited for this next chapter in my life and in my career."
Grace Elizabeth, who is represented by NEXT in New York, walked in the Victoria's Secret Fashion Show for the first time in 2016 and was made the face of VS PINK in 2017. She is also the face of Estee Lauder and is a regular on every major designer runway from Oscar de la Renta to Versace to Chanel. She has appeared on the covers of Vogue, Elle, Harper's Bazaar, V, and InStyle, and has even graced the cover of The Daily Front Row not once, but three times.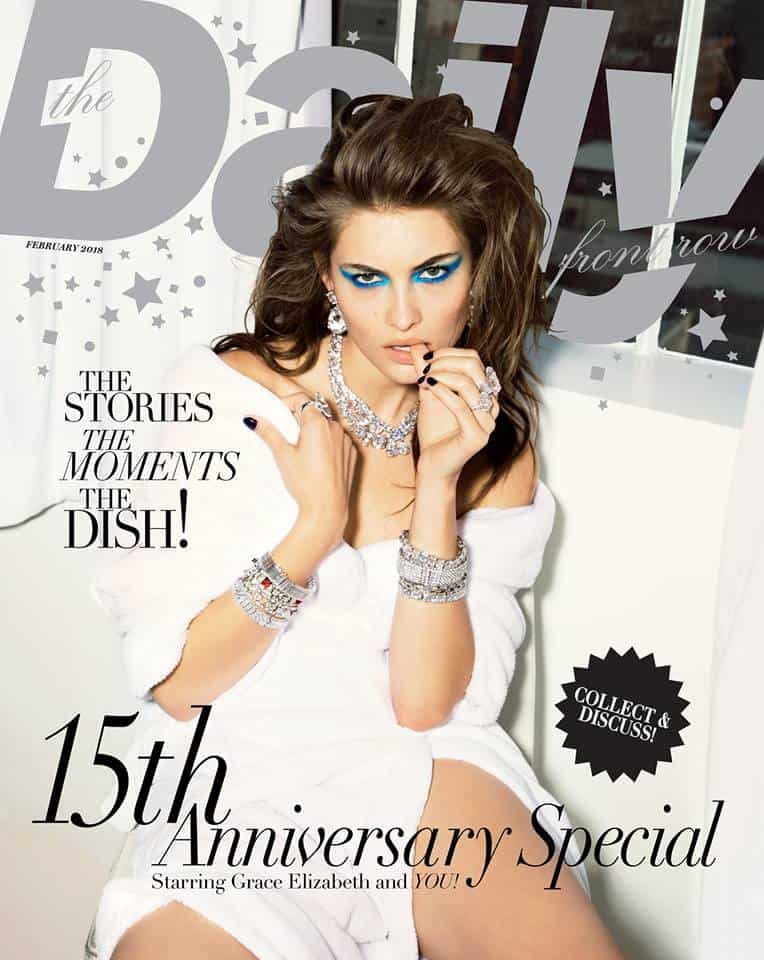 The Daily has been fortunate to interview Grace Elizabeth a couple of times since 2017. Here are some of the highlights.
How did you react when you found out you were going to be the face of Victoria's Secret PINK?
I FaceTimed my mom, and we screamed and cried together! I saw her four days later and we did it all over again, but in person. My grandma has every magazine I'm in, and when she sees photos of me online, she'll print them out to put in a book. My mom also carries magazines, but in her purse, so she can show her dentist. My entire town of Lake City, Florida has really backed me.
How were you discovered?
It wasn't technically a discovery — my mom submitted my photos. I used to do mall shows for a prom store in my town, and I also did some wedding stuff. I was 16, which was crazy, but my mom decided to take things to the next level and submitted my photos to NEXT in Miami. I signed with them, and then was picked up by NEXT New York.
Who did you admire most in the Victoria's Secret family before landing this gig?
Adriana Lima. I think she is just absolutely amazing and perfect. She's so sweet that she could be a life coach. She tells you everything; she'll come up to you and just start talking about her children.
Has she given you any words of advice?
She told me to take every moment as a life lesson because it will help you in the long run.
What do you miss the most about your pre-supermodel life?
The stillness. I knew exactly what I was going to do every single day—I would wake up, get ready for school, go to school, go to sports practice, and come home. Now, my schedule is very unpredictable. I try to go home to Florida once every month or two, and when I'm there, I'm not "Grace Elizabeth!" I'm just myself. Everyone's really chill. We sit on the porch all day long and drink tons of coffee.
What are your hobbies?
I just started college, so right now, that's kind of my life. I'm studying nutrition through Kaplan University online. I also love yoga, boxing, and Pilates, and I just bought a mini trampoline. Most afternoons, you can find me watching Netflix while jumping on it. I'm also studying to become a yoga instructor. I have a lot on my plate at the moment!
How is your mother reacting to your success?
She's proud. She knew I'd go far, but she thought I'd stay and work from home. When I moved to New York, things changed — I walked more shows and got Victoria's Secret. She's so proud, and has a subscription to every single magazine just in case there's a tiny, tiny picture of me.
Subscribe to our newsletter and follow us on Facebook and Instagram to stay up to date on all the latest fashion news and juicy industry gossip.