The frenzy that used to accompany the release of a new H&M designer collaboration has waned significantly in recent years. The last truly blockbuster collection was Balmain x H&M almost four years ago. That collection was so popular that, in some cases, eBay resellers were able to charge more for the H&M pieces than Balmain itself was charging for the real deal, setting an almost impossibly high standard by which all future collabs would be judged.
Take H&M's most recent collaboration with Giambattista Valli, for example. On Saturday, a handful of looks from the collection went on sale at 10 select H&M locations around the world and on hm.com, retailing for between $18 and $649. With the full collection not being made available until November, this first little sampling — coming hot on the heels of the collection's debut on the red carpet of the amfAR Cannes Gala — seemed destined for eBay resale greatness. But despite the fact that the collection appears to have sold out at H&M stores almost instantly, as of this morning, the bidding frenzy in the resale market of collections past had yet to materialize.
Resellers are trying to charge high prices, but no one seems to be buying. Most of the pieces in the $500 – $1,200 range have few, if any, bids. A couple of the pink mini dresses are doing OK, but not as well as you might think, especially given that the dress was modeled by Kendall in Cannes just last week.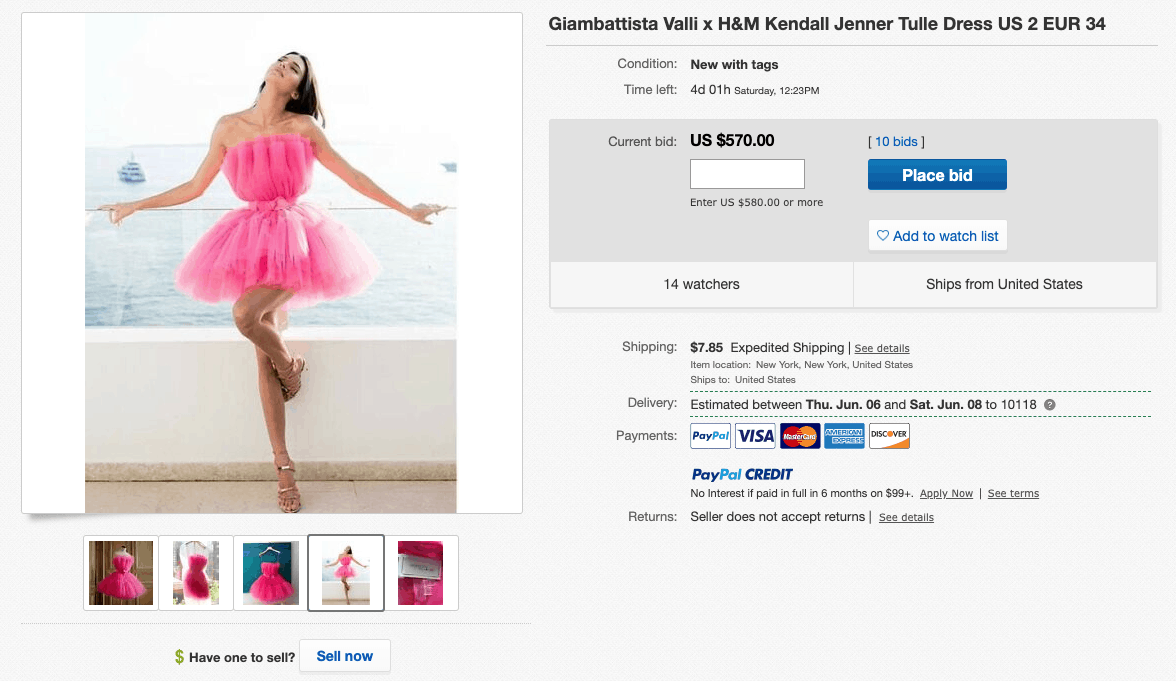 Other than that, it's the pieces with the lowest starting bids that are receiving the most attention, although the increases from one bid to the next are pretty middling and in many cases the resellers seem unlikely to turn much of a profit.
So what happened? It's a cute collection and Giambattista Valli would certainly seem to have the kind of brand name recognition that would make a collaboration like this a slam dunk in the resale market, and yet, so far at least, it seems to be kind of a dud. Maybe it's that Valli's clothes, while lovely, are a bit too twee to be universally popular. Balmain x H&M was sexy and fun. You could imagine wearing it to a club or party and throwing your hair around popping bottles in a corner booth and dancing on tables. But where do you wear these dresses? To prom perhaps? But prom season is over, so what's left? A wedding, maybe, although, let's be honest, in that case you'll probably end up looking less like Kendall Jenner at Cannes and more like someone trying to rewear an old bridesmaid's dress. Ouch!
Maybe thing will improve when the full collection launches in November. Maybe that launch will include some less frothy options for every-day dressing that shoppers will gravitate to more enthusiastically. And if not, well, it's unlikely anyone will be crying over a bunch of eBay resellers struggling in their attempts to gouge fashion fans out of thousands of dollars by jacking up the prices on yet another high-low collab.
Subscribe to our newsletter and follow us on Facebook and Instagram to stay up to date on all the latest fashion news and juicy industry gossip.