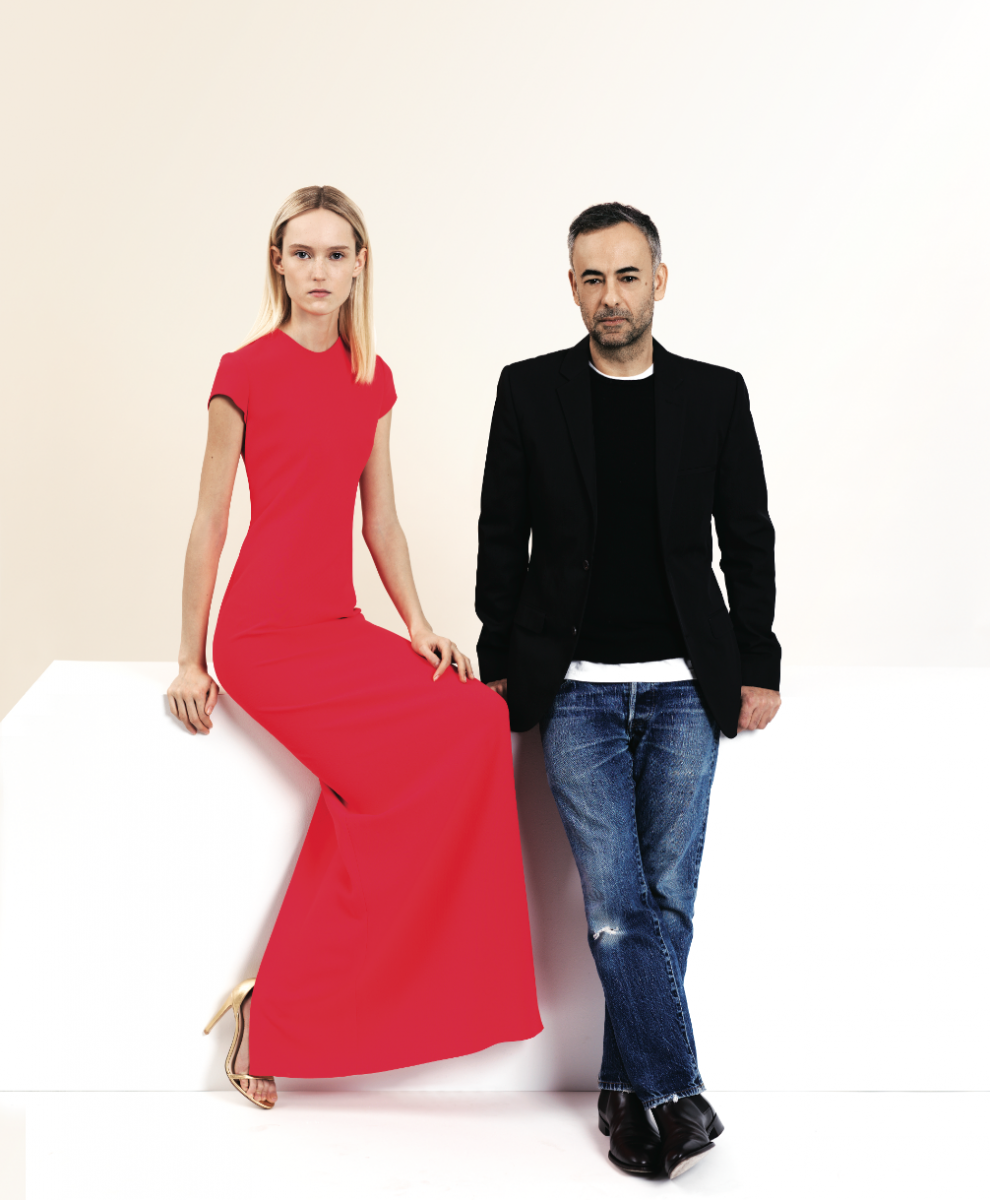 Have you been itching to get your hands on the red-carpet numbers that looked so splendid on Jennifer, Gwyneth, and Naomi? Apparently so, because Calvin Klein Collection is introducing an exclusive evening-wear collection of its most iconic pieces at the brand's Madison Avenue boutique. Creative director Francisco Costa shares what's literally in store…

Details on the eveningwear collection, please!
It's long overdue. We've been dressing celebrities for so long, but we felt like we never capitalized on the great work that we do. This is the perfect moment. The new line is comprised of more than 20 women's ready-to-wear pieces, including a selection of evening separates, iconic cocktail and slip dresses, and new interpretations of gowns that were previously custom-made for celebrity red-carpet appearances.
Are the dresses available in the store the same looks that once appeared on the carpet?
There are slight but minimal changes. We want to make these looks very special, and not just knock off a dress that an actress wore. We also have pieces at a more accessible price point, and the fabric is a little more of the ready-to-wear variety.
What's the general aesthetic?
So much of what we do is very classic. These are very sexy and beautiful dresses. That's the difference when you see something from us, and something from other houses. We have a cut that is so flattering and gorgeous. You will see a lot of color and crepe dresses.
Is the iconic look you created for Jennifer Lawrence at the 2011 Oscars included?
Yes! That's quintessential Calvin. It's very sporty in a way. This is a variation of the custom Calvin Klein Collection silk crepe tank dress that she wore. I'll never forget that moment when she wore that, because it was so surprising for all of us. There's also another version of a Jennifer Lawrence dress—forest silk, deep-V pleated dress from the Pre-Fall 2012 collection—that she wore to a screening of The Hunger Games. We also have a version of Gwyneth Paltrow's 2011 Oscars dress—very sleek, with gold sequins. There's also a version of the modern beaded cap-sleeve dress that actress Naomi Watts wore to the 86th Oscars.
You're also redoing the dressing rooms at your Madison Avenue store?
Yes, they look beautiful. The mezzanine floor has been redesigned with a larger dressing space to better accommodate our client, whether she's shopping alone or with friends. The rooms were already very private, but the whole area has been converted into something more inviting, selective, and comfortable. We cater to that woman and make sure she is taken care of.
Will this line expand beyond Madison?
Hopefully, yes! We have a great following, but at this time, the line is exclusive to our flagship store.
When do stylists start the Oscar conversation with you?
We do sketches and have discussions as early as November, but sometimes, it's even closer to the awards. Dresses as involved as these take time. With Naomi Watts, we started in advance, and it was such an incredible piece of work.
How do you partner with these celebrities?
It's organic—we have relationships with so many great and talented women. We dress nominees, as well as presenters and guests—we obviously don't exclude.
What's the process like?
The stylists have a say. I met with an actress in L.A. in October and got to know her, so the relationship makes it feel less formal. You give feedback and then you follow up with their stylists and do the sketches and fittings. I'm sure some houses will have 20 gowns sitting in a hotel room at the last minute, and they will show stylists what they have. Sometimes that works; sometimes it doesn't. To work with somebody ahead of time gives you a little more security and more focus to make it special.
Do you go to L.A. for the Oscars?
Occasionally. It's so fun. When we dressed Gwyneth and Jennifer, I was in Milan. I really didn't know whether they were going to wear the dresses—maybe they would have felt slightly different in that moment due to weather or other circumstances. We've all heard stories of people changing in the car! The dresses get more press than the Oscars now, which is fantastic. It's a huge chunk of the news. Calvin Klein himself started the whole trend years ago.
When did you start working on your Fall collection?
Officially in October, but I already have inspiration for next Spring and Resort seasons. It's quite fast—we now have eight deliveries a year, whereas in the past, we had just two collections a year.
Your work is often compared to architecture.
I'm a frustrated architect. When you make clothes, sometimes we don't understand that it is a very technical process. The pattern is just as important—I take great pride in working with skilled people. It's a process in which you learn and evolve, but they are really responsible for it.
What kind of building do you live in?
Funny enough, I live in a very classic environment. When I bought my home, I redid every single inch of it. I designed all the knobs and everything. It's quite controlled. It's not minimal, but it's edited. In the country, we live in a very formal house, a brick Georgian home. I'd like to go somewhere else in New York for the sake of change, or build my own house in the country somewhere. That's actually the goal. I know exactly how it will look.
Details?
I have this vision of a very linear, very long house that will be two stories high and located on a hill. It has two back-to-back fireplaces, one facing water and one facing the mountains, so you have a summer view and a winter view.
You worked for Oscar de la Renta in the beginning of your career. What are your memories?
He had a very funny sense of humor—very dry, but very warm. Being surrounded by his environment taught me a lot. His lifestyle was incredible; everything was A+. The way he traveled, the way he entertained…everything was on a different scale.
What did he teach you?
I never knew color. I'm from the coast of Brazil where people experience a lot of that exuberance, but I was very black and white and gray. I started to understand color from him.
You turned 50 last year. How did you deal?
I'm still dealing with it. I wanted to do a huge party, and then I decided not to. I feel a little more secure and comfortable with my mind now. There is something about turning 50 that gives you some sort of quietness, a sense of security, which is great. I just wish I could exercise more, that's all.
How'd you celebrate?
A friend of mine had a little party at her apartment, which was lovely. I kept myself out of it, but my partner organized it with her. I never, ever celebrate birthdays. I thought, "Why should I do it? There's no difference." All of a sudden, we did it, and it was great!
Is Lara Stone still your girl?
Always. She's so iconic. She started her career with us and is now a pure celebration of women. She embodies it all. Most importantly, she's at a very happy moment in her life, and it shows. It's so lovely that she has a family and she's happy. She's gorgeous, and she's not apologetic about that.
How does the Calvin brand always know who the next big thing is?
In our heritage are Kate Moss and Christy Turlington. Lara Stone and Karlie Kloss started with us, and we continue that culture. Natalia [Vodianova] had a few jobs before she became our face, but she's wonderful. We now have Ella [Richards], who we are shooting our lookbook with. She's so young, and she will go far. She's grown so much taller since we first used her—she's like another person. It's nice seeing that evolution.
Do you have a good eye for seeing new talent?
I'm surrounded by great people. We have an amazing casting director who has a great vision. That's the greatest thing about being in this house—spotting new talent is so much a part of the DNA.