Art meets life meets art in Harper's Bazaar's April issue, for which models Anna Ewers, Liya Kebede, Christy Turlington, and Linda Evangelista sat for world famous portraiture Francesco Clemente, and then struck the same pose alongside the portraits for photos by Jason Schmidt. Inside the issue, each model talks about the experience of sitting for Clemente and their thoughts on aging as part of the month's Fabulous at Every Age theme.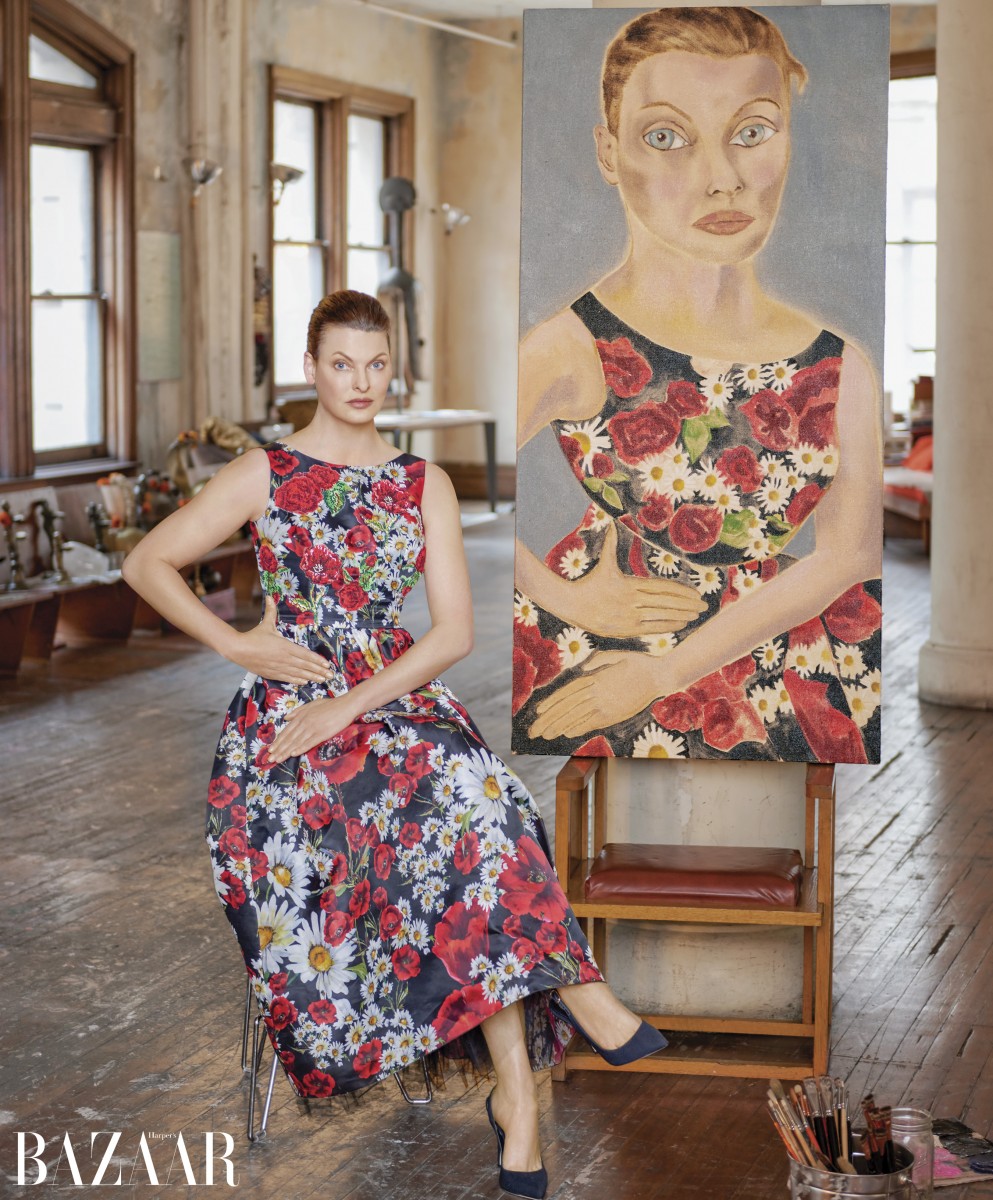 Linda, 50
On her nerves about sitting for Clemente…
I kept saying to myself, 'Linda, he wouldn't have accepted to do this if he didn't like you.' When I first sat down, Clemente said, 'You really want to wear that dress?' And I was like, 'Yep, this dress is me.' I'm very Dolce, very 1950s. I love the womanly embellishment. But I didn't know it would take five hours! With my elbow out. Oh, my God. [The portrait is an] exaggerated version of myself. I was shocked! But I thought it was beautiful. And I never think anything is beautiful.
On what older woman she admires:
There's not many older than me! But…Iman. She's just fabulous. She's a role model to all of us. A gorgeous person.
Anna, 23
On having Clemente paint her:
It's so amazing that he painted me. He is a super-famous artist, so it's really cool. I think he captured me as I am.
On her life in her 20s:
They've probably been the most exciting years of my life. A lot is going on. I am getting more and more work, but at the same time I'm getting into the rhythm and getting used to traveling so much.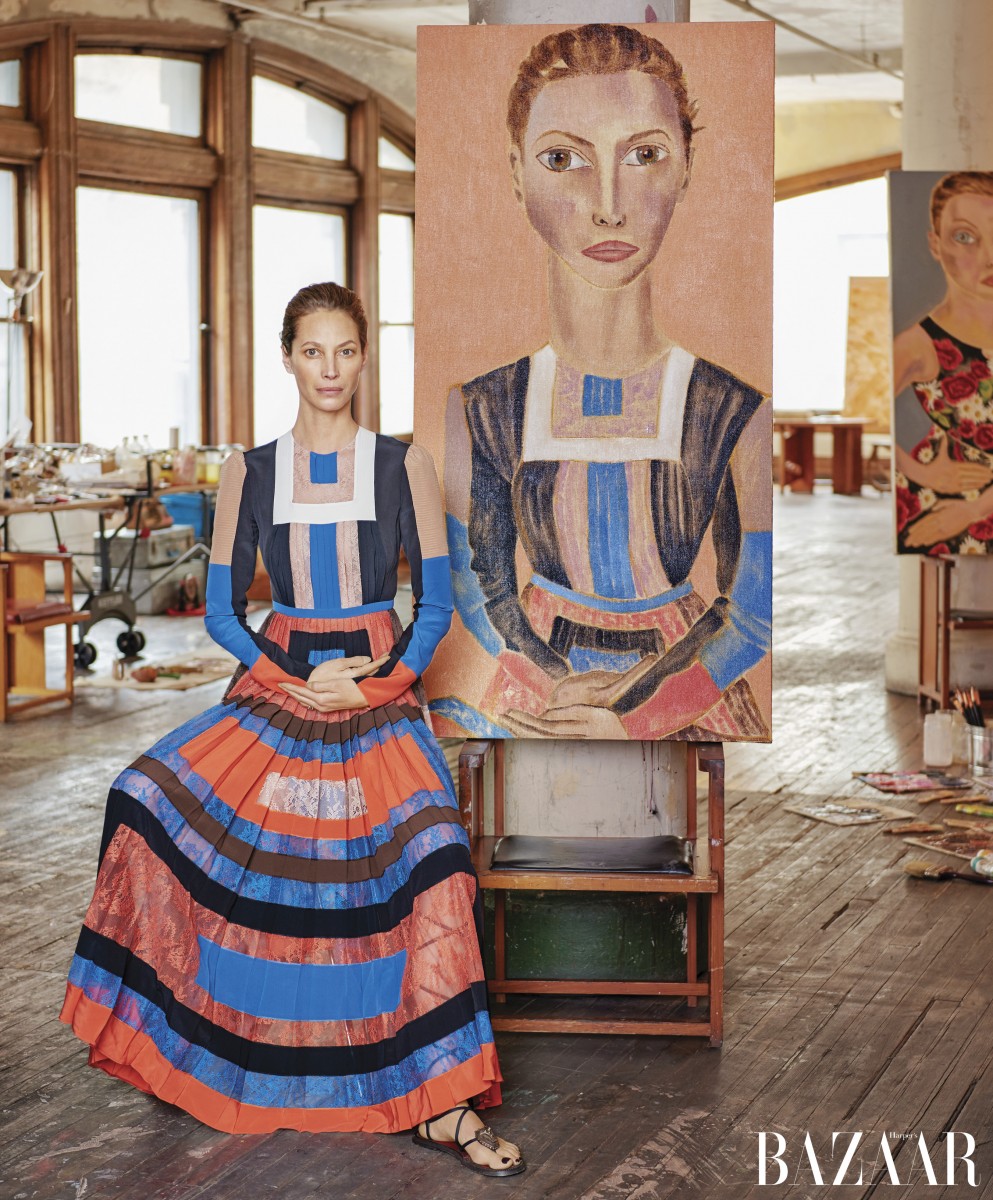 Christy, 47
On her session with Clemente and her 'gimpy eye':
Someone once said I have a symmetrical face. I do not have a symmetrical face. Almost nobody does. But, yeah, I have a gimpy eye. One eye that's round and one that's more slanty. I'm sure it's a sign of intelligence. In a photo session, people try to balance my eyes with light. [In the portrait] one eye was as it is in life, which I love. I can see a lot of things that are me. He added a few inches to my neck!
On the joy of aging:
I'm not one to think that much ahead of myself, apart from the fact that I love 50. It looks pretty; it's aesthetically pleasing. All the good things in my life happened post 30. But I guess you're always in a state of becoming. I love the pictures Alfred Stieglitz took of Georgia O'Keeffe. He photographed her over and over through the years, so he had this portrait of her that wasn't just a moment; it was all the parts of her over time. I kind of see it like that.
Liya, 38
On sitting for Clemente:
I didn't know his work specifically, but when I found out that he had painted the portrait of Gwyneth Paltrow in [the 1998 film] Great Expectations, I was so excited. I remember when I watched that movie, the portrait really touched me. I don't know why. Then to suddenly see my portrait done in the same way, it meant a lot to me.
On hoping to meet more women "who embrace their age and imperfections":
I love women who do their thing, who aren't caught up in the superficiality of things. In the world we live in, that's harder and harder to find. We need to feel more secure in ourselves….being in an industry where image matters, it's definitely challenging for me.
Read the full story HERE.