Fitness guru Tracy Anderson, the woman responsible for the heavenly bodies of J.Lo, Gwyneth Paltrow and Hilary Rhoda to name a few, announced last week that she is opening her Water Mill studio for classes "al fresco." The Daily's wellness nuts Alex Dickerson and Sophie Sumner practically sprinted out East to test drive the new class structure and report back with their honest take on fitness innovations in the time of COVID.
As a long-time member of the Tracy Anderson studios, COVID-19 definitely threw my workout routine for a loop when all gyms were forced to close. So when I heard that I could have a taste of my old routine at the studio, I couldn't resist, though I had some questions.  How could an outdoor studio feel the same as the signature TA indoor environment with its G-Shock floors, perfectly controlled temperature and humidity, and killer sound system? Would I feel comfortable and safe in a group environment?
Upon arrival at the Water Mill studio, located at 903 Montauk Highway, I could instantly see how much time and energy had gone into constructing the outdoor studio environment. I was greeted by the smiling staff, who took my temperature and gave me a rundown of what I could expect.  Attending guests would have their own designated space, marked off with paint, with a meticulously disinfected mat and set of weights, plus my very own pair of wireless headphones to pump the tunes. All of this was already set up for me on the shaded G-Shock floor – for those that don't know, this is a wooden floor with springs underneath to really help you bounce during the dance cardio; it does wonders in protecting your knees and joints from high impact moves.
Class commenced when our instructor Krystal told us to put on our headphones, and with that, we were off! I was immersed in her playlist, doing the arm series and transitioning into the signature leg lifts and ab routines. I didn't even notice that I had headphones on, and to be honest I fully forgot I was working out outside.
Even though I was socially distanced from my 14 fellow participants (classes are capped at 15 people total), I felt like I was a part of a group again, and the energy from them and the trainer really inspired me to dance like no one was watching when it came time for cardio.  Unfortunately…people were in fact watching and there was video captured of this.
I can't say enough good things about this set-up, it is an ideal way to safely workout in a group environment – two very sweaty thumbs up from both me and Sophie!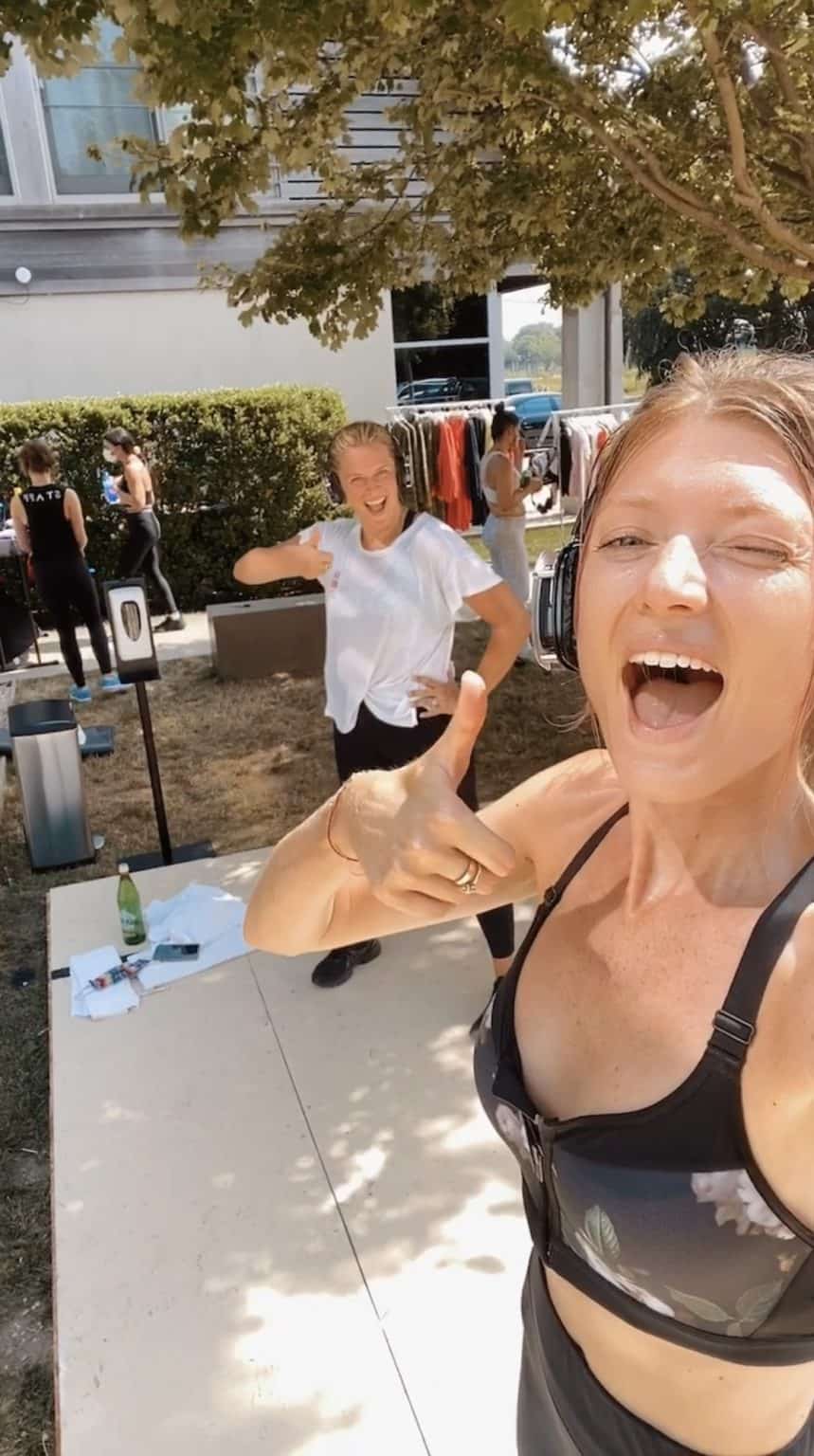 From now through September 7th, guests can visit Tracy Anderson Water Mill for 4 daily classes starting at 7am.  Classes range in skill set and price – there's the 60 minute multiTAsk class ($55), the 90 minute fundamenTAl + caTAlyst class ($75) and the 90 minute atTAin + caTApult class ($90). To review their safety guidelines and sign up for class, contact hamptons@tracyandersonmethod.com. I'll see you there!
Subscribe to our newsletter and follow us on Facebook and Instagram to stay up to date on all the latest fashion news and juicy industry gossip.