It's almost impossible to think of someone that legendary photographer Michel Comte hasn't shot. From ScarJo to Jake Gyllenhall to 45 to Sophia Loren, he's lensed some of the most remarkable figures of our time and spent decades working alongside the late great Franca Sozzani. He tells The Daily about his latest endeavors, what it was really like shooting Trump, and whether he'll ever put the camera down. 
You credit Karl Lagerfeld for discovering you. How did that relationship begin?
I met Karl at a dinner when he was at Chloé. They did a campaign with another photographer, and for some reason or another, there was nothing on the film. It was black. Karl, as usual, was curious and said, "Why don't you come by the Chloé offices?" The next morning an old lady opened the door, and she was the owner of Chloé. She walked me in and she said, "Karl said you are going to photograph the new campaign." I never at that point showed anybody my work. I had two black and white prints with me. The next day I shot Chloé. That was the beginning of my career. The pictures ended up on the desk of Alexander Liberman, who used to run Condé Nast. A few days later I had a ticket to New York, and I shot 26 pages for American Vogue. That was really the kickstart of my career. Then Karl moved on to Chanel, and I signed my contract with them. After that, Liberman said, "You have to meet a girl, she's going to go very, very far, she's incredibly talented." Liberman sent me to Milan to meet Franca Sozzani. I worked with her for the last 35 years until she passed. A few days before she passed, we had worked together.
How did the relationship with Franca begin?
She wasn't at Vogue then, she was at Per Lui. About three days after Liberman sent me to see her, I got a phone call. She said, you have to shoot Miles Davis in the next two days because we are closing the magazine. But she didn't know how to get in touch with him. I don't know him, but I knew [from a neighbor] where Miles was living, and I walked straight to the Essex House a few hours later the same day, knocked on Miles Davis' door, and said to him, "I'm in trouble. I need to shoot you!" The next day I shot him. I called Franca, I sent the pictures that were ready, and that was for the Silver-Gold issue of Per Lui, which became the famous Miles Davis cover. Since then, the only thing I knew was there is no "it's not possible." It's not "I cannot." It's just, "Yes, I'm going to do it," and this is how it's been from the beginning to the end.
Are you still going to be working with Italian Vogue?
Not right now. I'm working on two major art exhibitions and my collaboration with Breuninger. I don't even have the time to do anything else. This year, I've worked on some very big personal projects so that basically takes all my time. I've done it for the last 25 years, so I'm not going to stop.
Tell us about your role at [German department store] Breuninger.
It's an iconic department store in Germany, and I'm the creative director. It's very much what John Jay used to do for Bloomingdales, but I'm also responsible for a lot of other interests. I, along with an incredible team, am evolving the legendary store brand image with new and exciting window displays, exterior building packaging, in-house visuals, and production of a high fashion magazine, cultural branding and video installations. You could compare it to Barneys or Neiman Marcus in the U.S.
What changes have you made?
It's interesting when you see the development that we have done in the last six months. Between when I went to the store for the first time and go now, the change is very visible. The very first building that we worked on we entirely packaged with cherry blossoms in the windows, and we basically removed most of the merchandise from the windows and put very few, very modern film that looks like art installations.
Tell me about the exhibitions you have coming up.
I've been working on my major project for almost 30 years. It's called Light, and the show will open in November. It's a multimedia show: sculpture, video installation, photography, and films. It's probably the biggest project I've worked on. Then I'm working on two other film projects. They are moving forward rather fast, so I will have a very busy fall next year. One of them is a feature, and one of them is a documentary. Very important films.
Your photography interests are vast.
I'm very intuitive about certain subjects, and everything I start—sometimes I don't believe it—gets done. This project, Light, started very long before me. My grandfather was the first aviator in Switzerland. He was the first one to take a record of glaciers from the air in 1912. There was not one black spot on top of the mountain in summer. When you look at the images from 1912 versus now, it is such an incredible shock. I started that project in the 1980s when I was in the Himalayas. In Tibet, I met a group of scientists, and they said, your only interest China having Tibet was basically mortar. Most of the largest glaciers are in the Himalayan Bay area. This became a real profession. You need to feel the whole project as it plays out as an installation. It will be a series of sculptures, land art, videos, and photos. That's what the Light show will be this fall.
Where is Light going to be shown?
It's starting in Italy at the Maxxi Museum of Modern Art on November 13 and at the Triennale in Milan on November 27. The show will continue to Seoul, Korea and the United States.
Has there ever been anyone you were intimidated to shoot?
No, I think the very rudest and most unpleasant must have been Donald Trump. It was one of the Italian Vogue shoots. He was not rude to me, but he was very rude to the editor. He practically ripped the guy's head off. But it was a very, very interesting photograph because it was a row of mirrors, and it's him and about 100 reflections of him. It is an incredible image.
What did you do with the Dalai Lama?
We did a video installation, a one-hour film. We've become quite close. What is amazing about the Dalai Lama is how practical he is. He does not waste any time on anything that he cannot deal with right away. So if you ask him, "What do you think about what's going to happen during the Olympics in Beijing?" He'll say, "Well, I cannot waste any time on that, I'm not at the Olympics yet, let's talk about this when it's happening." Every single thing he tackles is a positive—it is never, never a negative. It's really quite extraordinary. We've spent a lot of time with him. He is one of the people that's just bigger than life.
And Sophia Loren?
I met Sophia for the very first time in 1979, and then left in Rome, and she at that time still lived in the Ponti apartment, which was red, black, and white—an enormous place. We went to Plaça d'Espanya, and there were so many paparazzi there, so we ran into Salvatore Ferragamo's store. I asked her, "Does this not bother you?" And she said, "How could this bother me? The paparazzi are the ones that have really made me—they always made me look fabulous." When we worked together in Rome on a public beach, there were thousands of people watching. We had no more room to shoot on the beach. I still remember, Sophia Loren walked backwards into the ocean in a long black Valentino dress, and she started swimming. I went in the ocean with my camera, and I see her head floating in the ocean, and there were thousands of people following us in the ocean. It was something. She had this huge smile. She walked out of the ocean in her soaking wet dress. Just wow. It was unbelievable.
One of your more recent shoots was with Cameron Dallas. How did you end up shooting him?
I'm very interested in what's happening in social media. I shot Cameron for L'Uomo Vogue. I found him extremely charismatic. We shot at the Hotel Bel Air, where you never find anyone. Suddenly, they came out of everywhere to see him. Somebody wrote Cameron Dallas was at the Bel Air Hotel, and everybody was there within seconds. It was unbelievable. No paparazzi—it was fans, kids. He was really very nice to everyone. He signed all the autographs and he was very grateful. He was really fantastic, very together.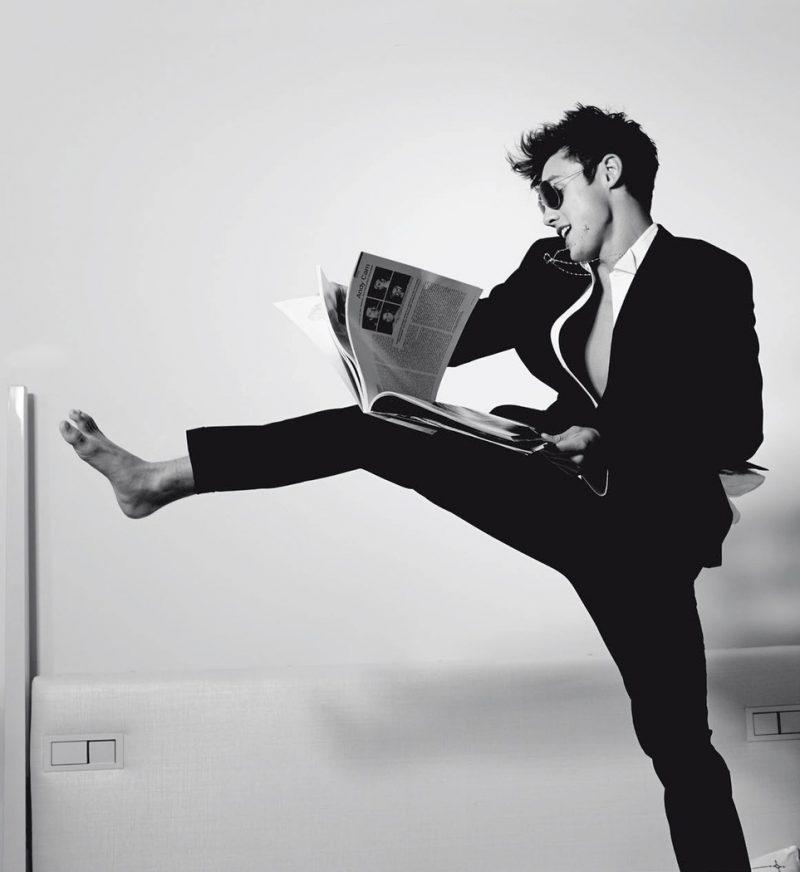 Everyone is a photographer now with Instagram. Thoughts?
It's a job. We have these huge ways for anyone to get famous, and I think that will probably fade. The ones with real substance are the ones that are going to be able to survive. I think it will have to do with talent. It's a new platform, and people should use it. I don't agree with many things that are happening because I don't care what so-and-so eats and at what time. Some of them are too much, with all of the selfies. I really don't get the selfies, where people just take pictures of themselves. But you know, more power to them. 
You've also shot Naomi, Cindy Crawford, and Carla Bruni.
All these girls were incredible because they were grand ladies and they still are. Carla Bruni became First Lady of France. Cindy Crawford has become more beautiful than ever and remains successful. Naomi right now is still bigger than life. Everyone has to wait for Naomi. It's called "waiting for Naomi." She's always fabulously late, but when she is there, she is really there. She is always stunning.
Isn't it amazing that Anna and Franca's children are getting married?
It's fabulous. I'm very close to Francesco [Carrozzini].
Do you have a muse?
My muse was Franca, and my other muse is my wife Ayako Koshida. We collaborate together on a lot of projects. But Franca was definitely the muse of my life. Ayako worked with her for nine years. Everything we do, we always think, "Would Franca like it?"
Is there anything else you wanted to talk about?
In my career, the most extraordinary thing has been the power of photography. What's amazing is that all the people that I met in the fashion world and in the art world have always collaborated with my projects, and they still do. It's the same world that has always connected all the dots. Every project that we have done, the same people have come onboard and supported. I never considered myself a fashion photographer. I always thought that I was an independent artist, trying to use photography for a purpose, whether it is making a film or a documentary or taking a picture. It's all always had a purpose. 
Any thoughts on retiring?
I think I'll be like Le Malade Imaginaire. I will drop onstage in the middle of a museum show. No, I'll never retire. My father is 91 and he still does his things. I have no intention of ever stopping. It's not in my DNA.