What makes a magazine successful in 2019? It seems like everyone has an opinion. But most agree that Edward Enninful has brought British Vogue to a new level of glory since he assumed the editor-in-chief role in 2017. The Daily rang up the uniquely talented editor to discuss his transformation of the title, his latest discoveries, and, of course, his recent collab with the Duchess of Sussex.
Of your many accomplishments at British Vogue, which have been the most important to you?  
I'm really proud that the magazine is so inclusive now. It's about diversity of the sexes. We touch on women of all races, different religions, socioeconomic backgrounds, ages, and body shapes. I'm glad we're a part of the conversation the world is having today.
When did you feel that the magazine truly reflected your vision? 
From the first issue, which I dedicated to Great Britain. We featured the creative people who have come out of Britain over the years. Even the cover with Adwoa [Aboah], who is biracial, is Britain today. Right from the beginning, we had an idea of a new Britain we wanted to show the world.
What's been the most surprising part of the gig? 
Fifteen years ago, an editor in chief just edited a magazine. Now, it's like running an industry. It's exciting!
The industry has really loved what you're doing. What are the ingredients to make a magazine successful these days?
British Vogue has a point of view. It was something I really believed in. I'm so happy the industry and the public has embraced it.
You have cultivated a dream team at the magazine. Who are some of the talents you've enlisted? 
When I got the job, I knew I wanted to work with Steven Meisel; he shoots for us a lot. Of course, Mert & Marcus, who I've worked with for many years. Juergen Teller, Craig McDean, David Sims, Nick Knight, Alasdair McLellan—it's almost like a homecoming of people I've worked with over 30 years. I also work with new photographers, like Jamie Hawkesworth, Nadine Ijewere, and Campbell Addy. Of course, I wanted to work with British editors I've loved over the years, like Venetia Scott, Kate Phelan, Grace Coddington, and Joe McKenna. I also called up Salman Rushdie and Zadie Smith. The best of the best! For me, it was so important to keep the level [of talent] so high.
How is the magazine doing?
Spectacular. Our September issue sold out completely in less than two weeks on the newsstands. Circulation is up, and we've attracted over 140 new advertisers since I joined. We continue to go from strength to strength.
You lived and worked in New York for quite some time, and now, you're back in the U.K. What's the difference between the two working environments? 
I wouldn't say there's that big of a difference. I've been lucky enough to work at American Vogue, where I was brought in to bring an edge, and at W, I was working almost as an independent magazine within Condé Nast. At British Vogue, we're creating something that's cultural, and at the same time, we're pushing things. Great magazines are great magazines. Great content is great content.
Where's the better place to get lunch? 
[Laughs] You're going to get me in trouble. England! I better say that.
What do you still want to do with British Vogue? 
I want people to pay attention to the viewpoint. I want to tackle the subjects we've been tackling, like abortion, miscarriages…subjects that women care about, and go deeper. Not just the surface. Personal viewpoints from women of today.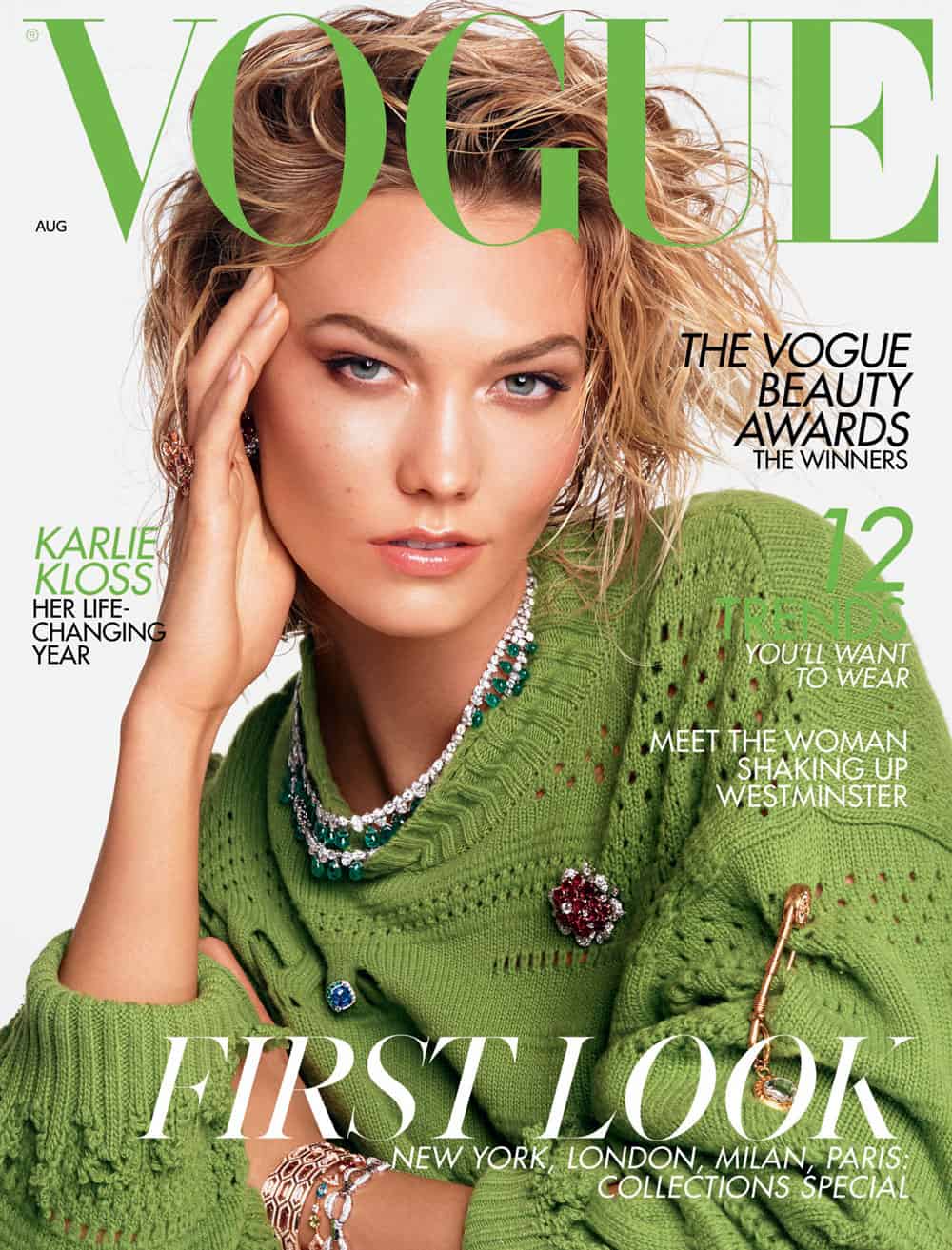 Magazines get a lot of bad press these days. Why do you think magazines are still special? 
There's still the idea of wanting something in your hands, seeing that double-page spread, putting it down and coming back to it. People underestimate the power of having a magazine in your hands. When the Kindle came out, it was supposed to kill books, right? The transformative nature of magazines will never go away.
How did the collaboration with the Duchess of Sussex come about? 
She sent me a message in early January about working together on a charity that she works on, Smart Works. We met and got on like old friends. She sent me a message about co-editing the issue, and I thought it was a really good idea. I feel like Meghan [Markle] stands for so much. A biracial member of the royal family is a really incredible thing to see in my lifetime. She's an activist, and our causes, such as women's empowerment, were aligned. I went to Kensington Palace a lot. We met when she was pregnant, and we worked back and forth through her pregnancy. We worked when she had Archie [Harrison Mountbatten-Windsor] and we still carried on working. It was eight months in the making!
Were you intimidated by the Palace? 
It was just going to visit someone you know.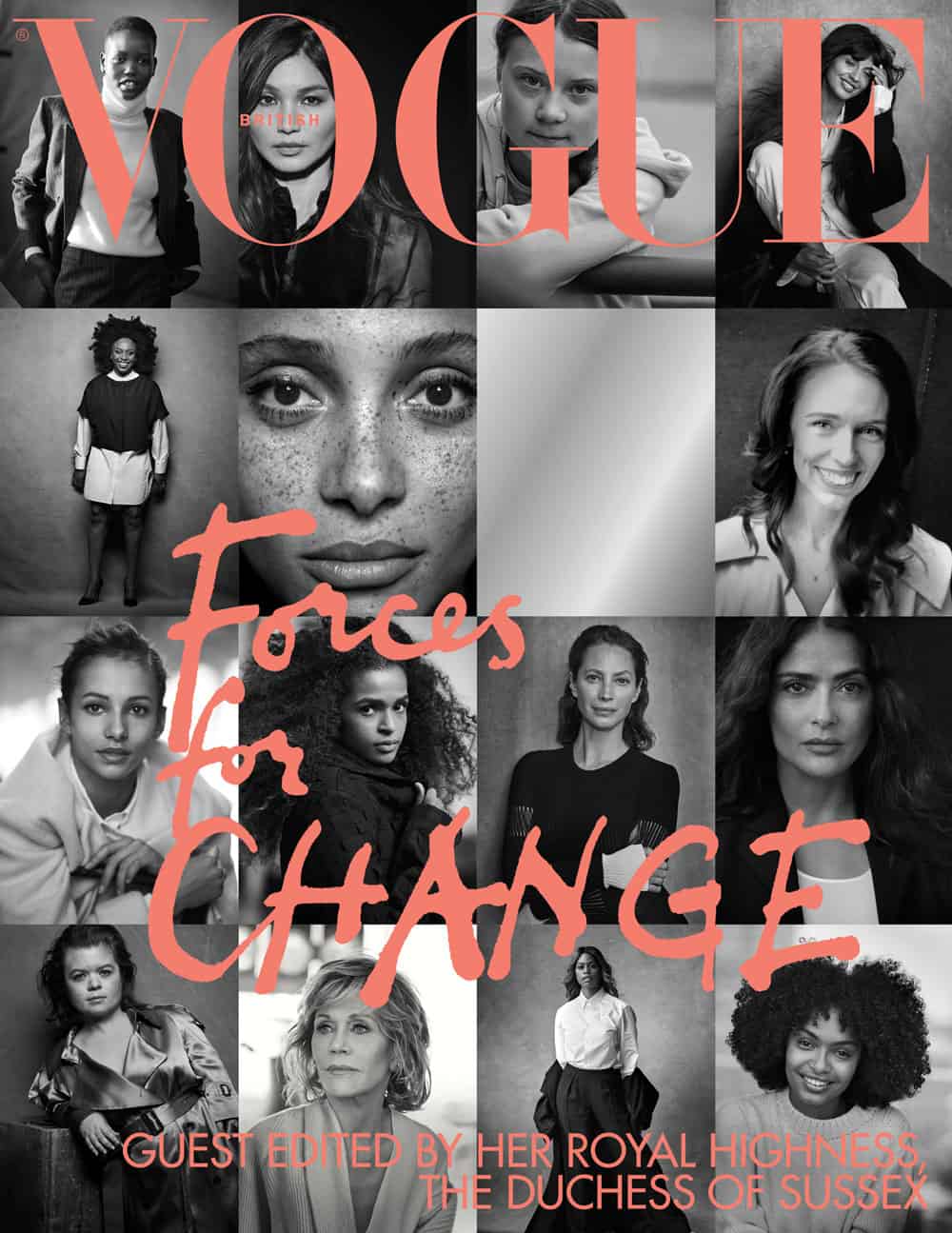 Did you suspect that the "Forces for Change" issue Meghan co-edited would do as well as it's done? 
When we were working on the issue, it was really about women we believed in. Women who were changing the world was the conversation. It wasn't about whether they were going to sell or not. It was important who we choose and what we stood for. Everything that's come after has been incredible. It was about creating the conversation.
Let's talk about the Kate Moss cover. What's your relationship like? 
We met when we were baby models—I was 16 and she was 14—at a casting for Camilla Lowther in the late '80s. I remember from the second I saw her the energy she had and the beauty. She hasn't changed one bit. It was a casting for Pepe Jeans, which unfortunately I didn't get and she got. I was a little bitter about that. We still laugh about it today. I love her innate sense of who she is. The cover we did this year blew my mind. I thought, Let's celebrate Kate. Kate, the glam rock star; Kate, the '70s baby doll; and the Kate who I know on holiday who is really calm and natural. No makeup. It was like the three sides of Kate. It was successful.
How did you put it all together? 
With Kate, we don't even need to communicate through words. It's easy. We don't need to talk everything to death. There's an element of trust between us.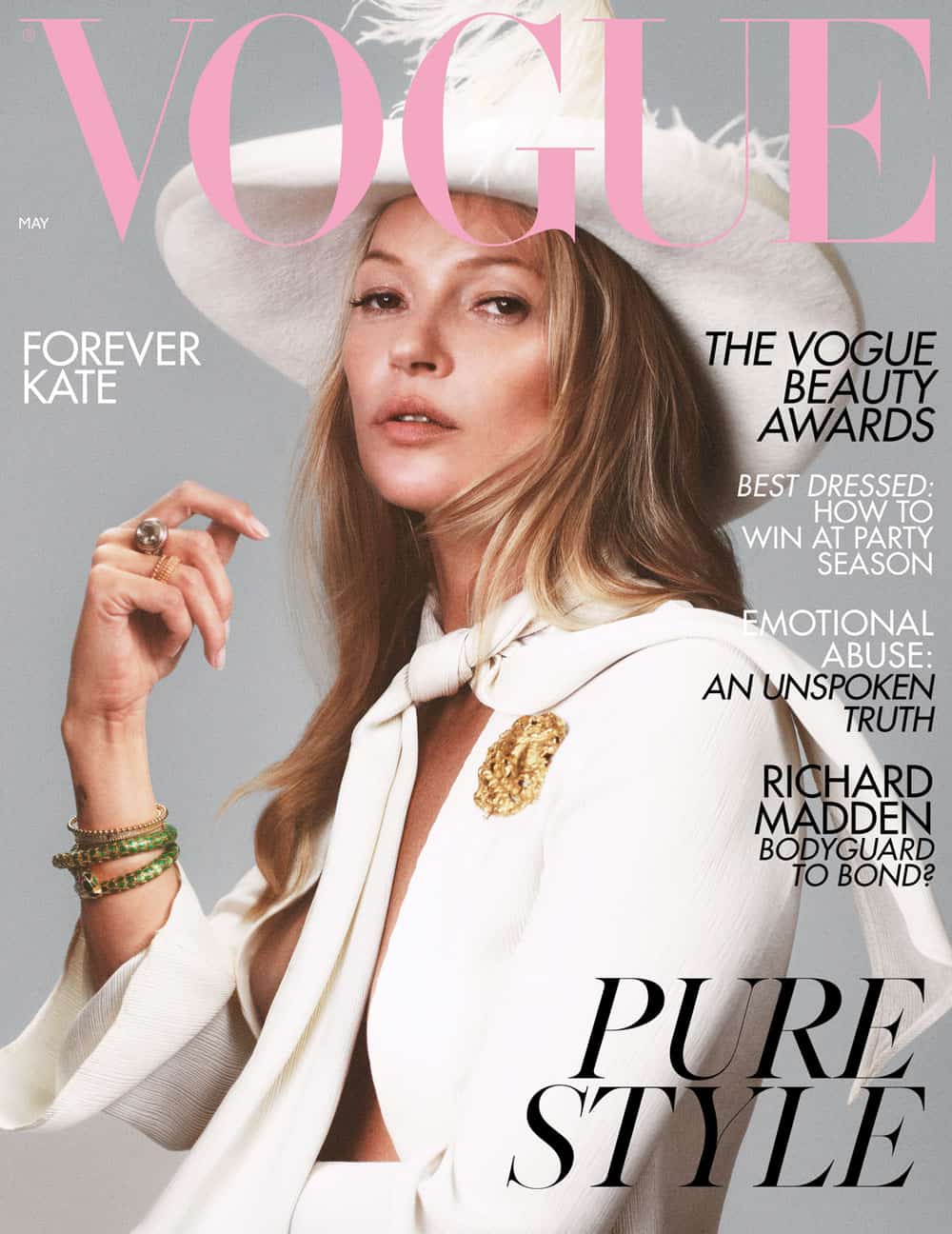 You're savvy about social media. How has it changed your job? 
I joined Instagram when it first started. I was very behind-the-scenes, and Instagram kind of opened up my view of the world. It showed me the skateboarding kid in the deep South one minute, and the girl who is singing something in Russia the next. For me, it leveled the field of access.
Now, strangers ask to take photos with you at fashion shows. Are you comfortable with that? 
I find it funny. You can't take it seriously. When kids come up and they're inspired, it's great. I keep thinking if I can do it from my background and from where I came from in London, then you certainly can. I treasure those moments.
Who is interesting to you in fashion right now? 
I like ALYX, and there are some really great kids in London, such as Charles Jeffrey, Grace Wales Bonner, A-Cold-Wall*, and Matty Bovan. I also love Nigerian LVMH Prize finalist Kenneth Ize; Telfar from New York and Marine Serre from Paris are exciting, too. There's a whole new generation I'm loving right now.
Which models have recently caught your eye? 
I knew you were going to ask me this! I'm loving Adut Akech, Ugbad Abdi, Fran Summers…and Tess McMillan, the curvy redheaded girl. I'm loving girls who have stories to tell more than who are just beautiful for the sake of it.
What models do you miss on the runway? 
Kate Moss! Linda Evangelista! Christy Turlington! Naomi Campbell is still around, so I don't need to say Naomi. Shalom Harlow! Amber Valletta! Now I'm really going for it. All those incredible '90s icons who had personalized walks and really embodied that idea of a supermodel.
How did you spend your summer holiday? 
I was in Italy, doing normal things with friends. I slept! I hiked every day. Hiking up mountains is my new thing
Read the complete new issue of The Daily Front Row below!
Subscribe to our newsletter and follow us on Facebook  and Instagram to stay up to date on all the latest fashion news and juicy industry gossip.