Read today's dose of chic intel right here…
New Real Housewives of New York City cast revealed, and it's a stylish one
Say hello to the new names you'll be hearing a lot about. At this weekend's BravoCon, Andy Cohen introduced the cast members for season 14 of RHONY. The revelation comes after Bravo confirmed it would entirely reboot the series, which was drawing criticism over controversial storylines. And not only was the cast overhauled, but it appears that the upcoming series will give a more diverse view of the lifestyles of the cosmopolitan city's leading ladies.  Enter: influencer Sai De Silva, influencer and Jewish advocate Lizzy Savetsky, former J.Crew president and entrepreneur Jenna Lyons, real estate agent and home renovation tastemaker Erin Dana Lichy, fashion publicist Jessel Taank, model and philanthropist Ubah Hassan, and marketing professional Brynn Whitfield. "We really were waiting to get the 'RHONY' reboot right, and we really wanted to tell new stories, and we wanted to capture the energy in New York City, and I'm really happy with where we're at," Cohen told PageSix. "It's all over the city, and it's aspirational. I think it's legit. We're definitely expanding beyond the the Upper East Side with these women." The show will begin shooting soon, and is set to air in 2023.
View this post on Instagram
Bella Hadid's Holiday campaign for Swarovski is here 
Bella's back in the spotlight for Swarovski. The supermodel who evidently never sleeps (judging by her prolific presence on the Paris runways!) has reprised her role as a campaign star for the jewelry and crystal brand, shining bright as the lead in its Holiday series. In the ads, Miss Hadid showcases the star-shaped Stella, sparkling Constella, and timeless Milenia collections, as well as this year's offering of special festive home décor pieces. Wishlist alert!
Anya Taylor-Joy makes her debut for Jaeger-LeCoultre
Jaeger-LeCoultre has tapped award winning actress Anya Taylor-Joy to become an ambassador for the luxury brand. In a new image and film campaign, A New Turn, Taylor-Joy links up with Nicholas Hoult (a face of the brand since 2017) to celebrate the iconic Reverso watch, which was initially launched in 1931. In the campaign, The Queen's Gambit star Taylor-Joy wears the Reverso Duetto Small in Pink Gold, while The Great actor opts for the new Reverso Tribute Calendar in Pink Gold. Feast your eyes on the campaign, below:
Keke Palmer covers PORTER
Multi-faceted star Keke Palmer sat down with digital title PORTER and opened up about her long and varied career that already spans two decades. Having recently turned 29, the Midwest-born actress spoke about how her joy being cast in Jordan Peele's Nope and how it re-introduced her to the mainstream. "Fans notice me from different places all the time," she told the mag. "Some people don't even know I've been performing since I was a kid." Palmer also expressed hope that her 30s will be more of a "breeze"—"There was a lot going down [in my twenties], but you learn so much," she said—and the advice she'd give to young girls looking to follow in her footsteps. "In my position, the biggest thing I want to tell all little girls is to never carry the weight of being Black, or being dark-skinned, as something that's going to hold you back." Read the full feature here.
Michelle Pfeiffer made a surprise appearance at Bergdorf Goodman
When in town for the Vogue's Forces of Fashion, where she delved into beauty culture with Stella McCartney and Celia Ellenberg, Michelle Pfeiffer made sure to stop by Bergdorf Goodman post-event to surprise shoppers. With no prior notice, the legendary actress and founder/creative director of Henry Rose popped in to the Fifth Avenue department store to play personal shopper and help customers explore the brand's fragrance and personal care product offering. Only in New York!
Gigi Hadid discusses why the time was right to start her brand
Also headlining the Vogue Forces of Fashion event at Spring Studios was an industry mainstay who needs little introduction. Global supermodel Gigi Hadid sat down with Gabriella Karefa-Johnson to talk more about the labor of love that is her new cashmere brand, Guest in Residence. While she was dreaming up her own company for a while, Hadid said it was really her journey to motherhood that cemented the fact that it was time to start something. "You can't model forever. I was creative and that is where I saw my life going," she said. "I already had been thinking about cashmere, but I think it [pregnancy] just made me think about how much more settled I would feel to have an office space job. I can take my daughter there with me…it's a lot more sustainable than [having] the anxiety of being in a different country every week and having a kid." And speaking of sustainability, the 27-year-old told friend and collaborator Karefa-Johnson that it was incredibly important that the label be rooted in meaningful principles. "[It was expected for me to come out with something that was more a fast-fashion type situation," she said. "People use that to get to consumers quickly and make money quickly… but with this brand, I really want to support people and invest in pieces for a long time. [Cashmere] just felt like the right material that I could play with in a lot of different ways that was true to me, true to my style."
YOOX.com's biggest-ever sale is just around the corner
Come one, come all! From October 19-October 30, YOOX.com will host its biggest in-person sale in New York. Titled Secret Room, the sale will see more than 20,000 (!) garments for men, women, and kids from international labels, all up to 90% off. To ensure everyone leaves happy, each time slot will have a robust offering of pre-allocated products. To find out more, make your appointment here.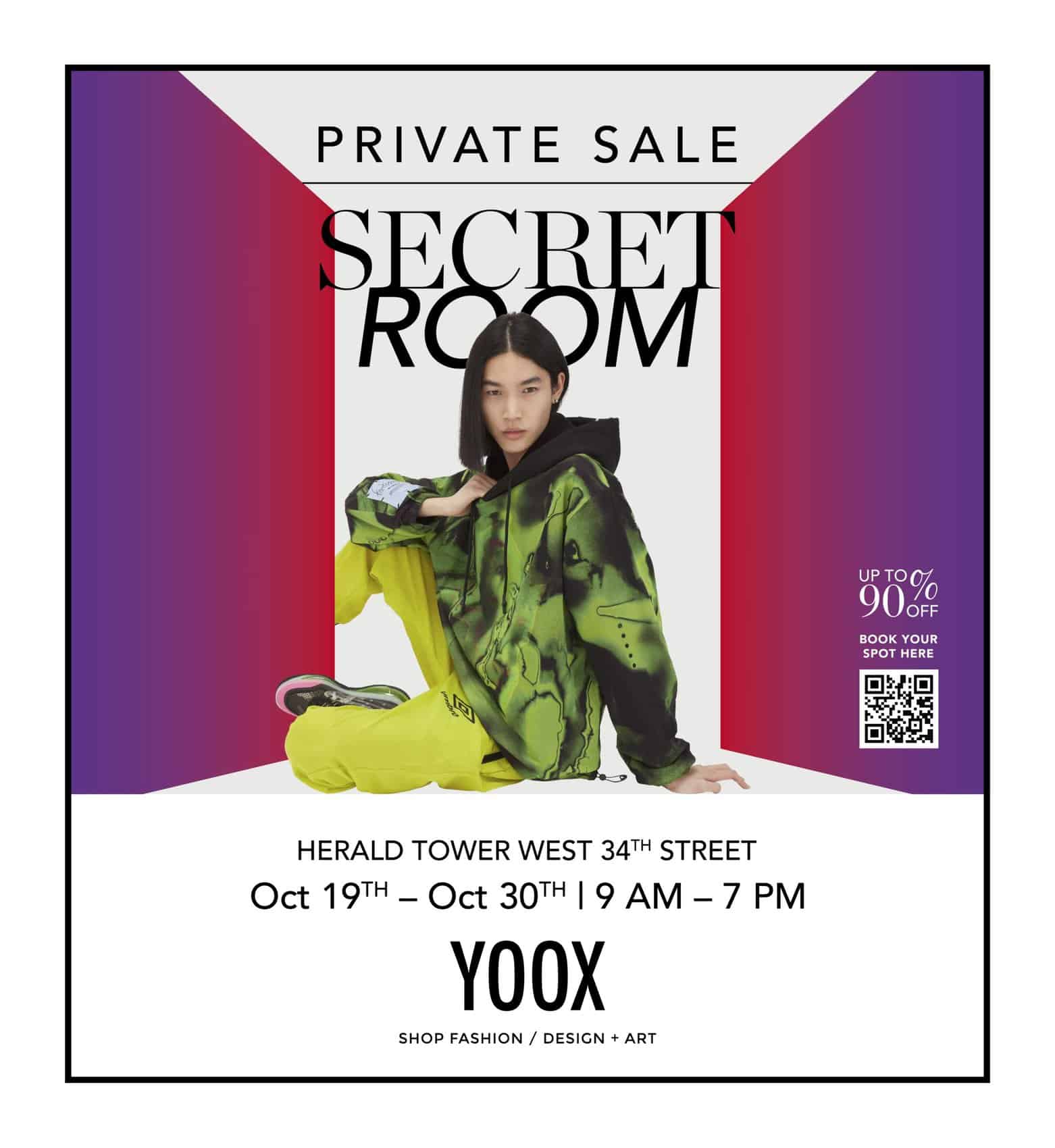 Subscribe to our newsletter and follow us on Facebook and Instagram to stay up to date on all the latest fashion news and juicy industry gossip.