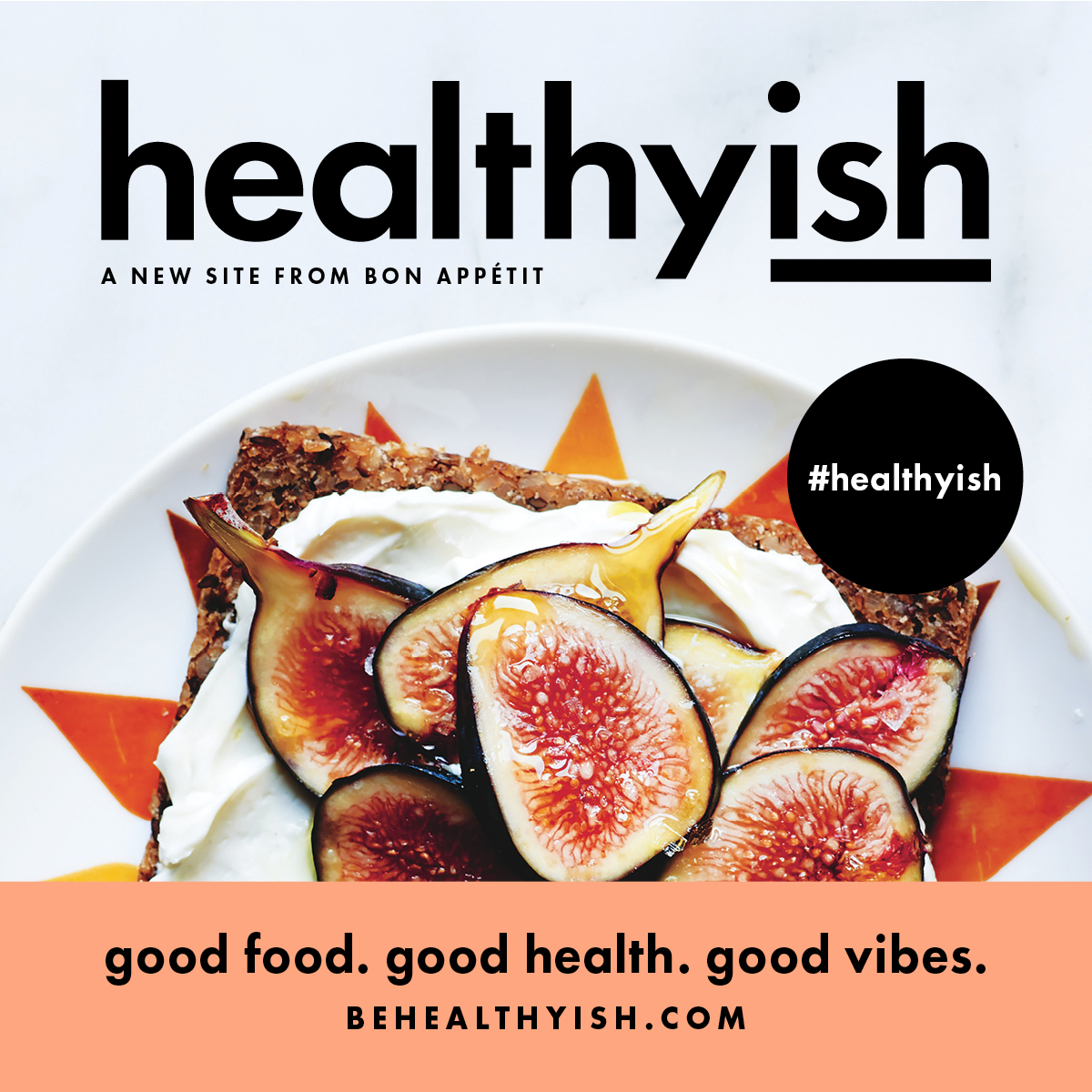 Calling all foodies: Today, Bon Appétit  launched a new brand and site, Healthyish, which will cover wellness through the lens of food. Things to expect include recipes tested in the BA Test Kitchen, plus other ways to live a "healthyish" life, whether that's a happy hour recommendation or a new workout craze.
The platform launches with 30 new videos, a collection of new recipes, essays, profiles, and true stories. Additionally, Bon Appétit partnered up with Sweetgreen to co-create the limited-edition "Bon Appétit's healthyish Bowl," available from 1/25 to 2/1.
To get more scoop on the newness, we rang the site's editor Amanda Shapiro.
Why was it the right time to launch a new brand, and one that focuses on this way of living?
We're launching Healthyish because it's the way so many of us eat now. We're thinking about food in new ways, we're being more conscious about what we eat, but we're also not losing sleep over it. I really don't think any other site is doing what Healthyish does. You could call us a wellness site, but we're also committed to making and eating really great food.
What is your content plan for the site?
The homepage is really beautiful. It's a highly curated experience. You'll see one or two pieces of content at a time—a story, a video, a photo gallery, a recipe—which you can click into and explore. We're launching with a series on self-care, with essays by some of our favorite writers and quotes from celebs like Issa Rae.
What are some ways that you live a healthyish life?
Healthyish is my jam. It's how I live without really thinking about it. I ride my bike to work most mornings—it makes the day so much better. I'm into weight-training too. I do these Jen Sinkler workouts. They're killer. I really love food that fuels me, but I'm not gonna not eat the bread pudding when it shows up in the test kitchen. My favorite lunch in the city is at this little cafe near my apartment, Colina Cuervo. It's a big bowl of roasted vegetables, avocado, quinoa, and salad greens. I always add chorizo.
Who are some of the celebs or personalities that you'll feature?
So many! I mentioned Issa Rae, but you'll also see folks like Samantha Bee, Steph and Ayesha Curry, Jenna Wortham, Jia Tolentino, and Seamus Mullen.
Is there a wrong way to do healthyish?
The only wrong way to do healthyish is to think you can't be healthyish. You already are!
Why do Bon App readers also need Healthyish in their lives?
Healthyish, more so than BonAppétit.com, is a lifestyle brand. The voice is less about authority and more about exploration. It's the friend who takes you to a shop you love and introduces you to the owner. It's the Instagram account with beautiful food that you can actually cook at home.  Healthyish understands that you're in this world already. The voice is confident but open-minded, and it gets that you are too.