Fine artist-turned-model-turned-shoe designer Chloe Gosselin has managed to carve out a niche for herself in the highly competitive designer shoe market, thanks to her keen eye and the exceptional quality of her product.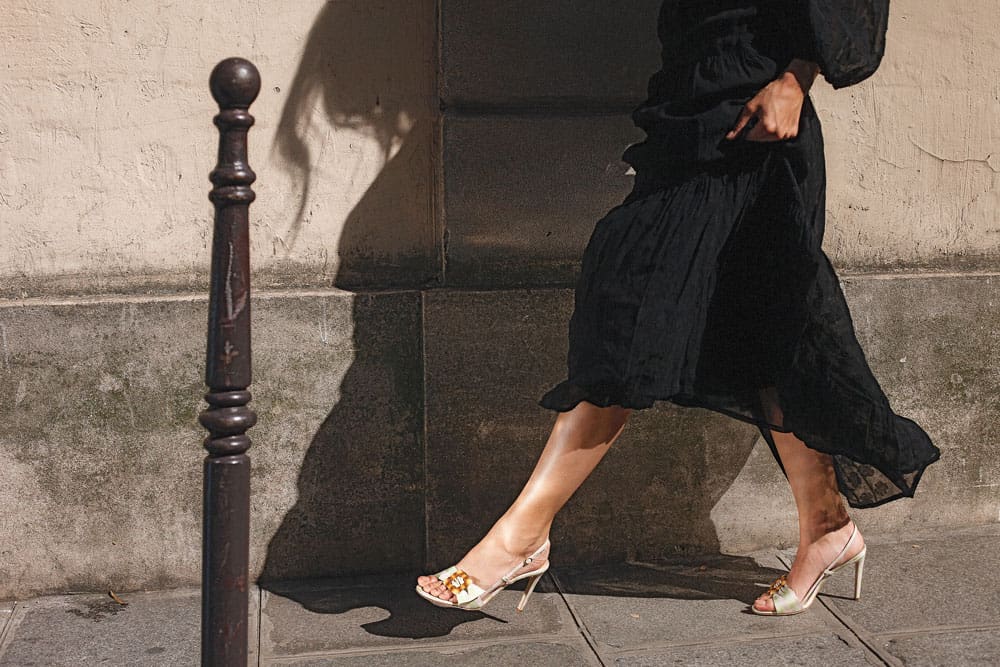 What inspired you to get into shoe design?
Since I was little, I've had this obsession with shoes. I always knew how to draw, and that was kind of my way to expressing myself. In fact, my mom still has sketches of shoes that I did when I was little. But I didn't think about designing shoes until way later, after I went into fine art and studied to be a painter in Belgium. I kind of thought fashion was out of reach for me.
Why did you think that?
I'm from a middle-class background in France. My mom never wore heels or designer clothes, but I always loved it. I remember growing up and being inspired by fashion. This was at the time when John Galliano had just started at Dior, and you would actually see his shows on TV. Or Jean Paul Gaultier. People like that. Then, when I was studying fine art at La Cambre in Belgium, all my friends were studying fashion design—the school is well known for its fashion program—and I started modeling for them. I loved seeing them work, and everything they put into those collections. From there, I started modeling professionally and it wasn't until much later that I decided I wanted to design shoes and went to New York to study at FIT. I had my daughter, who was a baby at a time, so I didn't have time to do a full master's degree in accessories, but I took as many classes as I could to learn what I needed to know. Then, I packed my bag and went to Italy to look for factories. It was kind of this very bold thing. One day I just decided, I'm going to have my own shoe brand—which sounds insane right now, years after I started.
It's very bold. How did you fund all of this?
In the beginning, I financed everything with the money I made from modeling. I had been saving it for something special, and I was fortunate that I had help with my daughter and was able to take evening classes.

That's a lot to tackle when you have a young child to take care of as well.
I know this isn't the case for everybody, but for me, becoming a mother really pushed me to do things I would only dare to dream of before. I had only, like, eight styles in my first collection; there was not much to it. But I had a vision, I learned on the job over the years, and surrounded myself with a great team. It's been almost six years now.
Is there anything you know now that you wish you had known when you started?
As we all know, the fashion industry is really shifting right now. It's a difficult time. It's a saturated market, and I think what you have to ask yourself before launching a brand is, Do people really need your product? Do you have a strong enough point of view? I asked myself those same questions, but I've learned a lot on the job since then that could have helped me define my brand identity sooner.
What is that brand identity?
I'm trying to make a product that will stand the test of time. That's always important to me. And quality. That's the most important thing to me. There's a lot of fast fashion right now, but I really want to have these beautiful, handmade shoes. Those craftsmen in Italy, what they do is art.
What are your best-selling styles?
We have our signature ruched strap that we do in a couple of styles. The Delphinium is popular, as is the Maud, which has the ruching at the top. Also, the Lily pump with the bow in front. I think the ruching idea came from some old reference images of shoes, where it was a much smaller element, just the elastic in the back, and we just blew it up, basically. Everything is kind of like that, like the bamboo buckles we did for Resort 2020. They were inspired by these big bamboo glasses I saw at New York Vintage. You just find those elements and make them your own.
You choose some really lovely colors, too.
Well, my background is in painting, so when I started the brand, my brain was always going back to color and texture. Once I started working with a bigger team, they taught me how you can take colors and change them to make them feel like a neutral so that they go with everything.
Who are some of your favorite painters?
I love Anselm Kiefer and Robert Rauschenberg, the big, messy textures. I love when you see a Kiefer painting up close and it's just a big blob, and then you go far away and it's this amazing landscape. I grew up in Normandy and my mom lives right by Claude Monet's house, so I used to go there when I was little. That's kind of how I started to paint. I especially like the paintings he did late in his life, when he could barely see, but the emotion is still there in the colors and textures. It's funny because I left the art world a while ago now, but it's always in the back of my mind that I want to find the time to paint again. Maybe in the next few years.
Will you have time? Your business seems to really be taking off. 
Thank you. We've been doing a lot of shopping events and pop-ups. We just did a pop-up in New York at the DVF store. Diane [von Furstenberg] is a good friend of mine, and it was really amazing to be able to be in that space and unite forces. That's what she does for people. She supports designers supporting each other. We also just did a big shopping event in Dallas, and we're planning a pop-up in Paris in September. I just want to get closer to my customer, meet our girls, and really interact with people, so we're going to do a lot of that this year. We are also doing a collaboration with the London-based Chinese designer, Huishan Zhang. It's our first real collaboration for a runway show; I'm super excited. We've had opportunities with other designers before, but it's always a budget thing, and I really wanted the right person. I am absolutely in love with his work. It's all about details. It's incredible.
What's next for your brand? Any plans to expand into bags or jewelry?
Not right now. We just did a bathing suit collaboration with my friend Morgan Lane. We were in the [CFDA] Fashion Incubator program together and became good friends. We love each other and connect creatively. I hope I can do more projects like that, but in today's market I think it's important to find your niche. Doing just one thing and doing it really well takes time, so I don't want to rush into other things too soon.
Who else would you like to collaborate with?
Rosie Assoulin. I keep buying her stuff. Her clothes have such beautiful structure. It's something you don't find in a lot of American designers. It's more French to build around the body. That's what I love about her clothes—all the work around the waist.
Are there any up-and-coming shoe designers you admire?
There aren't so many new high-end brands right now, but there are a couple of cool contemporary brands I like. Cult Gaia does shoes really well. Also, Kodiak is really different than me, but I would totally wear them.
How do you feel about sneakers? We notice you don't have any in your line.
I love sneakers! I would love to do that one day. Maybe a collaboration with another brand. I don't wear a lot of sneakers myself, but I know it's a big thing. You can't ignore it. It's just a very different thing—the factories and all; it's not even the same technology.
Your mother never wore high heels when you were growing up, but does she wear your high heels now?
No. She wears my flats, but I tried giving her the small, chunky heels, and she wouldn't even wear those.
Do you remember your first pair of high heels?
I remember my first pair of designer high heels. I still have them. They're that big wooden platform wedge Chloé did. They're crazy high and kind of impossible to walk in, but back then, I loved them. It's funny because I don't do wedges for my own collection!
Read the complete new issue of The Daily Front Row below!
Subscribe to our newsletter and follow us on Facebook  and Instagram to stay up to date on all the latest fashion news and juicy industry gossip.