Charlotte Bickley gets to know Erin and Sara Foster, co-founders of Favorite Daughter; a clothing brand they created together within the last two years. Also Jordan Foster is the style director for favorite daughter.
Favorite Daughter is now two years old, can you believe it? How does it feel to celebrate two years, having survived the pandemic as a new brand and current economy?
Erin: You didn't mention surviving working with my sister. But in all seriousness, it's been a rollercoaster, but to come out through all of that successfully, I am so thankful. We're so lucky we have such a great team that has weathered so much to get us to the point of selling out items in minutes.
How did you create this business and do it so successfully?
Sara: We had just unbelievable partners with Centric Brands. They have been so rock solid and provided us with everything you could dream of—an amazing team, offices, unmitigated support. They also don't seem that annoyed when Erin and I fight over a clasp on a dress and derail a meeting for one hour.
We know you have partnered with accessory and jewelry brands on collaboration products—are you planning to add any new categories to the line?
Erin: We have a lot of things in the works that are all at various stages of completion. The one I'm most excited about, I think, is fragrance. We really want to make a clean fragrance that smells amazing and lasts all day.
The brand now has two stores in California. Do you have your eyes on other cities or markets?
Sara: We obviously would love to be in New York. We also went to Chicago for a Nordstrom x Favorite Daughter event and the turnout was insane. I think that's a fantastic market too.
View this post on Instagram
You are both incredibly active, engaging, and relatable on social media. How do you stay so present while simultaneously sharing so much about the business and your personal lives?
Erin: I think I have a much healthier relationship to social media than people assume. I don't feel pressure to share things; I only do it when it feels right and I am never the person who's filming herself at a dinner. It's possible I used to be her sometimes, but I got bored with myself and moved on. I do try to share a lot of Favorite Daughter stuff though, because it really helps move product.
The brand started with the novel hoodie mask and now is known for a vast assortment of ready to wear and denim. The Favorite Pant has really become a key hero style—but what is your favorite piece in the current collection?
Sara: I'm obsessed with two new pieces that just came out: The Charles Trench and The Favorite Cargo. I'm going to live in the cargos once I get them—school pick up, meetings, dinner out with friends…all of it!
What's your biggest aspiration and dream for Favorite Daughter?
Erin: For all of its success, there are always so many things behind the scenes that we have to get better at. My goal is for the brand to continue to grow, for it to stay authentic and true to our vision, and that we get to see it on some of our favorite people. Cough…Margot Robbie.
Where do you see the brand in five years?
Sara: On the cover of Vogue. Just kidding, I wish! I would say still making classic pieces that every girl needs in her closet, while also adapting to trends. Also hopefully in other categories. I'm really excited for our potential fragrance. And I want to make Favorite Daughter belts! There's so much on the horizon, hopefully.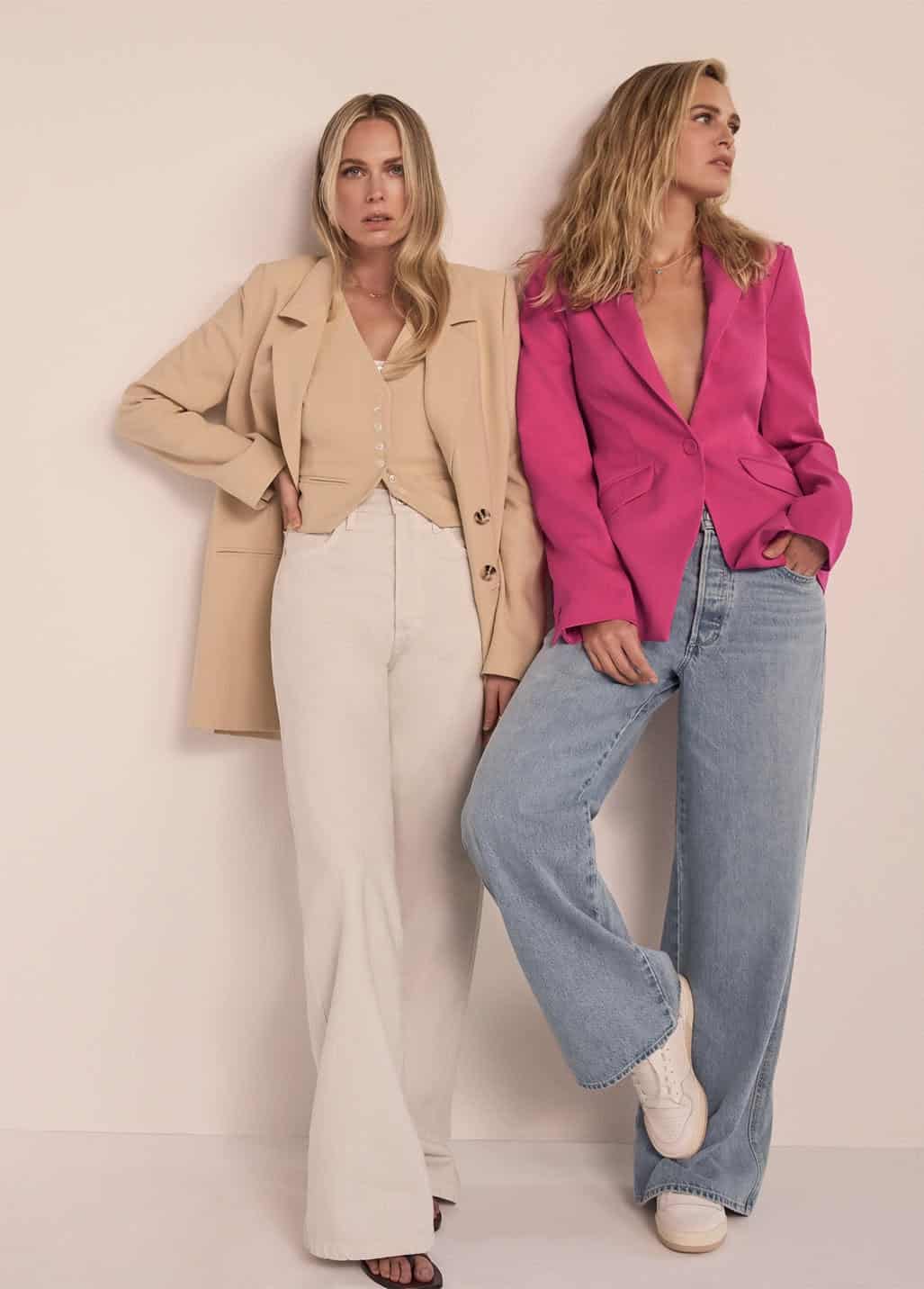 What is your favorite thing to do in your "free" time?
Erin: I love watching reality shows with my husband, cooking, FaceTiming with our sister Jordan (the style director of Favorite Daughter), hanging out with Sara's kids. Valentina is getting to that age where she's too cool for any of us, and she seems to be into cooking with me, so I like to use that as bait for her to hang with me.
Sara: Absolutely nothing. I know that sounds like a joke, but really truly nothing. I am also really into Real Housewives of Miami. Both Erin and I are super into that right now.
Subscribe to our newsletter and follow us on Facebook and Instagram to stay up to date on all the latest fashion news and juicy industry gossip.