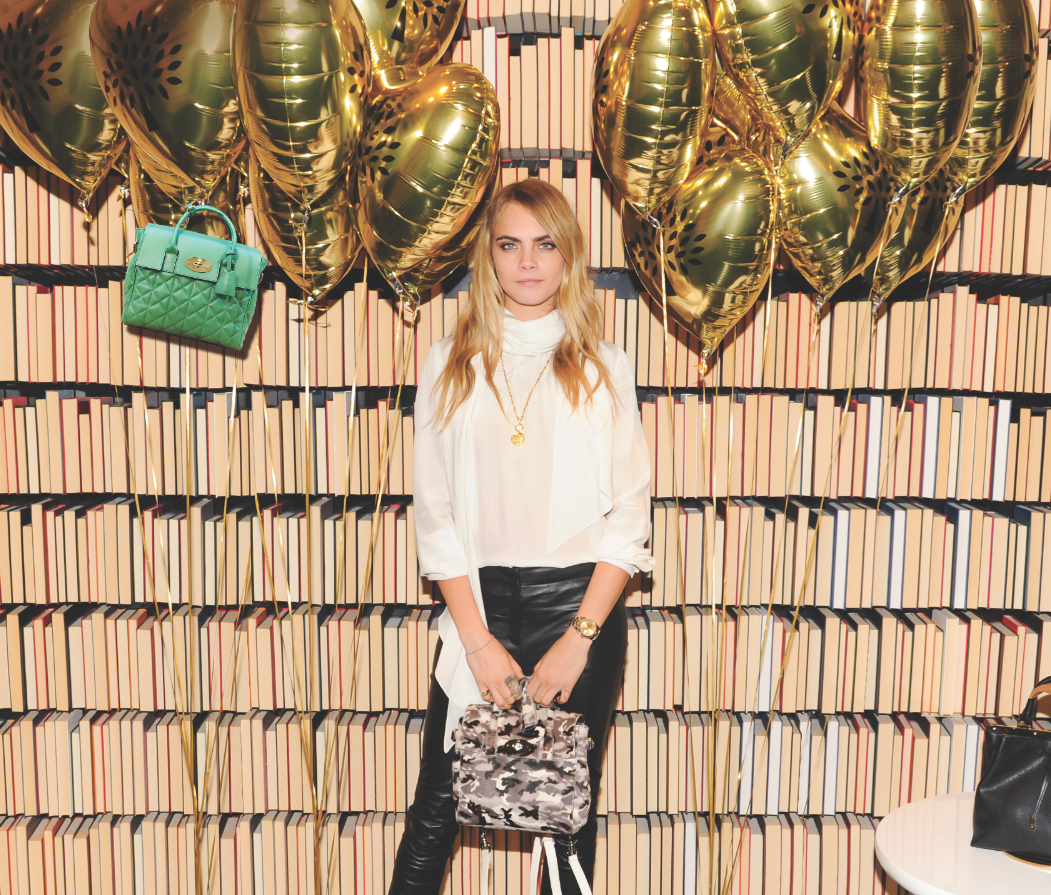 The divine Miss Delevingne graced Manhattan for merely a moment to toast her new capsule collection for Mulberry. Naturally, she was game to answer our most pressing questions.
BY PAIGE REDDINGER
How involved were you in the design process?
It started off just doing a campaign shoot for Mulberry, as normal…as normal? I know that's not normal! It was actually crazy, with all the animals. We sat down for lunch on set, as we always do, and I started talking about designing. My friend Alexa [Chung] had done a bag. I never thought mine would actually come about!
Did you have a concept in mind?
I always wanted to do a backpack, but one that hadn't been done before. I wanted it to be for anyone, so it comes in different sizes, and it's versatile for work, the gym, or going out to dinner. I went through the archives with the team, and I also asked all my friends what they would want in a bag. I wanted it to have little secrets, like the heart on the inside pocket.
Did you go to the factory?
Yes, and I met all the people who make the different parts of each bag. They take care of every little detail!
What was it like working with all those animals for the Mulberry campaign?
There was a hedgehog on set! I'd never seen a hedgehog before—it was this undulating spiky little thing that would turn on its back. It was fascinating. Then there was this cockatoo I called Pollyette. It sat on my shoulder all day and it wouldn't get off. It was so fun!
You have more than 6 million followers on Instagram alone. What's it like to have that kind of influence?
It's really strange to me. Just a year ago, I didn't even have a million followers on Instagram. I remember going to Bali and the people were telling me the population is 5 million or 6 million and I was like, "Wow! That's how many followers I have on Instagram." It's also scary for people who cross me. I can just post their photo and say, "Attack this person!" No, I'm joking. That's never happened.
Do you read the comments?
There's a lot of bullying, so if someone's said something rude then I'll say something.
Is Twitter over?
No, I don't think so. With Instagram it's just easier, because you can post a photo without having to say anything. You can do that on Twitter, too, but it's different.
Where do you like to hang out when you're in New York?
Brooklyn. If I lived in New York, I'd live there for sure. Every time I come, I like to go somewhere new, because I don't really know New York as well as I should. There's this amazing place called Shabu-Tatsu where they have this boiling pot and you just shove the meat in it and let it cook. I also love going to karaoke!
Are you going to have time to hang out with your sister, Poppy, while you're here?
I saw her for literally one second. I just got in yesterday and I'm leaving tomorrow so it's sad, because it's a short trip. Poppy got her first tattoo last week and I got one as well, so we had that moment together.
How many tattoos do you have?
I honestly don't even know! Fourteen? Maybe more?
Do you have a favorite one?
My bacon tattoo. It's my newest one!
Bacon?
I have the word "bacon" tattooed on my foot, so when I put my feet together, they read, "Bacon Made In England." I'm basically going to turn into bacon, because I've eaten so much of it! They say you are what you eat, right?