Sixty years ago, a couturière from Bologna named Ada Masotti opened up a small atelier, and soon the city's most elite women were sporting some of the most inventive and luxurious pieces of lingerie ever to be created. Today, La Perla is a power player on the global stage, with an inspired new owner who aims to bring its signature sense of luxury to an even larger audience. Suzy Biszantz, CEO of La Perla North America, explains the brand's transformation.
BY ASHLEY BAKER
How has La Perla evolved since you came onboard?
I joined the company over six years ago, and we were owned partially by JH Partners, which had made an investment in the brand. Then in 2008, they bought the entire company from the Masotti family, and operated it for the next five and a half years. As of last summer, we've had another ownership change—[Italian entrepreneur] Silvio Scaglia bought the company outright last July. One of the nice things about having a strong team is that the North American customer has been buffered from any of those changes. We've continued to represent the brand, its legacy, its values, and its DNA through events, merchandising, and maintaining our real estate in key markets. There's been a focus on maintaining that level of quality, prestige, and cachet around the brand. With our new owner, we launched a new ad campaign, and the new creative is just amazing. Silvio Scaglia really believes in marketing and reestablishing the brand with top luxury positioning in every way. That also goes for our media placements, revamping our website, and signing leases in the most amazing locations across the world. In the U.S., we're opening three boutiques this year in San Francisco, Atlanta, and Houston.
The brand has done some exciting collaborations in the past few years with the likes of Jean Paul Gaultier and Jason Wu. How have those proved energizing?
All those things kept the product and brand fresh at retail, and spoke to the strength of La Perla—some of the best designers in the world have expressed interest in working with us. Now, we're taking it to an even higher level.
Roberto Baciocchi has also been enlisted to renovate the stores.
Yes, he's very well-known in terms of his work for Prada and Miu Miu. He's very innovative, and we've opened new or renovated stores in London, Milan, the Four Seasons Macau, and Shanghai. It's now rapid-fire in terms of renovations, as well as new doors.
The men's collection is another exciting development. How do you see that playing out in the United States?
We'll be launching for Spring '15, and it will be very select, in terms of distribution and positioning.
How do you explain La Perla's longevity?
Our client base is so loyal and dedicated. In a way, we've never been pigeonholed to a certain demographic or age bracket, and it's allowed our client base to evolve over time. First, it's a mother, and then her daughter becomes a client—we see them shopping together in our boutiques every day. The way the Masotti family launched and managed the brand for so many years was about timeless elegance.
And La Perla's quality is extraordinary.
People ask me a lot, "How do you compare La Perla to this brand or that one?" And there's no comparison. We don't really see ourselves as having competition at what, exactly, we do. I love going back to our headquarters in Bologna, where I see women cutting, sewing, and taking care of product creation by hand. It's so special. And each season, we do different things. There's the same quality level, but it also evolves—we relate to trends. I'm always surprised when I see our collections come out, and admire the colors our designers have used…and then I'll go to the runway shows two months later and see a lot of the same colors. Our very refined clients notice that, and our wholesale customers appreciate that our product is related to what's going on in ready-to-wear as well.
La Perla was visionary in treating lingerie like a fashion category.
And it was the first to use color—that's a fact. As we've changed and evolved in the past year, elevating our environments in the stores, our ownership has believed in elevating the product even further. The client is responding to it, and our business has never been better.
How has your Italian improved over your tenure at La Perla?
It hasn't! Everyone has been so kind to me and spoken English—much to the demise of my plans to become fluent in Italian.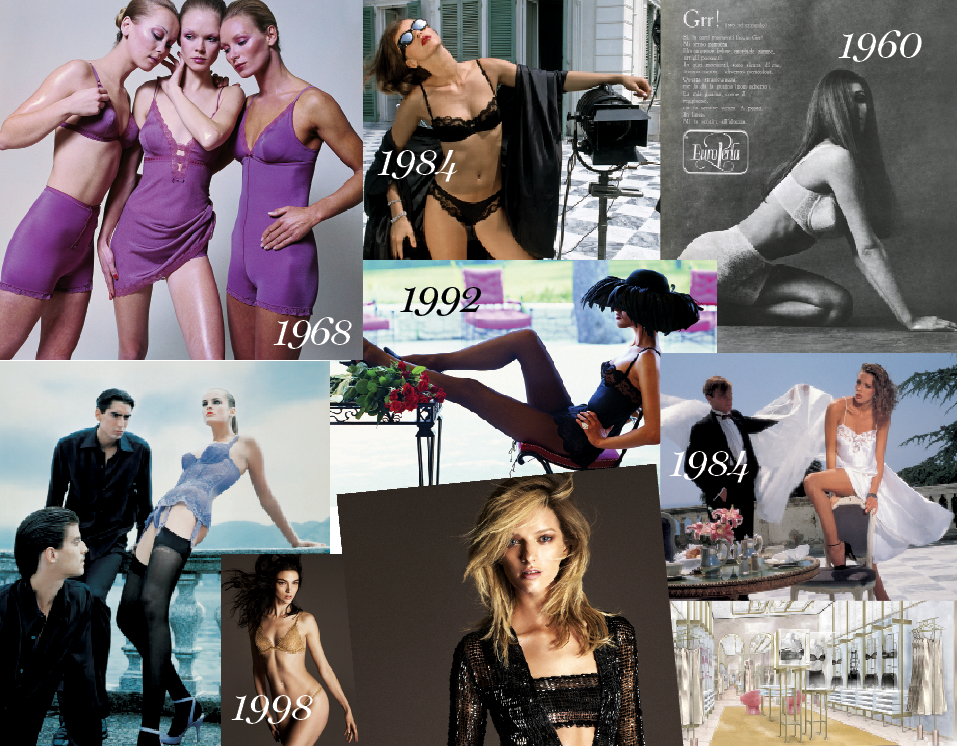 PLUS! Learn A Few Monumental Moments From The Brand…
1954  Ada Massoti opens the first La Perla atelier in Bologna, where she designs and produces lingerie for an elite clientele.
1960  La Perla unveils its first advertising campaign.
1965  A swim collection is introduced.
1994  The first La Perla flagship store opens in Milan on Via Montenapoleone.
1998  Following openings in Paris, Los Angeles, and London, La Perla opens its first American store on Madison Avenue in New York.
2001  La Perla launches ready-to-wear with its first runway show during Milan Fashion Week.
2003  Alessandro Dell'Acqua joins the brand and designs the ready-to-wear collection; he leaves La Perla in 2009.
2007  JH Partners, a private equity firm based in San Francisco, buys 70 percent of the company from the Masotti family. It acquires full ownership in 2008.
2008  Jean Paul Gaultier designs his first critically acclaimed capsule collection for the brand.
2013  La Perla is acquired by Pacific Global Management Group, a global talent management company owned by Italian entrepreneur Silvio Scaglia.
2014  La Perla relaunches its men's collection, including a wide range of lifestyle pieces. New boutiques open on Rue de Grenelle in Paris, Old Bond Street in London, Pacific Place in Hong Kong, and at the Four Seasons Hotel in Macau. The brand has a major on-screen moment with Margot Robbie in The Wolf of Wall Street.
2015  La Perla will show during the couture collections in Paris.