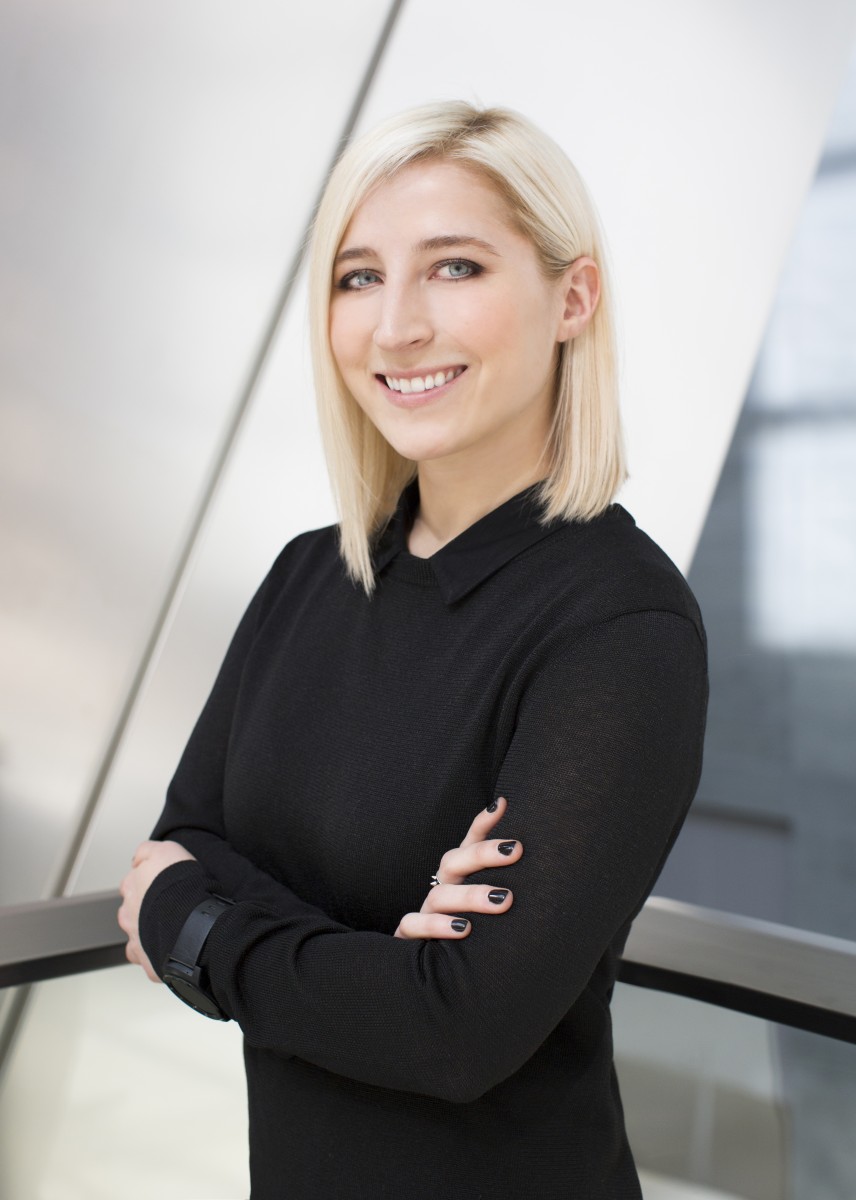 Jazz saxophone! Social activism! Tech expert! Beauty school! Jenna Blaha's hobbies run the gamut, and she's worn more hats than some people do in a lifetime. Which is helpful when you're the assistant to Nina García, whose days are packed with more than her creative director duties at Marie Claire. If you aren't catching her on Project Runway, García is likely sitting front row at Fashion Week or heading to Europe for meetings. It's no wonder they get along so well…
Background check: How did you get to Marie Claire, and where were you before?
I was getting my master's in English Lit at Georgetown, and did an internship at Elle where Kyle Anderson was an editor. He and I connected, and he's always been a mentor. After I returned to school, he moved to Marie Claire, called me and said, "When are you available?" I transferred to Columbia so I could start right away! Nina needed an assistant around the same time that I finished the internship with Kyle. She yelled over, "Can you come here?" and I was like "Oh my god, it's Nina García." And then she interviewed me.
So you had no chance to prep?
Pretty much. I was not prepared at all. I was in a vintage Clash T-shirt and combat boots from WWII. But fortunately, we didn't even go there. I think that she was excited because I had a different background…I didn't go to fashion school.
Were you intimidated by her before you met?
I think it was a good thing that I was called in from across the room for the interview. Had I been able to prepare, I would have been way more nervous. I thought the job was going to be way more disconnected and filled with demands, but she's way more hands on. She'll sit with us and go through edit for a story, she'll look through a collection. She'll have that conversation. It's not just demand and go.
So back up…how many schools have you been enrolled in?
I started at Boston University for music—I play jazz saxophone. Then I did five undergrad study abroad programs until I ran out of money. I went back to Wisconsin where I'm from and finished at the University of Wisconsin, switched my major three times, went to Tanzania to study with a social activist, and then went to Georgetown and Columbia.
Jeez! So what is your day like now?
There's never a usual day, which I love. It always starts with checking emails. I'm working with Nina as her assistant but I also handle the tech market, so I'll have my own appointments. I'm with Nina during Fashion Week, or I'm at an event, or I'm on set at Project Runway. Sometimes she does Miss Universe. It's crazy!
Do you go to the shows together?
I'll go to some; she does so much. This past NYFW she interviewed some people behind the scenes. I was the person doing the Periscope!
What time does she get to the office?
It changes, but usually around 10/10:30. Some days she doesn't make it in at all because she's on set all day, or traveling back from another part of the world.
And your responsibilities as her assistant are…
Mainly just being with her. She'll have an idea, we'll talk about it, and then I'll help execute. Or we'll brainstorm.
So what's a lesser-known job perk?
Nina works on so many platforms, so we're doing print, TV, digital, webisodes, social media. When I had the idea for the tech page, after a little bit of pitching, she was like, Let's do it. I don't feel that there are a lot of publications where you can have an idea and actually have it happen.
Do you think that's because you work together so closely?
It helps that we have similar interests, and I had a pretty good understanding of what she would want it to look like. But she listens to everyone on the team—she loves brainstorming sessions. She has an open door policy.
What gadgets does she rely on?
The Apple watch and iPhone 6, in rose gold of course. We're a dynamic duo because I'll meet with all these tech companies and she's obsessed with tech.
How do you keep her on schedule?
It got even more complicated when I got my own appointments…now I have my schedule, hers, and the team's. I use an itinerary for appointments, and I use Sunrise for my own, so I can switch from my schedule to hers.
Where does she go to lunch?
She'll go to Marea, which is right in the neighborhood, or the Four Seasons and Blue Ribbon. We do a lot of meetings in the office over lunch hour.
We have to know, does she really wear heels all day?
She is Wonder Woman in heels! If she shows up in heels, she'll leave in heels. She was a huge sneakerhead at one point, and she loved her Birkenstocks this summer. She has a great footwear collection of all inches!
What's something most people don't know about her?
She's really personable! And family is so important to her. She takes two or three weeks each year for family time. When she's in the office, she's here, and when she's with her family, she's with them. She's always committed to whatever is in front of her at that moment.
Are you on set often for Project Runway?
Every episode. It's so much fun, but it's hard because the magazine is still in motion. It's a balancing act.
What's the best part of the TV side of your job?
It's like you're watching a reality show, but it's happening right then and there. And being around so many talented people: Heidi Klum, Zac Posen, and Tim Gunn.
I bet! Nina is known as being the super forward judge on the show…is she anything like that in person?
People think she can be cut and dry because she really gets to the heart of what the problem is, and she wants to help people. When you aren't used to that, you can take it personally. But if you don't get that feedback, you can't improve. Of course it is reality TV, so it's cut a little bit and you don't see all of the great things she says!
What's one of the best things you've learned from her?
I feel like I've learned everything—how to live in New York and be professional. She's encouraged me to be eager, have really great ideas and believe in them and go after it.
Where do you see yourself heading?
I love what I'm doing right now; I don't think there's anywhere else I could go where I'm managing a tech market, writing for online, have a page in the magazine, working on set on TV. I get to do all of it. My future will always have a tech element, and a fashion and beauty element.
Beauty too?
Yes, I also went to beauty school…did I mention that? [Laughs]
What would tear you away?
The one thing I've always wanted to do is have a major influence on the future of the industry, both print and fashion. How are we going to consume news? How are we going to buy clothing? The only thing that would tear me away is if I had an even larger role in that. It would have to be a really big offer in a spot where I'd have a lot of creative control.