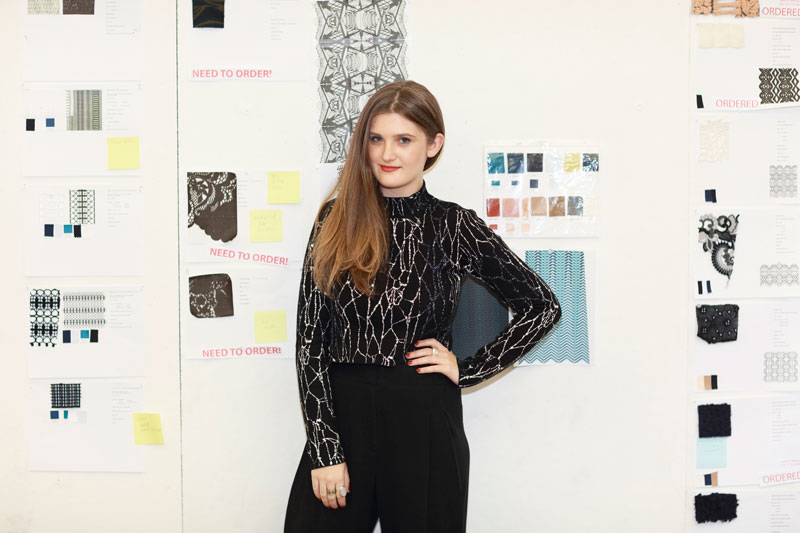 Jonathan Simkhai nabbed a CFDA/Vogue Fashion Fund Award this past fall, and his label's influence continues to grow. In the midst of pre-fall showings and Fall '16 Fashion Week prep, his right hand (and "left and right brain") Chloe Post gave us a peek behind the scenes. Raised in a family of artists, schooled at SCAD, and trained at a variety of fashion and media brands, Post is a well-equipped creative. From sketching and designing to managing Market Week and traveling the world, how does she careen through the chaos?
What's your background?
I studied fashion design at SCAD, and got a really strong fine arts background. I was selected to do a mentorship with Chris Benz, and I was also selected to show at NYFW through ELLE after I graduated. My first internship was with Glamour, and then the following year I did a styling internship with Gilt Groupe. I blogged for Guest of a Guest one summer, which taught me how to network and present myself. When I graduated I didn't really have any design experience, so I interned at Tibi. Then I started freelancing at J.Crew and Calvin Klein. I worked for stylist, Natasha Royt for a little bit, and then I came to Jonathan.
Would you say that you're naturally creative?
Both my parents are artists—my father is a painter, and my mom was a writer for soap operas—and everyone in my family is in a creative field, so I was definitely nurtured to be a creative person.
How did you end up here?
It's a pretty boring story [laughs]…I saw a posting and applied. It was the first interview I went on where I wasn't nervous! My whole senior collection was neoprene and mesh, which was his current obsession, so he loved that. We had a very short interview, and immediately clicked. He hired me on the spot, and I've been here for four years.
Did you know a lot about the company beforehand?
I didn't realize this until later, but one of his first collections, with girls with dish towels tied in their hair, was something I had in my sketchbook when I was in school. I always loved what he was doing.
How many items would you say you own from the label?
Probably 90 percent of my wardrobe is Jonathan! I design things that I want to wear, and Jonathan makes sure that what we're designing is what the girls in his life want to wear.
The office is buzzing! What are you working on now?
It gets really crazy with the holidays. We work with Italy, who closes for a few weeks for Christmas. We're also working with Asia, and they close for Chinese New Year, so it's battling both of those timelines.
What's your role during Market Week?
I make sure that the showroom has everything they need and I'm answering any questions for buyers, like if we can offer color options. I continue to make sure that we're on track for production with the collection. I don't really get a break during Market Week.
So typically, what's your day like?
It's always different. Over the past four years, we've grown tremendously and have added so many people to the team, so my role is constantly changing. Currently, I'm overseeing the design team and working on prints and textile development. I do all of our knitwear, so I'm always looking for inspiration, designing, sketching, communicating with mills and factories…
Are you also responsible for keeping Jonathan's scheduling on track?
I used to when we were smaller, but now he has someone who does that for him. But I'm constantly checking in with him. I'm like, You know you have to leave in 10 minutes, or you know that you have this today, are you sure you want to have a design meeting? I just know how he operates and how his brain works. It's out of habit!
What was one of your favorite days on the job?
I do a lot of international development and I send my sketches to the factory. I never know how they're going to turn out. When I get that shipment of clothes, it's like Christmas morning.
Do you ever travel with Jonathan?
I've actually done a lot of travel with him! We go to Asia together about two to three times a year. We went to India when we were part of the CFDA Fashion Incubator; we did a lot of traveling with that program. We took a trip to L.A., an inspiration trip to London, and a trip upstate.
How is he as a travel buddy?
He doesn't get jetlagged, and I do, so he keeps the energy up. I always joke that I'm his left brain and his right brain…like when he leaves his passport, I'll grab it. I think we complement each other when we travel.
What's one of your most memorable trips?
My favorite and least favorite trip was probably India. It was so different and put us so far out of our element. We got sick on our last day and we had been really cautious. I think that was a bonding experience. [laughs]
What's Fashion Week like for you?
It's a lot of sleepless nights and a lot of fast food, but it's also very collaborative. Jonathan really loves to hear everyone's opinions. We all come together and make sure that everyone is happy with what we're presenting.
Do you have any Fashion Week traditions?
None other than we order from the same three places: pizza from Lazzara's, coffee and pastries from Ramini Espresso Bar, and our guilty pleasure, Schnipper's! We're not afraid of fried chicken in this office. Jonathan and I are both very superstitious, so we try not to have any rituals where we jinx anything. It's an anti-ritual, almost.
What's your relationship like?
We have a really unique bond, and really complement each other. I can really understand what he's looking for. It's very laid back, and he allows everyone to be creative. But it's also really hectic and chaotic, especially since we're growing at such a rapid pace.
What's one of the most valuable things you've learned from Jonathan?
Having worked on so many collections with him, we've made a lot of mistakes along the way. He's always been very quick to forgive. He's like, Let's learn from this, maybe this was a good mistake that we ordered this in the wrong color, let's try to make this work, let's add a trim to this. He teaches me to make the most of everything that happens and to not get stressed out by the little things.
What's one of the key skills you've acquired?
My textile development skills have really grown. I've always known how to draw and use a computer to create prints and motifs, but learning how a flat image and textures relate, and limitations…I've completely trained myself to understand that.
And what's your plan, big picture?
I think being a creative director would be amazing, or even an art director. I just love the creativity of building a brand.