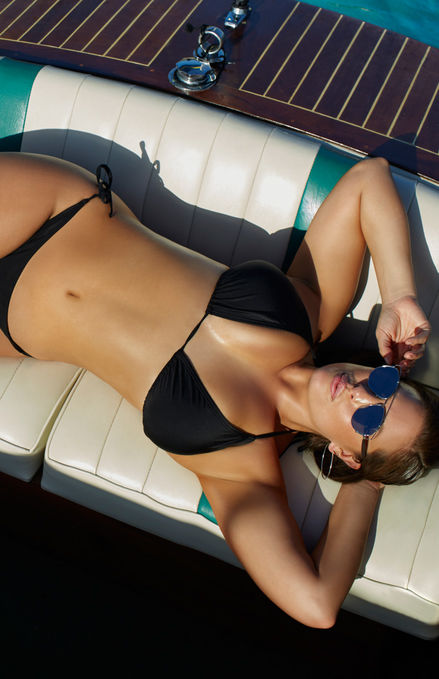 If you missed her sultry Sports Illustrated swimsuit issue cover, you can catch a glimpse of Ashley Graham modeling her own line of swimwear at Swimsuitsforall. The 28-year-old plus-size mod is having more than just a moment: In addition to the swimsuit collab, she's landed her own column for InStyle—"her message of style confidence and tips for shopping and dressing are appealing to all," editorial director Ariel Foxman noted—fronted a variety of fashion campaigns and fashion spreads, and recently starred in DNCE's new music video, where she gets hot and heavy with Joe Jonas. She fills us in.
Congrats on your column!
It's a lot of fun! For so long I've had people ask me, How do I dress for curves? How do I hide this? How do I accentuate that? Now I'm able to talk about what I've learned over my 16 years of experience in the fashion industry as a curvy woman. Now I get to share it with so many different women. I get to talk about brands that I believe in, that can dress curves in a great way. Not a lot of women know where to shop yet for their curves.
How do you choose the topics?
It's a little bit of a collaboration. We talk about what's going on for the season and what we want to discuss. For summertime, we jumped into what's happening with swimsuits, and my collection that launched, spring trends, jeans. One of the biggest things that's tough buying is jeans!
What's your goal for the column?
To have women of all shapes and sizes realize that there is fashion for them. When I was growing up I didn't have very many role models in the public eye. I had my mother, who always supported me and let me know that I was beautiful, but I never really had a fashion icon to look up to or somebody who said if you've got really curvy hips, this is how you wear this. My mother's advice was always to have your shoes, your belt, and your bag match. We've grown out of that advice. There's so many young girls who struggle with knowing how to dress themselves. And there are some women who are newly curvy who don't know where to go or how to dress their body. I really hope the column gives women the confidence and advice that they've been looking for.
Who are some of the brands and designers catering to curvier women?
NYNT, ASOS, obviously Swimsuitsforall, Old Navy. What's so great is I could list off so many different brands, because we're in a phase where there are brands coming up left and right for curvy women. It depends on what you're looking for and what price range you're looking for. One thing that's really missing in the plus-size world is high-end fashion. It's easy to find stuff from Forever 21, ASOS, Torrid, Lane Bryant, more mainstream. But if you start talking about high-end designers, its a little bit harder to find. Many do go up to a size 46/48, they just don't really talk about it. My hope and desire is that it won't be something that's not discussed, that every shape and every size under the sun is being designed for. And of course, I know, not every designer is going to go up and extend their sizes into plus size. But we can at least have that conversation. That's why it's so fantastic that Christian Siriano decided to do that collaboration with Lane Bryant.
Did you set out to become a spokeswoman for plus size women?
When I first started modeling, I didn't realize the impact I was going to have on the industry. I had agents who were supportive but not supportive in a way that was going to help me achieve longevity. One day I woke up and realized a pretty face will open a door, but it takes a business-savvy woman to achieve longevity. I thought, I've really got to think of my face, my body, and my brand as a business. I started designing lingerie, and I have dresses at Dress Barn. I just launched my swimwear for Swimsuitsforall, and I kind of fell into this role model position, speaking to different girls in high schools, middle schools, colleges, going on different conferences, bringing confidence and self assurance to people, men and women, all different ages, ethnicities, and sizes. It wasn't something I thought of when I was younger. It just happened. I'm the oldest of three girls, and my mom always told me, your sisters are looking up to you, they will repeat everything you think, say, and do, so think about them. So I kind of think about all my fans, the girls, as my sisters.
What's it been like having your modeling career skyrocket in your late 20s?
One thing I've learned in this industry is to never compare yourself to the women around you. The moment I stopped comparing myself to the women around me is when my career did take off. If the things that are happening to me now would have happened when I was 22 or 23, I wouldn't have been ready. This isn't something that happened overnight. This is something that's premeditated, to a degree, and something I've been working very hard for. Sixteen years of blood, sweat, and tears got me to where I am, so I'm very proud of it and I know that I deserve it!
Let's talk about the swim line!
It's really fun! Bras are so technical…there are 25 components! You have to think about the underwire, the support. With swim, you can be a little bit more free and relaxed. You can add studs without worrying that if you wear a tight shirt over it, it's going to show through. I had a meeting with Swimsuitsforall and said, first things first: we're making a string bikini. It's one of the simplest things you can make, but it's one of the most impactful things, also. Girls my size, they don't make string bikinis for us! They think we want to be covered or it's not going to hold things in place. If you do it correctly—if you double stitch the triangle, if you make the strings a little bit thicker and use a nicer material—then it will keep everything in place. And I said support is key. In every single one-piece, you'll find a built-in bra for that extra bit of support. I'd put on a one piece—I have DDDs!—and there'd be no underwire or support in the back and they'd just go beeyoop! So we put ties on the neck, ties in the back, and built-in bras. Last but not least, they're sexy. Everything is James Bond-inspired. In the video for the campaign, I am James Bond…actually I like to call myself Jane Bond. I want her to feel like she's the boss of her life, she's the boss of her body. When she puts my swimsuits on, I want her to feel uber confident, sexy, and supported.
Where did the James Bond concept come from?
To me, the Bond girls are some of the sexiest girls out there. They are badass, and they're in control. They're also pictured as uber sexy, confident women. I wanted that to come across in each one of the suits. I keep picturing Halle Berry in the burnt orange two-piece halter top!
And there's a Swarovski-adorned piece as well…
That's our exclusive two-piece made with 500 Swarovski crystals. There are little snaps all over the top and bottom to keep them in place so you can get in and out of the water. It's totally water resistant. It lays on you like a body chain or a necklace, so if you want to just wear the crystals as jewelry, you can totally do that. It retails at $350, and is the most expensive one in the range.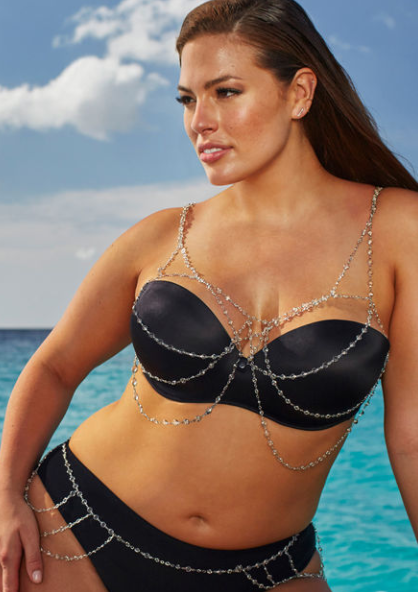 Do you have any embarrassing swimsuit stories?
There are so many [Laughs]. I can't tell you how many times I dove off the diving board and came back up and my top was missing. We've all been there. That was pretty much my whole middle school/high school experience.
And of  course, we must know what it was like working with (kissing) Joe Jonas…
[Laughs] It was a lot of fun. He's so sweet. We were literally cracking jokes the whole time. I told him I can't wait to be in the next DNCE music video, and he said, You know it! I definitely got bit by the acting bug. I haven't really done this much acting before. As a model you're kind of acting or dancing on set, so it came natural to me. I would definitely want to be in another music video or film.