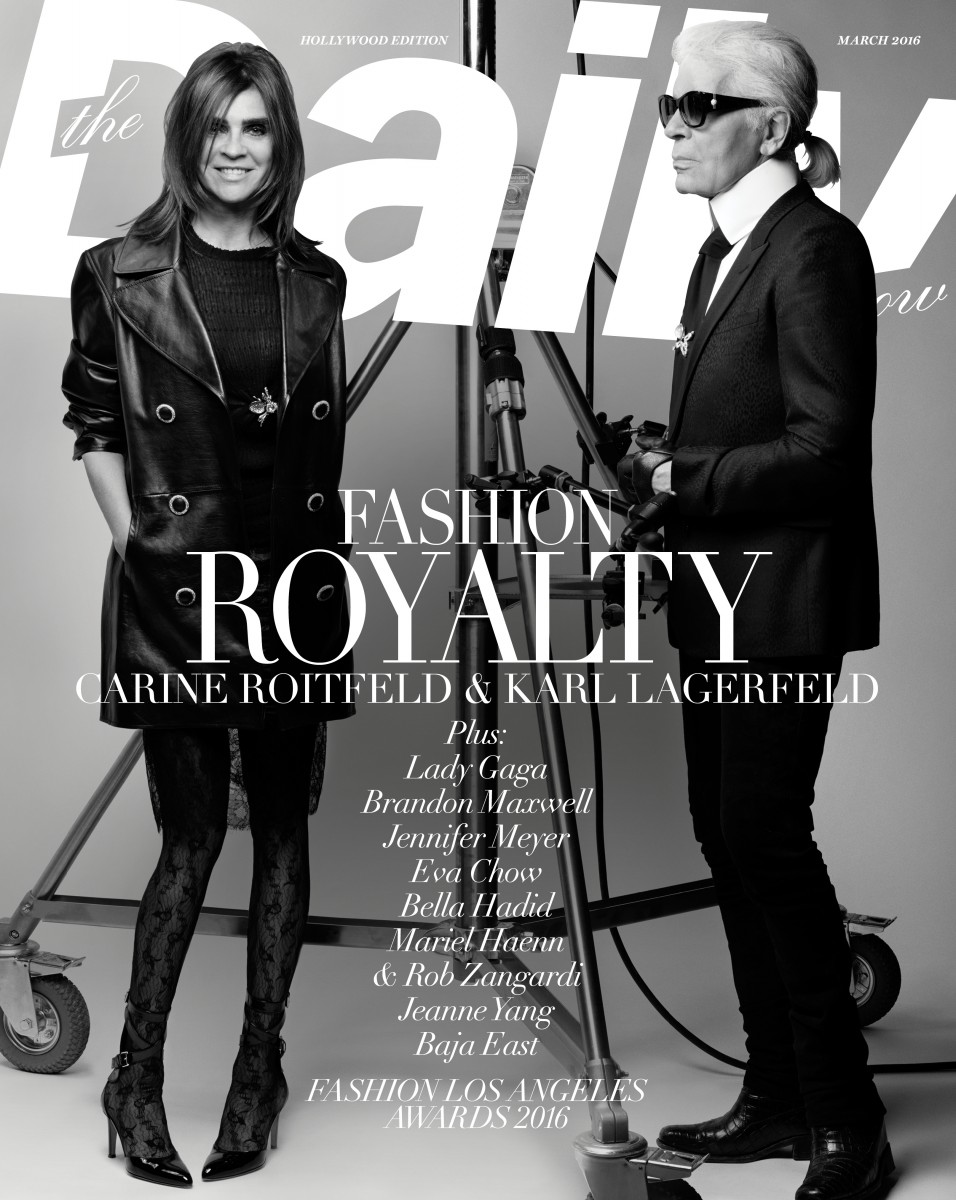 The Daily Front Row's second annual Fashion Los Angeles Awards (#FLAs2016) will celebrate fashion's finest for their contributions to Hollywood style on March 20 at the Sunset Tower Hotel in West Hollywood. The honorees will be celebrated in The Daily Front Row: Hollywood Edition, a collectible issue of our glossy magazine that features cover art shot by Karl Lagerfeld, and also highlights the best of runways from Europe and the chicest shopping destinations in Los Angeles. Beginning on March 17, The Daily Front Row: Hollywood Edition will be distributed in diverse locations throughout the city.
"Seeing this cover that Karl Lagerfeld photographed exclusively for The Daily come to life is such a moment for us, as we have been working on it in complete secrecy with Karl and Carine for so long. The two of them have never been together on a cover before, so this is a first for them, and for The Daily," said editor-in-chief Brandusa Niro. "After the shoot, Karl commented that Carine is able to give people more talent than they already have. Indeed, our cover line describes both of them perfectly: Fashion Royalty."
As previously announced, the event will be hosted by House of Harlow creative director Nicole Richie. Lady Gaga will be honored as Editor of the Year for her work in V Magazine, Eva Chow will be honored as this year's Fashion Innovator, Bella Hadid as Model of the Year, Jennifer Meyer as Best Jewelry Designer, and Carine Roitfeld's CR Fashion Book has been named Magazine of the Year. Brandon Maxwell will be honored for his Best Designer Debut, John Targon and Scott Studenberg of Baja East for Emerging Designers of the Year, Rob Zangardi and Mariel Haenn will be honored as Women's Stylists of the Year, and Jeanne Yang as Best Men's Stylist. There will also be a very special tribute to Karl Lagerfeld, and an array of surprise mega-star attendees. These honors, and many others, will be presented by a variety of celebrities from across all industries including Alber Elbaz, Gigi Hadid, Kate Hudson, and Jeremy Scott.
The Daily Front Row's second annual Fashion Los Angeles Awards are sponsored by Maybelline New York, Moroccanoil, Revolve, and Cadillac. At last year's event, honorees and guests included Rihanna, Miley Cyrus, Katy Perry, Gigi Hadid, Kanye West, Kerry Washington, Christian Louboutin, Armie Hammer, Drew Barrymore, and more. Follow the event at #FLAs2016