"My friends always say I throw a great party but no one remembers it," Alexa Chung laughs. "I guess that's the sign of a good party, a wicked hangover. So yeah, I'm pretty jazzed about this one."
Chung is hours away from throwing one of her notorious bashes – this one to fête her latest collaboration with Superga, a partnership she's had since 2011 when she began modeling for the brand. "They keep having me back for some reason, which is quite nice!"
This time, though, Chung's doing more than pose — she's created a capsule collection, a reimagining of the classic Superga silhouette in different color ways and finishes: satin, cotton, and terry. 
We caught up with Chung over the phone just a few short hours after she landed in L.A. for the affair. "I flew in from London, it was like an eleven-hour flight or something — brutal," she croaked. "I'm corpsing."
How's your jet leg?
Not great. I'm particularly tired today. I landed last night and thought I'd I'd beat the jet lag by staying awake so I met some friends for dinner and didn't end up getting to bed til quite late. I just got a mani-pedi though and that woke up me up.
What color did you get?
I got the most banal color, this really plain Jane non-color color. It's too much of an effort to actually pick out a color. It's just a beige.
So let's talk about this collaboration: you've worked with Superga many times before. When were you first introduced to the brand and how?
They used to sell Supergas at this shop in England called Russell & Bromley and my mum was a huge fan of this shoe shop so she'd very loyally wear Supergas on holiday. Then, years later, when I was modeling — I actually was already on TV — but they asked me to be the face of their campaign. And I was like, yeah that's so cool since they're my mum's favorite sneaker and I've been wearing them since I was a teenager. So that was 2010 or 2011.
So does mum get the hookup now?
Yeah. I have yet to gift her a pair from my collaboration. I haven't received my own pair yet but as soon as they're out, I'm sending her multiple pairs. She for sure gets the hook up.
Do you and she share the same shoe size?
Yeah, so its one massive collection of Supergas but otherwise our styles vary quite a bit. That's the only shoe we can agree upon.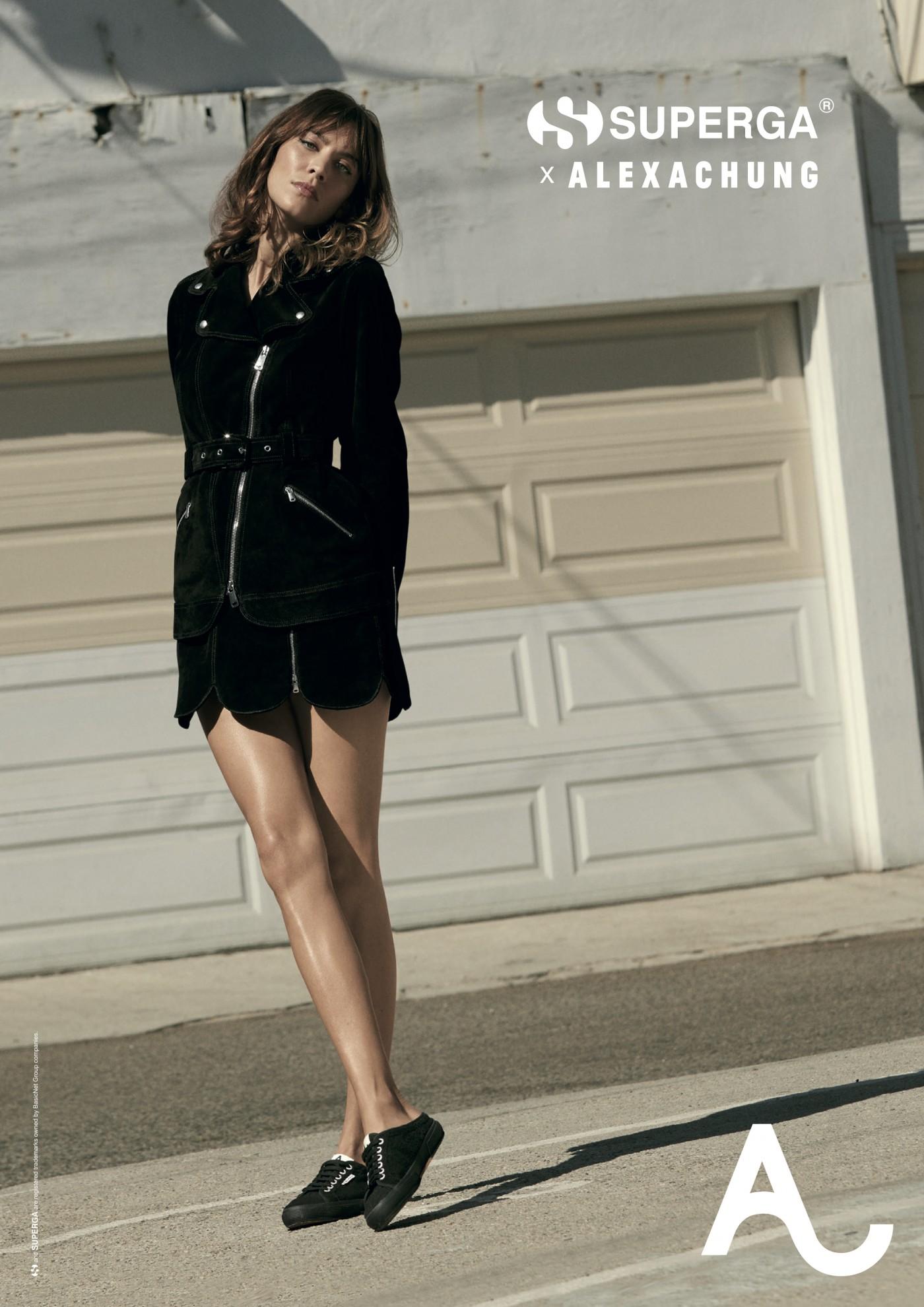 How many pairs of Supergas do you think you have at the moment?
I don't have that many just because I run through them pretty quickly. I wear them out, especially when I'm on vacation. They're my go-to sneaker. And when I go hiking or somewhere quite rocky, they get a bit beat up. So I tend to ruin them quite quickly. But probably in my house right now I have at least five pairs. I bought those velvet ones from the ManRepeller collaboration that I love. They're super nice.
What was your approach to the capsule, design-wise?
I just wanted to celebrate their simplicity in this first collection so I made some amendments like we added this toe-cap and we added two more eyelets on the high-tops so they could be a bit taller. We have some simple off-white ones and from there it gets a little jazzier – we've got some satin and some terry towelette. I think those are perfect as we go into spring and summer, particularly in the slip-on silhouette. It's nice to have something to you can kick on and off easily. Super casual.
Are you partial to a high top or a low top?
I like a high-top, even higher than normal. They just look great with jeans and they work so well with dresses. Maybe that's what I'll wear to the party!