Finnish design house Marimekko (which is 65 years old, and was a favorite of Jacqueline Kennedy) is updating its brand thanks to recently appointed creative director Anna Teurnell. The designer gives us the low-down on her first collection for Spring/Summer 2016—where she introduces eyewear and footwear—and how she's gearing up for her upcoming Paris Fashion Week debut.
Congrats on your new role at Marimekko!
I feel really good about working for this strong Nordic heritage brand! Marimekko has been in my life ever since I was little—my mother used to wear Marimekko dresses and decorate our home with Marimekko textiles. Also, I was involved in creating the H&M x Marimekko collection in 2008. So when this opportunity arose, I knew I would have to say yes.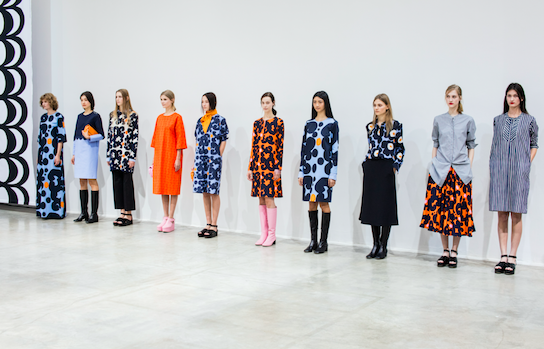 You previously worked at & Other Stories and H&M. What are you looking to bring to Marimekko?
All the jobs I have had have taught me valuable things. With & Other Stories, we started from scratch. Here, I have this powerful heritage and archive to lean on. In many ways working with the two brands has been very different, but what has been important in both jobs is having a great team around you, trusting your intuition, and keeping the customer in mind, to give her  a great product and lots of inspiration.
What was the inspiration for your debut collection?
I was inspired by the work of the strong, visionary women of Marimekko—founder Armi Ratia, and designers Maija Isola, Vuokko Eskolin-Nurmesniemi, and Annika Rimala. Their distinctive and timeless designs have, for decades, brought joy and beauty to our everyday lives, and are now an integral part of the Finnish design heritage. This collection pays homage to these ladies and celebrates the marriage of creativity and function by using lively, garden-inspired, organic and graphical archive prints for essential, easy-to-wear clothes that have a worker vibe. Colors include bright orange, black-and-white, and olive green, to name a few, and a touch of bubblegum pink. The clothes are practical, yet flattering, inspiring, and beautiful to make you feel strong. The accessories include shoes in bold colors, new eyewear, and printed canvas bags that combine our signature prints and colors with sophisticated leather details.
Why is now the right time to introduce accessories?
The introduction of eyewear and footwear seemed natural for us now as they present such a fun way to complement the Marimekko outfit. Elements like these are great for adding a touch of surprise to your look, which is something I feel Marimekko should always do, as well as make your look feel more elevated. Overall, we have paid a lot of attention on our accessories line, adding more bags and scarves to the collection.
Any new styles we should keep an eye out for?
The collection features trademark Marimekko dresses, long kaftans, printed trousers, and tunics meant to be mixed with each other, as well as bubblegum pink boots and leather handbags. Our silk shirts are a new classic for us and very easy to use in everyday life. Overall, there is a lot of combinability in the collection.
What are your tips for mixing prints?
One should always trust their own intuition and not be afraid of being a bit quirky. That's what I like about Marimekko…We create interesting new combinations by mixing prints and colors boldly.
Do you have a favorite print in the SS16 collection?
One of my favorites is the Keidas print by Annika Rimala, especially on the orange Medera skirt. The print, designed in the 1960s, is a great example of an archive print that feels very relevant now. We have approximately 3,500 prints in our archive, which is a strong resource for us.
Your Paris Fashion Week show is on Sunday. How are you gearing up?
The preparations are now in full speed—we are working on the lineup and preparing the casting. The setup will include elements from our home collection; as a lifestyle brand, we find that important. We want to tear down walls between fashion and design—this approach feels very topical now and has been a part of Marimekko since it was founded. It's exciting and fun to go back to Paris to show what our point of view is and to meet people from around the world.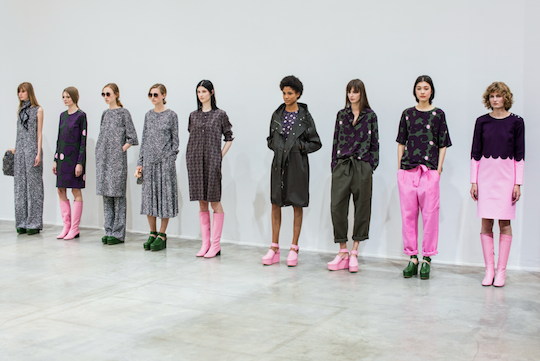 Will you ever show during New York Fashion Week?
Never say never!
Jacqueline Kennedy was a big Marimekko fan. Who would you love to see wear your designs today?
I'm most interested in the daily lives of everyday women, and what we can offer to make women feel strong and uplifted. It's not so much about the red carpet—I appreciate products that can elevate your everyday moments and empower you to be successful in life, whatever your standard is.
After Fashion Week, what's next? Will you have a moment to breathe?
After Paris we have quite a busy spring ahead of us—we'll be working full speed on Milan Design Week, which will be our main launch for the Fall/Winter 2016 home collection. Also, we will kick off the design work for Fall/Winter 2017. But I will surely take a couple of days off at some point.