Impeccably dressed songstress Ciara has pretty serious fashion cred. To wit: She's tight with Italo Zucchelli, Riccardo Tisci, and Peter Dundas. She filled us in on her catwalk debut, loving motherhood, and her new album dropping this spring. 
You were at our Fashion Los Angeles Awards! How did you and Italo Zucchelli first meet?
We met in Milan when I went to his shows two years ago. We automatically clicked! We have a very genuine connection. The [FLAs] were so great!
What does Italo think of your music?
Italo and I actually had a "listening party" in my car. We literally sat there for, like, an hour in sunny L.A. and pumped the music so loud. I sang along, and Italo was really grooving to it! He was so happy.
What's your new album, #JACKIE, like?
I named the album after my mom, because I see the world through her eyes now that I'm a mom. It's my best body of work. I'm in the most clear place in my life, and that pours into the music. I kept it small and tight in terms of producers; I wanted it to sound consistent. I worked with Dr. Luke, Polow da Don, Harmony Samuels and a few other producers.
You filmed a video in NYC on Friday…
It was for my first single on the album, "I Bet." I did things I've always wanted to do in the video, style-wise and performance-wise. I had a vision!
On Thursday, you walked in the Heart Truth Red Dress show. Was it your runway debut?
Yes! It was totally out of my comfort zone, but modeling is still a form of entertaining.
We saw you at Polo's presentation, too…
I love Polo. When I was young, I'd rack up on Polo—and now I've dined with Mr. Ralph. It's crazy!
Anything else on the docket?
I have plans to go to Paris; it's just a matter of timing.
What was your first fashion show?
Donatella [Versace] flew me to Milan for Versace nine and a half years ago. It was a big deal! I had dinner at Donatella's house, where I had a really great conversation with Elton John.
You're pals with Riccardo Tisci, too…
I met Riccardo in Brazil six years ago—he invited me to perform for him at Fashion Rocks Rio. We bonded so, so strongly. We're really like family. I call him Papa Ricky, Uncle Ricky…we're brothers, we're sisters, we're everything in one!
What are your favorite fashion memories with Riccardo?
One of my favorite moments was the VMAs [in 2013]. I wore a see-through Givenchy Couture dress. When I saw it on the runway, I freaked out! Riccardo said, "Don't worry, I'll make it work for you." He always delivers.
Has Papa Ricky designed anything for your son, Baby Future, yet?
No, but when Riccardo designed Nikes last year, I got the first pair of baby shoes produced for the line.
How's motherhood treating you?
Oh, my goodness. It's changed my life, period. My son is the greatest, sweetest gift God has given me. The word responsibility has a whole new meaning. My son arriving has changed how I keep pushing myself as a woman—and a businesswoman. I'm like, "Baby's gotta eat!" I hustle even harder; I have a clearer purpose in life.
Back to fashion: Who are your other designer pals?
I'm friends with Pucci's Peter Dundas. I adore him; he is such a kind soul. Anthony Vaccarello is my good friend, too; he's so humble and cool.
You know a lot of designers! Who do you want to befriend next?
I'd love to meet Alaïa. I've met Stella [McCartney], but I haven't worked with her yet. Oh, and Karl Lagerfeld! My very first big photo shoot was with Karl. It was years ago, for V magazine, and Karl was the photographer.
Any desire to have your own line one day?
It's definitely on my bucket list. I wouldn't take it lightly. I'd want to make it something that could last forever.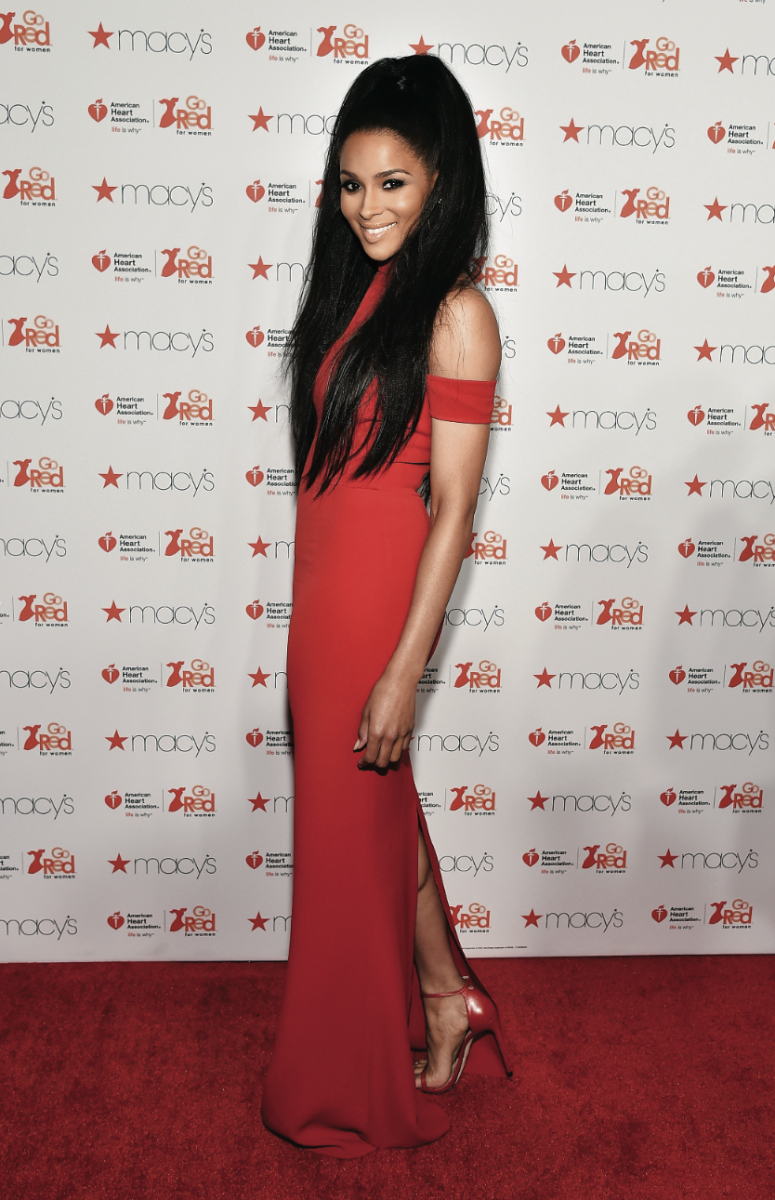 Ciara at the Heart Truth Red Dress event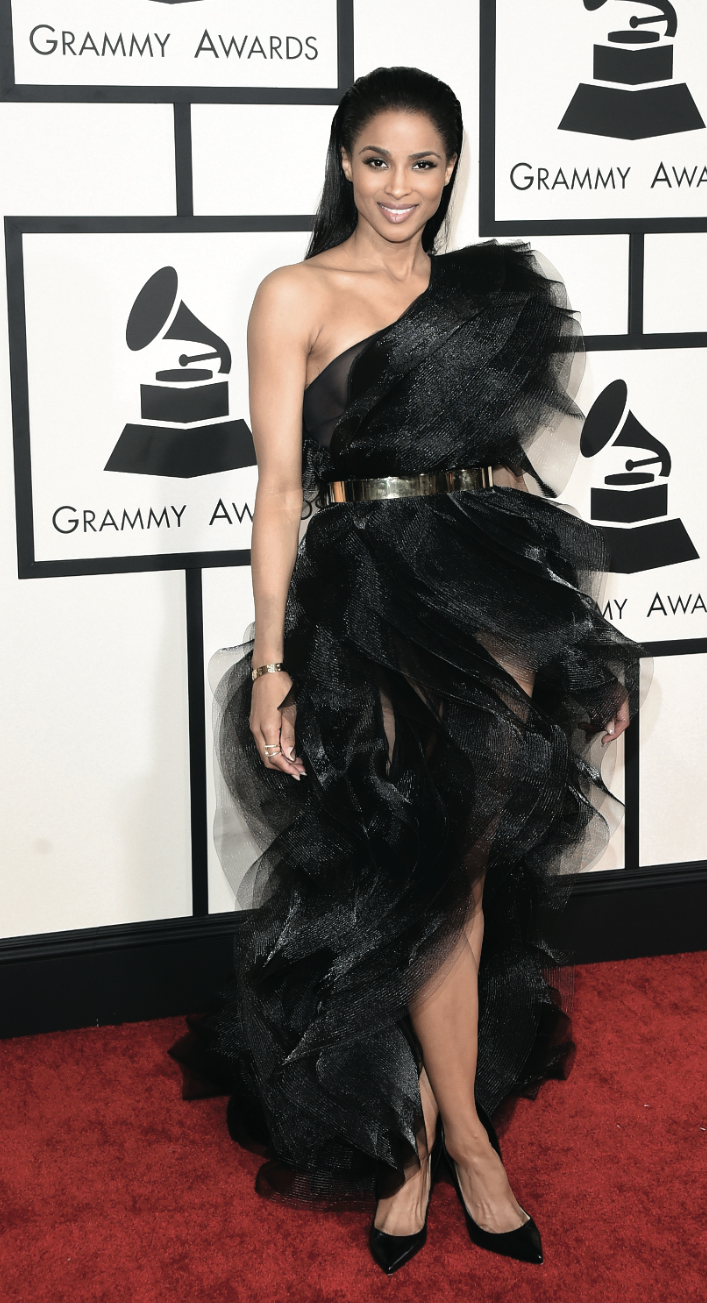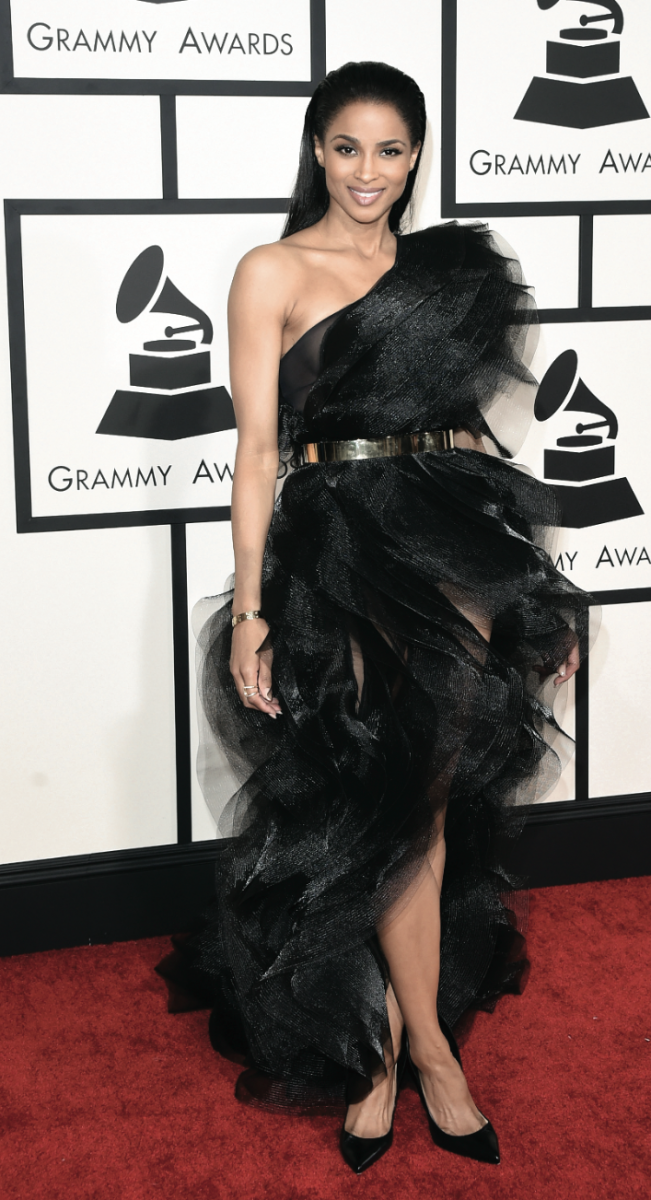 Ciara at the 2015 Grammys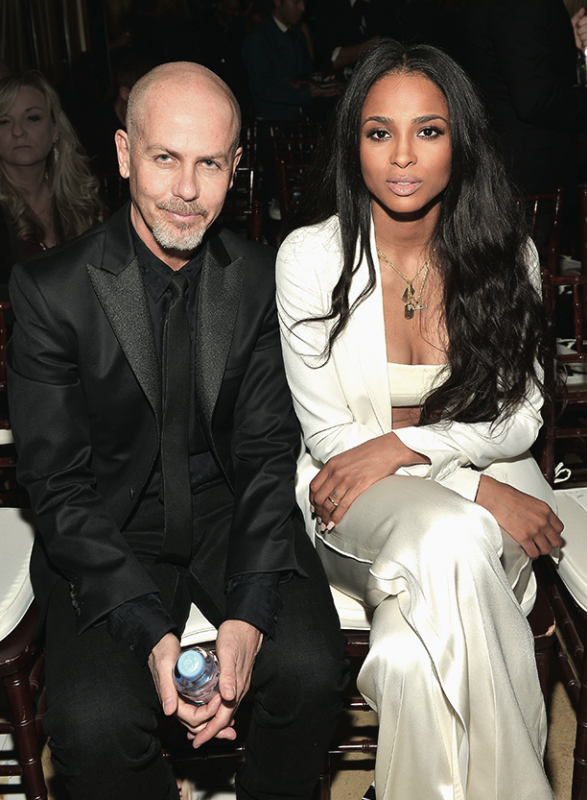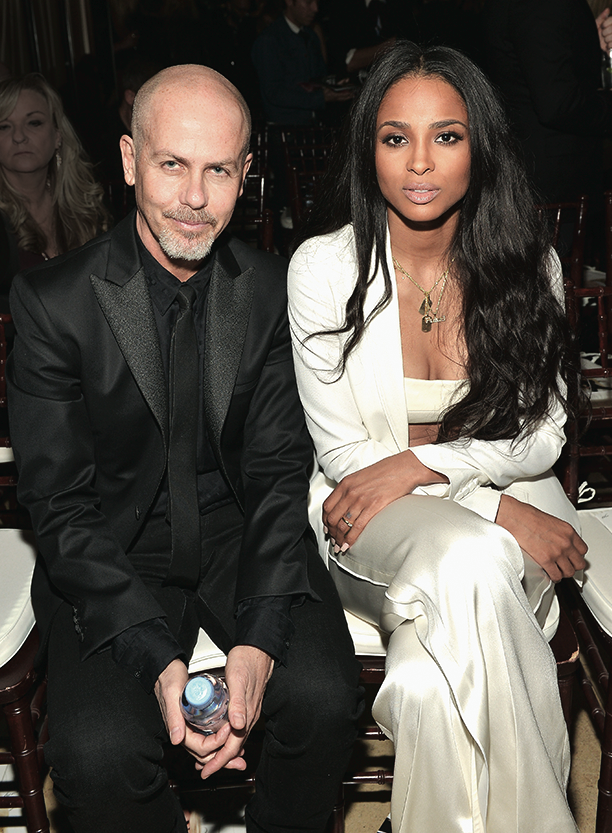 Italo Zucchelli and Ciara at the FLAs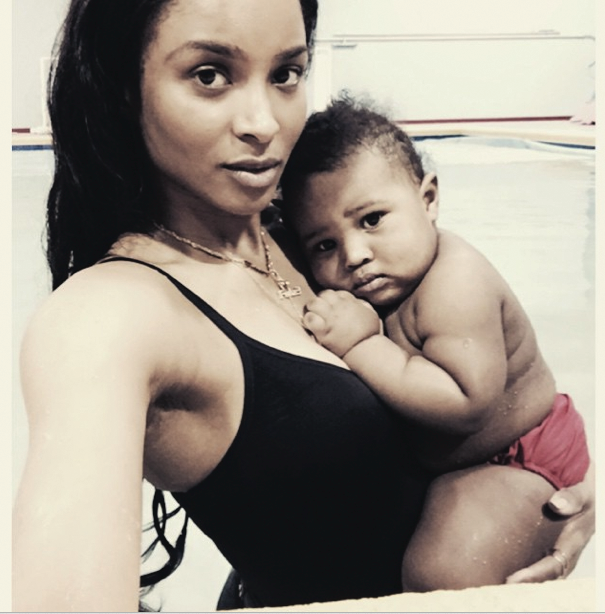 Ciara and her son, Baby Future