Meet Zara Rahim, the digital guru who was named communications director at Vogue after an exciting career in politics.
What was life like before fashion?
When I was in college, I had no idea what I wanted to do. I always had an interest in social justice–type work, but I wasn't sure how that would manifest. Sure enough, the world revealed itself to me in a "this is what you're supposed to do" kind of way—in 2011, I got an e-mail saying, "Intern for a campaign!" It was Obama's. I had voted for the first time in 2008, and I knocked on doors, volunteering for Obama. I started creating digital and social content for the campaign—writing blogs, interviewing people who would be affected by his policy. A few months later, I was hired full-time. That meant I'd need to leave school, which I did. It was the most important thing that's happened to me.
Why?
Every single job I've had leading up to Vogue has traced back to either an Obama alumni or mentor. I'm really grateful for that. After being on the campaign for a while I went back to school, did a brief stint working for the mayor of Tampa, and then once I graduated, I went to work at the White House.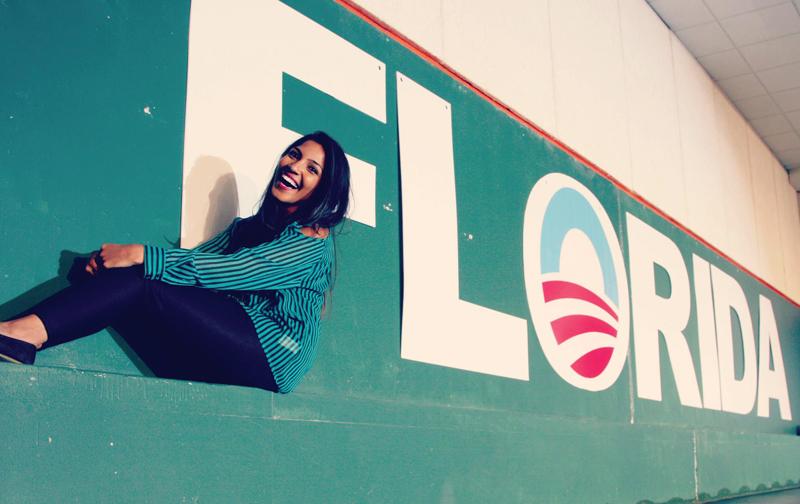 No big deal! What was your role there?
I was on the digital team, which was an imperative part of the administration—Obamacare was getting rolled out, and the Syria crisis was picking up. It was really amazing because A) I was working in the White House, which was out of control; and B) I worked a lot on taking the president's policies and putting them on digital platforms like whitehouse.gov, Twitter, and Instagram—Obama was really the first president to utilize those platforms. It was incredible to see your campaign candidate, who you've worked so hard for, become president. After a brief time, I went to Uber, where a senior adviser to the president had also gone. I, along with a bunch of other Obama people, went there after the primaries in 2014. I worked on writing legislations for ride sharing. Every day, when you get into an Uber it's because people on my team worked really hard to lobby for it.
What was the vibe like at Uber?
I got my Silicon Valley time in. It was incredible, but Uber was a tough place to work. Everything you hear about the culture and the bro-iness was real. It doesn't take away from the incredible people I worked with, but it was mentally straining. After two years, I got a call from my Obama colleagues that Hillary [Clinton] clinched the Democratic nomination and that they needed me to come back and work on the campaign. At that point, I was itching to get back into politics, so I dropped all my stuff in California and moved to NYC.
It must have been much more intense this time!
I worked 16-hour days. Obviously, when you're in full-blown general election mode, it's a lot. We were up against a really unpredictable candidate. While you can apply everything you've learned in politics to an election, this was unlike anything any of us had ever seen before. Particularly being a spokesperson for Hillary, you want to promote and work on a proactive message, but we couldn't because every day we were doing rapid response to whatever Trump said. It was an incredibly fascinating and trying time in my career. Mentors in politics always tell you there's going to be a time when you lose an election and it's going to hurt like hell. I wish it wasn't this one. Secondarily, this pain was unlike any other pain I think a lot of people in Democratic politics have felt before. It might have been the worst day of my life.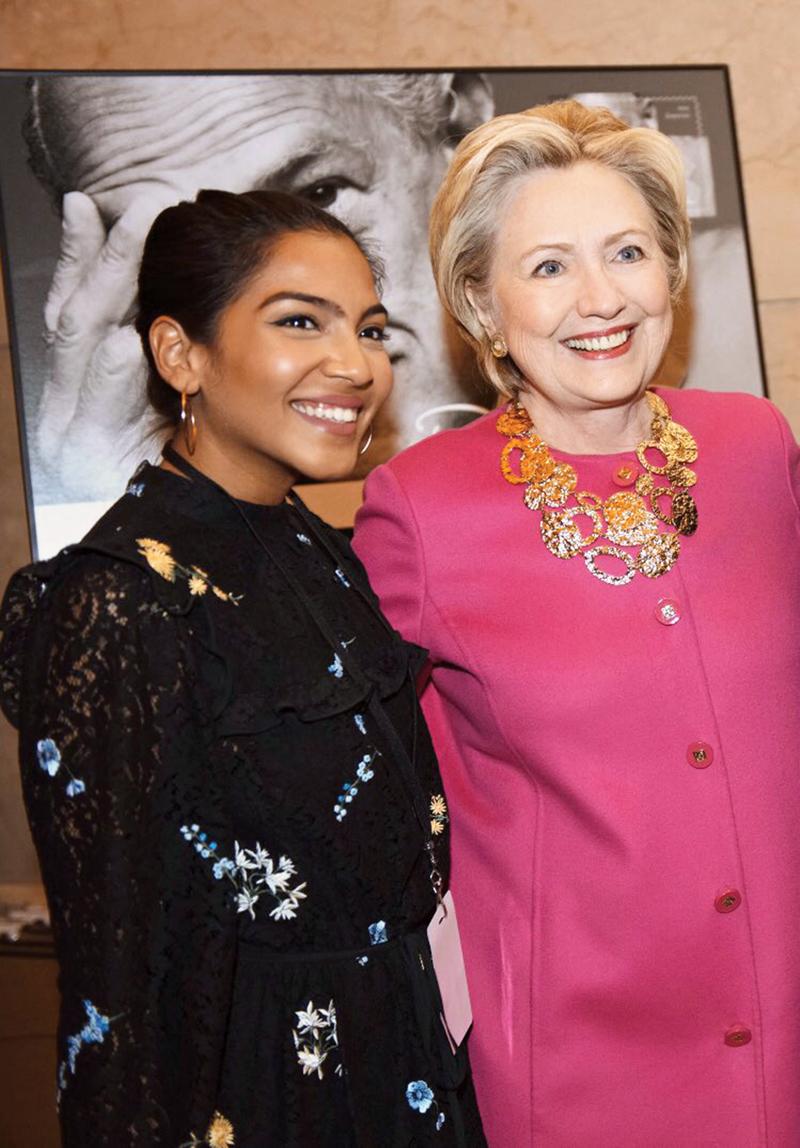 Why was that the right time to transition from politics to fashion?
I was connected with Hildy Kuryk, who was the communications director at Vogue and also an Obama alumni. I had no connection to Vogue at that point. When I was moving to New York, a good friend of mine told me to stay with her and said we'd get along great. When I moved to New York, I lived in her basement for two weeks. We became like glue—really close. We had the Obama connection, and we got to work on a Hillary fund-raiser that Vogue put on during the election. After the election ended, she asked me to come work with her at Vogue. I was like, I don't know. I'm not sure if this is something I'd be good at, especially during the age of Trump. I was like, "Can I work in something like fashion?" One of my friends looked at me and said, "You have to do it. You don't have a choice—there are so many girls who would die to have a seat at the table." I took it on and worked as Hildy's deputy for around six months and then was promoted to communications director. When Anna Wintour asks you if you're ready to take something on, you say yes. It's been really incredible. Very whirlwind, and I have no stable sense of home, but my career has always been first to me, only because I've manifested it in a way that my job has always had purpose.
What does a typical day at Vogue look like?
When I was first approached about the job, I had zero experience in fashion. I understood politics, grassroots activism, and tech. My tenure at Vogue started at a very intense time. It was February, when we were launching our March issue, which was the commencement of our 125th-anniversary celebration. We also were gearing up for the Met Gala, which the team had been working on for months before I arrived. I quickly remembered that I, like so many people in politics and tech, learn best when thrown to the sharks. My job consists of not only pitching stories about each of our issues, but also crisis management, drafting statements, working on all the incredible events from the Met Gala to the Tonys, working with our advertising team, preparing for speaking events with our editors.… Every day is different. I quickly realized that working at Vogue was much different than a campaign or a tech company, but it was also very much the same in so many ways. You have to be fast, decisive, thoughtful, and as close to perfect as possible.
What was your first Met Gala like?
It was a lot more like a campaign event than a lot of people would think. I only say that because it's a lot of running around and getting people to the right place.
How many inquiries do you get a day?
Like a billion! [Laughs] I also get inquiries for all the international brands. I don't handle them, but I receive the e-mails. We have a really good working relationship with the press.
You've been a lot more communicative with the press than other publicists in the industry. Is that a strategy?
I treat reporters as though they're just normal people. I text them, I call their desks…when you treat them like they have an agenda, relationships can get tricky, so I try not to do that. I try to get coffees and invite them into my space. I think I'm more trusting than a lot of other publicists are. Hopefully, it won't bite me in the butt.
Is it more intense at the Vogue offices or the White House?
It's the same. Working for Anna Wintour is like working for any other principal. She's one of the most respected, well-known women in media. She has a very full schedule and has a lot of issues and causes she's committed to. There's no light day. You're never not working.
What's your relationship with Anna like?
Frankly, she's the easiest person I've worked for. Here's why: She means what she says and has very clear expectations. I find that inspiring.
What have you learned from her?
I have learned from her, and all of my deeply intelligent, thoughtful colleagues at Vogue that the most important thing you can have is a strong point of view. I respect that she always encourages you to say what you think, and to push back if you disagree. She's clear about her vision and has an incredibly poignant point of view, and that's something I respect so much about her.
What are some of your most memorable experiences at Vogue over the past year?
Watching Meryl Streep be interviewed by Anna Wintour for our December issue. Two women who are at the top of each of their respective industries talking about issues from politics to film to journalism was something I will always remember. Also, we hosted our first-ever conference this year called Forces of Fashion, which was absolutely incredible. There are four people in the industry who I'd absolutely really sweat about: Beyoncé, Rihanna, Oprah Winfrey, and Tom Hanks.
Do you think you'll stick to working in fashion?
Growing up, fashion was an integral part of my identity—but it was a negative thing before it was a positive one. I struggled very much with how to represent myself. Like so many first-generation immigrant children, I wanted to prove how "American" I was. That meant a lot of running from the house to the car when I was wearing my salwar kameezs or saris because I didn't want the neighborhood kids making fun of me. I wanted to wear Limited Too, Abercrombie & Fitch, and Roxy—I was a Florida girl! I also was aware of how hard my mother worked to make sure we were as polished in school as the rest of the kids. When I was finishing college and working on the campaign, I was surrounded by people who practiced, before anything, self-love. My clothing style shifted rapidly. I started to wear my activism on my sleeve. I started to love wearing Bengali clothes, and have integrated odes to my culture in my western wear. I believe Vogue is one of the best at providing platforms for designers from all over the world, and I love that. And as for it being a part of me forever, even if I venture back into politics one day, I will never underestimate or ignore the power of fashion and activism.