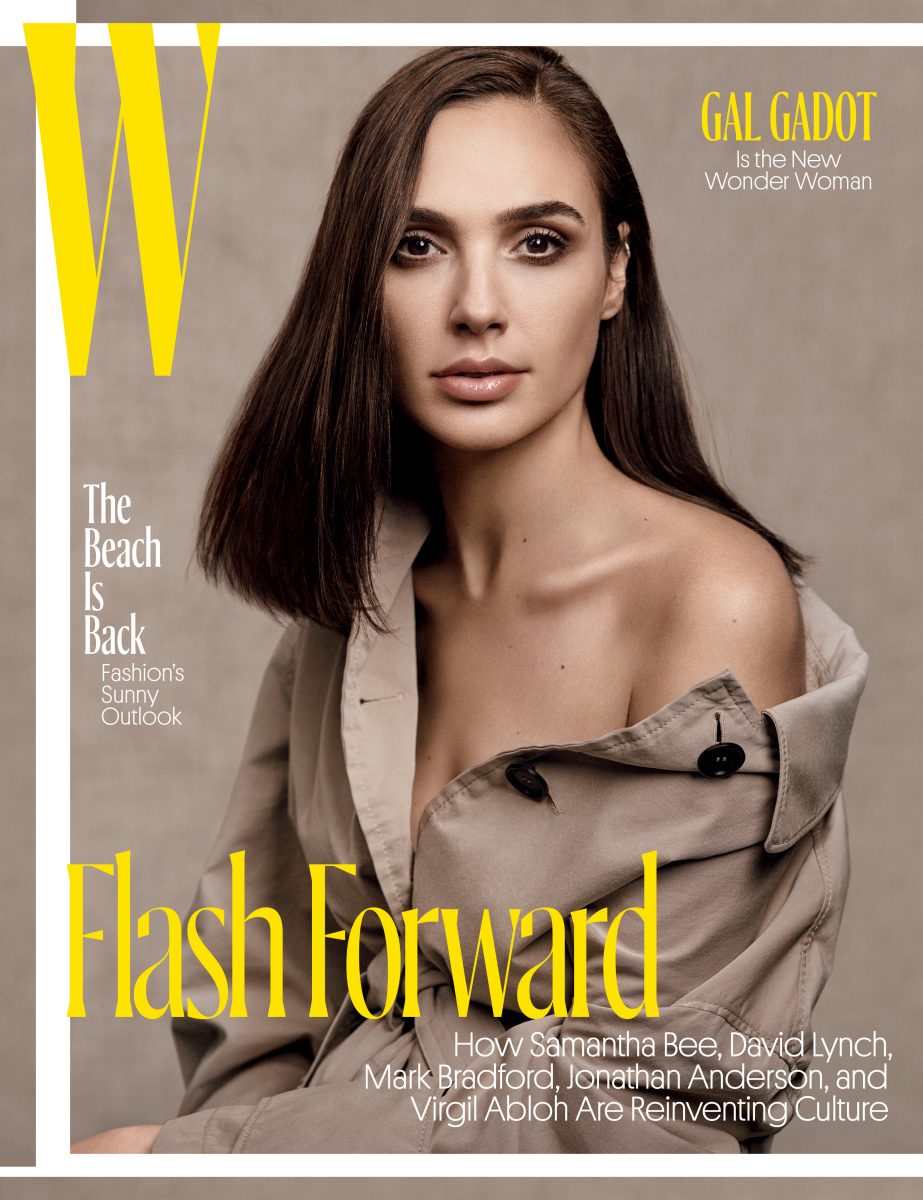 Gal Gadot/Wonder Woman—she's playing the lead role in the upcoming superhero flick that comes out in June—graces the cover of W Magazine's May issue, lensed by photographer Craig McDean and styled by Edward Enninful (who announced this week that he is leaving the glossy to become editor-in-chief at British Vogue. On the cover, the beauty wears a Burberry trench coat—a quintessential spring staple—and inside, she models looks by Gucci, Hermès, Prada, and more.
Gadot first got her feet wet in Hollywood when a casting director asked her to audition for the role of the Bond girl in Quantum of Solace after being crowned Miss Israel in 2004. "I said, 'No way,'" she recalled in an interview with W's Lynn Hirschberg. "I said, 'I'm studying law and international relations. I'm way too serious and smart to be an actress, and besides, the script is all in English.' I spoke English, but I wasn't comfortable with it." While she didn't become 007's latest love (the part went to the Ukrainian actress Olga Kurylenko), she eventually came around to the idea of acting and ended up joining the cast of Fast and Furious. Now, Gadot is on the path to become a comic book legend, and is the first woman to headline a superhero film in over a decade (major!). She is no stranger to playing the super-heroine—she played Wonder Woman in last year's Batman v Superman: Dawn of Justice.
"When I auditioned for Batman v Superman, I didn't know it was for Wonder Woman,"Gadot said. "The director, Zack Snyder, asked me to do a camera test. That was torture. They were looking at six or seven girls, and we were all in separate trailers and were told to stay inside until they called us. Waiting is my enemy Number One, and I was losing my mind. So, I decided to put on Beyoncé. Who runs the world? Girls! I just started to dance, and I let my anxiety go. Thank you, Beyoncé!"
Click here to read the full story.