Jack Ketsoyan, the Hollywood publicist behind some of your favorite celebs—Paris Hilton, Kristen Cavallari, Carmen Electra, and beyond—has brought his most interesting stories to life in a new [fictional] book dubbed Blind Item, written with entertainment journalist Kevin Dickson. We grilled Ketsoyan on his dishy novel, which will easily become your go-to beach read this summer.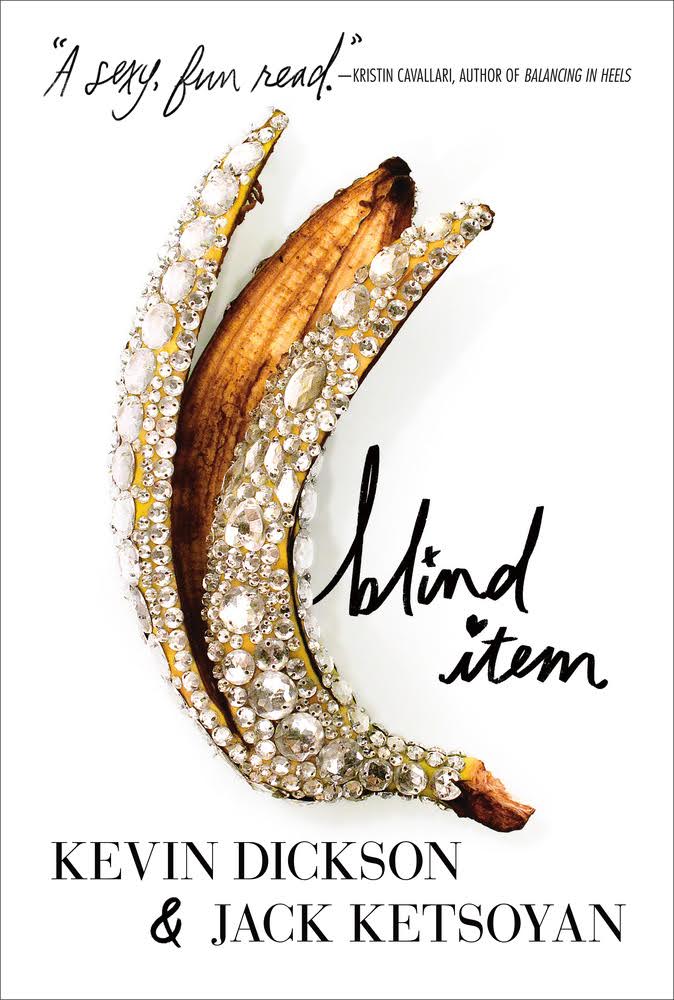 Jack, when did you realize you had a story to tell?
Kevin [Dickson] and I became fast friends back when he was working at one of the celebrity weekly magazines. Every week we used to get together, laugh and chat about all the crazy things that we had seen through our jobs—things that no one would ever be able to print, nor did we want anyone to know about. We had been exposed to so many interesting stories and all our friends kept telling us we need to write a book, so… here we are.
Tell us about the book.
Blind Item tells this captivating story of an assistant publicist in Hollywood who spends her days and nights sweeping up the scandals of the hottest stars—until she ends up dating one and finds herself at the center of the spotlight. Then things start to get, as Jenny McCarthy said best in her review, "As outrageous as any true life tabloid scandal." The best part of this story is that all the jaw-dropping scandals are actually real, but the names are not. We'll never tell who's who. Think you can guess?
Give us a little background as to how you broke into PR.
I was 16 years old when I started my first PR job at a small boutique company in L.A. I pitched products like the Diaper Genie and toilet seat covers. No joke. Then a friend called and asked me if I wanted to work The Grammys. I said yes, but I had no idea what I was getting myself into. When I got there they handed me a packet that said "Madonna" and I was told "You are going to be her talent escort the next three days." I was like, oh crap. That year I ended up doing a dozen award shows and working with managers and publicists, and I loved it. From then on I just knew that talent PR was my calling. With the help of a manager that I got to know, I was set up with a few interviews with different PR firms. The first interview was so awful and they didn't want to hire me because I was only 19. So for the second interview I lied about my age to get a job at Huvane Baum Halls. And it worked.
How has the PR world in Hollywood changed since you stepped foot in it?
Wow, so much. The PR 101 days are over. You have think outside the box with your clients in so many ways. Also, nowadays it's very hard to protect your clients because everyone has a camera on their phone, so you can't get away with things like you used to. Everyone is always watching and they can capture anything at any time.
Are the scandals as big as Judy Smith (Olivia Pope Scandal) scandals?
Oh, much bigger. But I won't give any away since it's much more fun to hear about when you are reading it and enjoying the experience of the book. But take it from a publicist who's seen it all…the book is all that and more.
How have publicists been reacting to the book?
I don't really know yet, actually. It's just coming out, so we'll see…
What about your celeb clients?
My friend Jenny McCarthy was the first one to read the first draft and she was in love with it. She's been so sweet and has helped with the whole process. All my current clients have been super sportive, so I am very grateful for that. They know that this book isn't meant to be a malicious tell-all, but a fun work of art. It's art imitating life.
Has anyone you referenced reached out realizing they were in the book?
Yes, and they were not too happy about it. But the truth is sneaky like that.
What are you most blind to?
This new chapter of life in the book world. It's all new to me and I'm learning as I go, which is an exciting thing. Life gets boring when you're not learning and growing.
Is it weird being written about after publicizing your clients for so long?
Yes, it's beyond weird because I have been on the other side—behind the scenes—for so long. But I am immensely grateful for every word written in support of this project.
Could you see the book turning into a TV series or movie?
100 percent. I would love to see the characters come to alive.
Plans for more books?
You'll have to stay tuned!