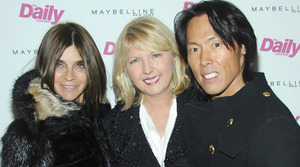 The Daily's Tenth Birthday Bash: Avec Maybelline, At Indochine!
|
(NEW YORK) A dinner befitting a decade of Daily-ing? Thanks to an uberstylish klatch of our nearest and dearest—fete accompli! Indochine was abuzz from the moment the Maybelline New York co-hosted soiree commenced, with tippling on tangy blood orange martinis, copious white vino and the ilk, avec nibbles like lemongrass-laced beef-wrapped asparagus, veggie summer rolls, skewered chicken, and charred shrimp. Even on an eve crammed with NYFW shindigs, our editorial faves dipped in for a cocktail or two (Graydon! Carine Roitfeld avec Stephen Gan! Anne Fulenwider! Constance White! Robbie Myers with Joe Zee!), designers made the rounds.
As the clock neared nine, the nuit's emcee, Heidi Klum, took to the mic to share a bit of Daily love and intro the woman behind it all, our EIC Brandusa Niro, who had a few heartfelt thoughts on the mag's magic to extoll upon. After, chicettes piled into banquettes to sup on delectable chicken and vermicelli-stuffed spring rolls, spicy beef salad dappled with basil and mint, and sesame-spiked yellowtail sashimi.
Then, a parfait palate cleanser ensued, in the form of a surprise performance by a saucy, singing Anna Wintour and a silent sidekick Grace Coddington (…their much-taller, maybe-male dopplegangers, that is). More than a few chicsters did a major double take or three when the Vogue-ettes started their banter-and-saunter through the resto. Dinner and a show, non? Patrick McMullan continued to voraciously shoot the rollicking good times, as did the film crew Glamour editrix Cindi Leive arrived with (documentary alert!). Seats were re-snagged, and in some cases a bit of musical chairs occurred—so many beloved fashionettes to catch up with!—as the crowd tucked into succulent steamed Chilean sea bass and seared filet mignon nestled on a bed of Brussels sprouts. Also on hand to celebrate our big birthday: Folks like Linda Fargo, Kelly Rutherford, Nicole Miller, Dennis Basso, Julie Macklowe, Zang Toi, IMG's Chuck Bennett, Robert Verdi, and Maybelline New York's Lisa Carvalho. All in all? The cheeky-chicness you've come to adore, crave, and collect, all in one room. Pure joie! We couldn't help but ask some of our favorites about their craziest memories at the iconic resto…
ALEXANDRA ILYASHOV
What was your wildest night (ever!) at Indochine?

Robbie Myers: "I was at Interview at the time, which was a very long time ago—I'm going to date myself now—the Interview offices were still on 32nd Street at The Factory. That's how long ago! I ended up at Indochine at the end of the night; definitely not the beginning of the night. That's all I'll say…I still have very romantic notions about that time and that night, because it was at a point in my life when I was going out until it was daytime."

Patrick McMullan: "Tonight! No, no, but really—I've been here a lot it was probably when they did a "Don't Bungle the Jungle" thing with Madonna [in 1989]. That was pretty wild; and the party moved downstairs—they moved up and down all night. What do I think of the palm fronds? Oh, I'd miss them if they went away!"
Mary Alice Stephenson: "It was actually a whole day. I was shooting a fashion story with Mrs. Obama—not too shabby—and I had to change into my party dress in the airport at LaGuardia, straight off the shuttle flight from D.C. I went straight to Indochine for Padma's [Lakshmi] birthday, which was a very sexy 'Girls Gone Wild' theme. There were a whole bunch of glamazons dancing around the restaurant. It was a good one—going from all prim and proper at the White House, to that.
"

Joe Zee: "Not printable! And it may have involved the bathroom, as well as the phone booth that is or is not still back there, and may or may not have involved the last [farthest-back] banquette."
Andrew Saffir: "Calvin Klein gave a 21st birthday party for his now-ex-boyfriend, Nick [Gruber], two or three years ago. It was packed, fun, and people danced here until 3 a.m. It was jammed to the point where you couldn't move. There were silver Mylar balloons everywhere that you had to weave through. It was very, very trippy and fun. We're old now—we're not 21 anymore!"