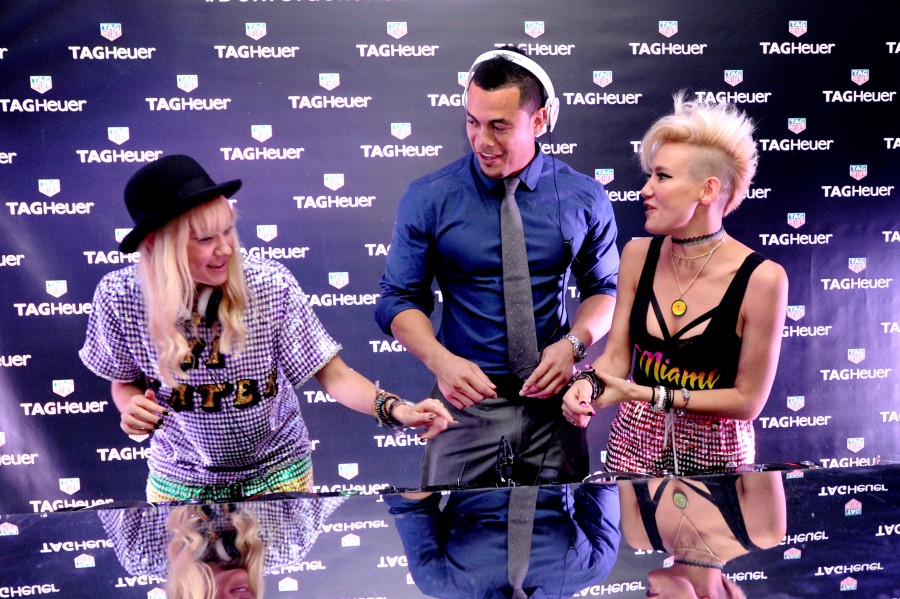 Tag Heuer threw a big bash in Miami on Monday night to celebrate their new brand ambassador, Miami Marlins right fielder Giancarlo Stanton. Fun fact: When Giancarlo Stanton signed onto the Miami Marlins, his contract was $325 million for a 13-year period, which is the largest in the history of American sports, according to Business Insider. On hand to celebrate with Stanton and Tag Heuer were veteran brand ambassadors the Nervo sisters. Twins Olivia and Miriam Nervo were touted by Forbes last year as being one of the highest paid acts in the EDM scene.
"They're such a prestigious company," Stanton told The Daily. "Growing up, I would see the billboards for the brand and see people wearing them. I've been a fan for a long time so it's an honor to be their ambassador. I'm wearing the Aquaracer tonight, which will be out next month, I believe." Stanton says he is just now taking note of how he dresses. "I didn't really have to dress nice until I got to the big leagues," he said. "You gotta stay on top of your game and make sure you're stepping it up a little bit." It's safe to say Stanton has made it big in a way most athletes dream of, but he says he isn't letting it go to his head. "To be honest, it was pretty overwhelming at first and I wanted to stay grounded," said Stanton. "I didn't buy anything outrageous. I wanted to buy my parents a home, so I'm still in the process of doing that. I want to take care of them first." And if he didn't have such a huge baseball career? "I'm a closeted nerd, so I'd probably be an astronomer or doing something with animals."
As for the Nervo sisters, they split their time between three different homes: L.A., London, and Ibiza, in addition to a travel schedule that has made them lifetime executive platinum members on American Airlines. They keep on schedule thanks to their matching white Tag Heuer Formula 1 timepieces accompanied by a stack of bracelets. The sisters have a sense of style as fun as their jet-set style of living. Both were decked out in sequin outfits by designer Ashish, known for his out-there designs. Other Nervo designer favorites: Balmain, Di$count Univer$e, Jeremy Scott, The Blonds, and a Korean brand, Ijin. In other words, nothing conservative. So how did this funky EDM duo end up as ambassadors for a luxury watch brand? "I think what's happening is that the brand is changing," said Miriam Nervo. "They're so cool. They've got David Guetta and Cara Delevingne. They're reaching out to more entertainers and are going for a younger, hipper audience."
The trio entertained the crowd in Miami's Design District in a swanky shopping area that should be named "watch row." Including Tag Heuer, every single luxury watch brand you can think of is in this one area of Miami, including Parmigiani, Piaget, A. Lange & Söhne, and Jaeger-LeCoultre, to name a few. After interviews in Tag Heuer's boutique, a party erupted in a space upstairs. The Nervo sisters brought Stanton up on stage for a DJ set, where he seemed to let loose and have a blast. The party was still bumping to EDM beats when we took off for an absolutely divine post-event dinner at Michael's Genuine Food & Drink. Be sure to check it out if you're in Miami, after you swing by the Tag Heuer boutique at Avenutra Mall, of course!